Gerald F. Cavanagh, S.J.
Charles T. Fisher III Chair of Business Ethics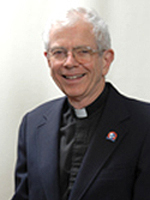 Contact Info:
Building:
Commerce & Finance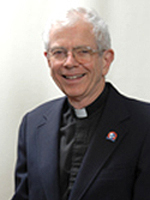 Areas of Expertise:
Business ethics
Corporate Social Responsibility
Sustainability
Management
Social Values in Business
Environment - Climate Change
Environment - Energy Efficiency
Degrees
B.S., Engineering, Case Western Reserve University
Ph.L., St. Louis University
M.B.A. St. Louis University
M.Ed., St. Louis University
D.B.A., Management, Michigan State University
Biography
On Nov. 8,  the University lost one of its most cherished Jesuits, Fr. Gerald "Gerry" F. Cavanagh, S.J. He was 91. Read more.
Gerald F. Cavanagh, S.J., is the Charles T. Fisher III Chair of Business Ethics in the College of Business Administration's Center for Practice & Research in Management & Ethics (the PRIME Center).
Nationally recognized as one of the founders of the field of business ethics, Fr. Cavanagh has given some 100 presentations on business ethics and corporate social responsibility throughout the world. He's published 5 books, more than 40 peer-reviewed journal articles and 20 chapters, as well as encyclopedia and magazine articles, monographs and proceedings papers. His research has been cited more than 2,750 times by other academics across the globe, and he has been quoted in business magazines such as Fortune. His classic textbook, American Business Values, has been required reading at business schools around the nation, and his books are collectively carried in more than 1,500 libraries worldwide.
He has served as a trustee at seven Jesuit universities, and served on the board of a Center for Religious Values in Business at Notre Dame. A Catholic priest in the Society of Jesus (the Jesuits), he joined the University in 1980, and has long been the faculty advisor to the student service organization, Alpha Phi Omega. He received the "Most Outstanding Faculty Award" from his colleagues at the University of Detroit Mercy in 1998.
In 2019, he received the College of Business Administration's Lifetime Achievement Award and was inducted into its Hall of Honor. In his free time, he enjoys hiking and backpacking in the National Parks. Read a brief profile of his career, "A Pioneer in Business Ethics", in AJCU Connections.