Gerald F. Cavanagh
Charles T. Fisher III Chair of Business Ethics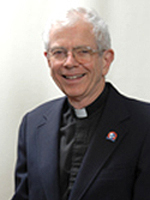 Contact Info:
Building:
Commerce & Finance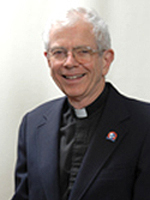 Areas of Expertise:
Business ethics
Corporate Social Responsibility
Sustainability
Management
Social Values in Business
Environment - Climate Change
Environment - Energy Efficiency
Degrees
B.S., Engineering, Case Western Reserve University
Ph.L., St. Louis University
M.B.A. St. Louis University
M.Ed., St. Louis University
D.B.A., Management, Michigan State University
Biography
Gerald F. Cavanagh, S.J., is the Charles T. Fisher III Chair of Business Ethics and Professor of Management. He is the author of more than 40 research articles and five books, including American Business Values: A Global Perspective, 6th ed.
Fr. Cavanagh has lectured and consulted with business firms, governments and universities. He has lectured and given workshops on business ethics and the role of the business firm throughout the US, as well as in Mexico, Indonesia, Australia and India. He received the "Most Outstanding Faculty Award" from his colleagues at the University of Detroit Mercy. Cavanagh holds a B.S. in engineering from Case Western Reserve University, and graduate degrees of Ph.L., M.B.A. and M.Ed. from St. Louis University, S.T.L. from Loyola University of Chicago and D.B.A. in Management from Michigan State University. He joined the University in 1980. He is a Catholic priest in the Society of Jesus (Jesuits).
Fr. Cavanagh was Academic Vice President and Provost at the University of Detroit Mercy (1989-95), held the Gasson Chair at Boston College and the Dirksen Chair of Business Ethics at Santa Clara University. He received honorary doctorates from Loyola of Baltimore and Siena Heights University. He chaired the Social Issues Division of the Academy of Management, and the All-Academy of Management Task Force on Ethics. Cavanagh has served on the board of trustees of Fordham University, Santa Clara University, Xavier University, College of the Holy Cross, Loyola University of New Orleans, John Caroll University and the University of Detroit. He served as Interim Dean of the College of Business Administration at Detroit Mercy from 2008 until 2010.
Fr. Cavanagh is nationally recognized as a leader in the field of business ethics; a recent report in Business & Society acknowledges him as one of the 12 original founders of the field.  In a review of Fr. Cavanagh's book, American Business Values, David M. Wasielski of Duquesne University wrote, "Gerald Cavanagh has been an important contributor to the Business and Society field for years. Through his teaching, his academic leadership, and his research, he has accomplished much through[out] his career in expanding the field's knowledge on values and ethics." (Journal of Business Ethics Education, 6, 2009). In his free time, he enjoys hiking and backpacking in the National Parks.  Read a brief profile of his career, "A Pioneer in Business Ethics", in AJCU Connections.