Larissa Richardson
Adjunct Faculty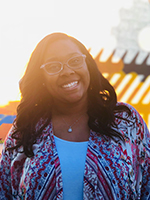 Contact Info: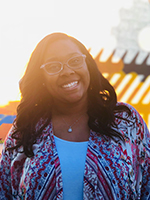 Areas of Expertise:
Community Development
Degrees
Masters of Community Development, University of Detroit Mercy
Bachelors of Arts in Political Science and Urban Studies, University of Michigan
Biography
Neighborhood community engagement and development is critical in the revitalization of Detroit and working to both support and sustain local small businesses is most important in this process. Larissa fully believes this to be true and it has in fact become her personal mission.
Larissa Richardson is the Director of Collaborative Workspace at TechTown Detroit supporting and managing TechTown's coworking and event space. As Director, Larissa is charged with supporting the member-based entrepreneurial community within its facility and creating a memorable experience for clients and customers. Larissa leads a team of several individuals that help to connect and support entrepreneurs and small businesses find space that helps them work and grow.
Before this position Larissa served as the Economic Development Program Manager for Grandmont Rosedale Development Corporation, supporting small businesses and entrepreneurs in and around Grandmont Rosedale. She served as a connector for small businesses to resources and programs to help local entrepreneurs launch and grow their businesses. Larissa also helped to facilitate entrepreneurial training workshops and programs to provide access for businesses with the necessary tools and information they need for growth. In addition she helped to support and develop programming within the Grandmont Rosedale commercial corridors for promotional activities and events to help drive and increase consumer traffic for local businesses.
For over 5 years, Larissa has worked as a community developer and advocate for various mediums across the city of Detroit. She has served as a district manager for a local State Representative and currently manages several facilities for TechTown Detroit. Through her work Larissa has helped secure capital and technical assistance for many local small businesses and community organizations across the city.
In 2017 and 2018 she was recognized by NEIdeas as a community ambassador for local businesses and by Comcast Business for her commitment and dedication to servicing small businesses. She has also been recognized in several local publications in Crain's, The Detroit Hub, and Comcast Newsmaker for her engagement and work to support commercial revitalization in Grandmont Rosedale. Larissa is also a board member for the Grandmont Community Association, Advisor Board Member for the Masters of Community Development Program at the University of Detroit Mercy and Board President for the Mary Turner Center for Advocacy.
Larissa graduated with a Bachelor's degree from the University of Michigan-Ann Arbor in Political Science and Urban Studies in 2012 and earned a Master's degree in Community Development from the University of Detroit Mercy in 2014.
Larissa currently lives within Grandmont Rosedale with her husband, Dante Richardson. Larissa spends a lot of her free time volunteering and supporting local grassroot organizations and programs.