Gary Erwin
Associate Vice President, Marketing & Communications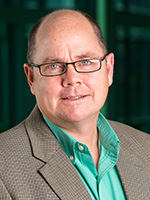 Contact Info: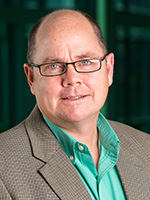 Areas of Expertise:
Creative Writing, Fiction and Creative Non Fiction
Crisis Communications Management
Corporate Communications
Marketing Communications and Analytics
Media and Public Relations
Speech Writing
Technical Communications
American Literature, 1945-present
Grant Writing, Development and Management
Non-profit Board Development
Degrees
Master's of Fine Arts in Creative Writing, Western Michigan University
Bachelor's of Science in English, Grand Valley State University
Biography
Gary J. Erwin graduated from Detroit Catholic High School and earned his bachelor's degree from Grand Valley State University (GVSU). At GVSU, he was a member of the university hockey team, served as fiction editor of the school literary journal, Amaranthus, and was a member of Sigma Phi Epsilon fraternity.
He earned his master of Fine Arts in Creative Writing from Western Michigan University in 1994, where he studied under author Stuart Dybek and Jaime Gordon.
Since 1991, he has held many diverse positions in the corporate and academic fields, and began his career as a communications specialist for a military contractor during the first Gulf War. From 1995-2000, he served as fiction editor and contributing editor of The MacGuffin. From 1999 to 2010, he was director of Publications and lecturer of Communications and Literature at Kettering University. From 2010 to 2017, he was executive director of Marketing & Communications for Henry Ford College. He has taught creative writing, technical writing, business communications, journalism, corporate communications and American literature at Kettering University, Baker College, Oakland Community College and Mott Community College. He has presented at a number of national professional conferences and consulted for Fortune 500 companies and non-profit organizations, for which he has raised more than $130 million in grant funding over the past 20 years.
His stories, essays, research and science journalism have appeared in numerous journals, reviews, conference proceedings and media outlets, including Red Cedar Review, The Sun, Pebble Lake Review, The MacGuffin, Sante Fe Literary Review, Driftwood Review, Adelaide Literary Magazine, 3288 Review, Technology Century, Society of Technical Communications Global Communications Conference Proceedings, Electrical Insulation Conference & Electrical Manufacturing Conference Proceedings, and National Commission for Cooperative Education, among others. His work has received two Pushcart Prize nominations and has been anthologized in The PrePress Awards Volume II: Michigan Voices. His book of short stories Trail Crossing Sixteen Counties was published in 2019. He is currently working on a new novel titled Grindstone Creek. An excerpt of this novel appeared in the August 2020 edition of Adelaide Literary Magazine.
He lives with his family in Clarkston, Michigan and believes that Detroit Mercy offers an education unrivaled by other institutions because of the University's focus on social concerns and application of the school's rigorous education on issues of conscience.
 

Research Topic Areas

Corporate Communication and impact of digital/electronic communications on the writing and communication skills of undergraduate students.
Crisis Communications Management and role of media in determining message development and execution, and impact on primary and secondary audiences.
American Literature, with specific emphasis on modern and contemporary writers: Hemingway, Salinger, Carver.
Creative Writing: Author of Trail Crossing Sixteen Counties, a book of thematically-linked short stories published by Adelaide Books in the fall 2019.