Get your team and join the Tug-of-War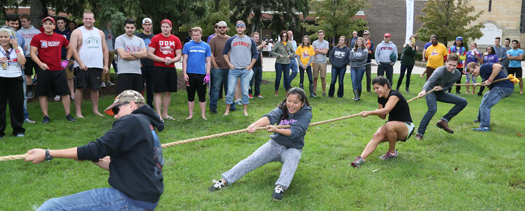 A smash hit at last year's Homecoming Weekend, the Tug-of-War competition returns! Fashioned after the legendary St. Francis Club Tug 'O War, this year's tug is going to be bigger than ever and your team needs to compete. Round up a group of four to five of your closest students, faculty, staff or colleagues to compete in a bracket-style Tug-of-War tournament.
The event takes place during Homecoming on Saturday, Sept. 30 at 3 p.m. The tug is free to compete in, but registration is required. Register to attend Homecoming Weekend 2017 online and contact Student Fitness Center Assistant Manager Matt Higley at higleyml@udmercy.edu to form a team.
Film screenings with Detroit Mercy
Thanks to Professor of Education Ike McKinnon and Detroit City Council President Brenda Jones, Detroit Mercy students will have the opportunity to see and discuss the film, "Detroit," on Thursday, Sept. 7 from 2 to 4:30 p.m. at Emagine Theatre, 200 N. Main Street in Royal Oak. Immediately following the film, McKinnon and Professor of History Roy E. Finkenbine will be available for a discussion at the theatre. See the event page for more information. Advanced reservation is required; tickets will be free with a valid Detroit Mercy ID.
Also, on Thursday, Sept. 7, the student chapter of Alpha Sigma Nu (the Jesuit national honor fraternity) and the Detroit Alumni Club of Alpha Sigma Nu will host a special screening of the new film, "Ignatius of Loyola," at 6:30 p.m. in Room 113 of the Ford Life Sciences Building. All are welcome to attend and light refreshments will be served. For more information, please contact Director of the Catholic Studies Program Si Hendry, S.J., at hendrysi@udmercy.edu or 313-993-1664.
The PBS Frontline film, "Being Mortal," will be shown on Tuesday, Sept. 19 from 6 to 8 p.m. Based on the best-selling book by Atul Gawande, MD, this documentary explores the hopes of patients and families facing terminal illness and their relationships with the doctors, nurses and family members who care for them. This event is open to everyone, though RSVP is requested. See the event page for more information.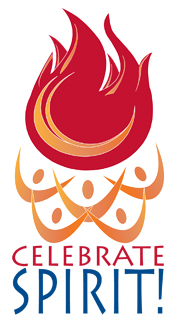 Celebrate Spirit! is almost here
Detroit Mercy students, faculty, staff and administrators are encouraged to attend the annual Celebrate Spirit!, Thursday, Sept. 14. Celebrate Spirit! is the official welcome to the new school year, and will begin at 11:30 a.m. in the Student Fitness Center, featuring Mass celebrant Thomas Florek, S.J. The School of Dentistry has produced a video, "Driven to Serve," as the keynote presentation this year.
Following Mass, a picnic and the Student Organization Fair will be held around the Fisher Fountain. The McNichols Campus class schedule will be changed that day to accommodate Celebrate Spirit! attendance. See the Celebrate Spirit! web page for more information.
Celebrate Spirit! 2017 is co-sponsored by University Ministry and the School of Dentistry, celebrating the 85th anniversary of Detroit Mercy Dental's founding. The Celebrate Spirit! Student Organization Fair lunch is sponsored by Fiat Chrysler Automotive.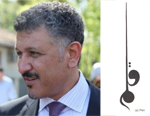 Arabic Calligraphy reception this week
The Carney Latin American Solidarity Archive (CLASA), the Islamic Studies Program and Students for Justice in Palestine (SJP) are proud to present the exhibit, "Image and Meaning: Arabic Calligraphy Designs," by Professor of Mechanical Engineering Nihad Dukhan. The exhibit will be on display in the McNichols Campus Library during normal business hours through Oct. 27.
There will be a special reception with the artist on Wednesday, Sept. 6 from 5 to 9 p.m. in the McNichols Campus Library. Meet Professor Dukhan and enjoy some Lebanese finger food. The exhibit and reception are free and open to the public. See the event page for more information.
Ride in the annual Midnight Bike Ride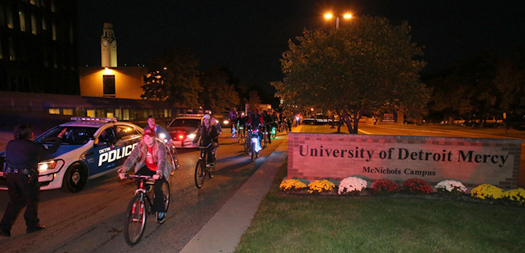 Come experience a Detroit Mercy tradition at the Midnight Bike Ride on Friday, Sept. 15. Before the night is over, the 20-mile round-trip excursion through Detroit will highlight some interesting places in the city, including a hot dog break the famous Lafayette Coney Island. The cyclists should return to campus around 11:59 p.m. that same night (midnight if we're a minute behind schedule). See the event page for more information and to get your ticket!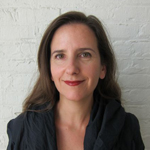 Architecture Lecture Series: Georgeen Theodore
As part of its 2017-18 Lecture Series, Detroit Mercy School of Architecture (SOA) welcomes Georgeen Theodore of Interboro Partners on Wednesday, Sept. 13 at 5:30 p.m. in the Warren Loranger Architecture Building's Genevieve Fisk Loranger Architecture Center. This event is free and open to the public. See the SOA Lecture Series website for more events.
Connect with the community at Live6 Speakeasy and Market On The Ave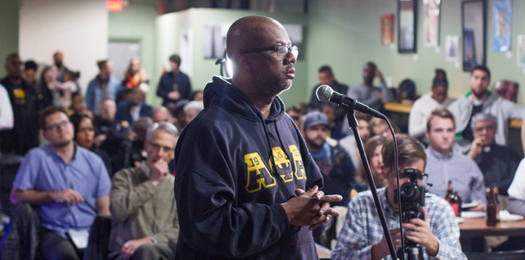 The Detroit Mercy-sponsored Live6 Alliance will host its next installment of the community dialogue series, Speakeasy, on Friday, Sept. 15, from 6 to 8 p.m. on the Marygrove campus. Speakeasy will open a discussion about business and "cultural corridors." For more information, contact Live6 Alliance Director Lauren Hood with Live6 at 313-610-6004 or info@live6detroit.org.
The next installment of Market On The Ave, Live6's farmers and artisan market, will be from noon to 5 p.m. on Saturday, Sept. 9. Market On The Ave will continue on the second and fourth Saturday of each month, running through October, at the lot across from the McNichols Campus, between Florence and Grove Street. Click here for more information.
Detroit Mercy Night at Comerica Park, Sept. 19

Join the Detroit Mercy community on Tuesday, Sept. 19 to watch the Detroit Tigers battle the Oakland A's! Your game ticket includes an exclusive Detroit Mercy/Detroit Tigers ball cap as well as pregame festivities. Before the game, there will also be an alumni tailgate at the Detroit Athletic Club. See the event page for more information and to register.
IT reminders: RAVE Emergency Alert System and phishing scams
Stay on top of important emergency and campus safety alerts at Detroit Mercy by signing up for the RAVE Emergency Alert System. Register online today. Signing up takes just a few minutes.
The University continuously sees users giving away Office 365 credentials to phishing scams. Please be aware that ITS will never ask for your credentials through an email. Take action against scammers: use common sense when assessing questionable emails and delete the message if it appears to be spam. If you question whether a message you received is legitimate, please forward it to helpdesk@udmercy.edu for a proper response.
Bishops visit campus and discuss immigration justice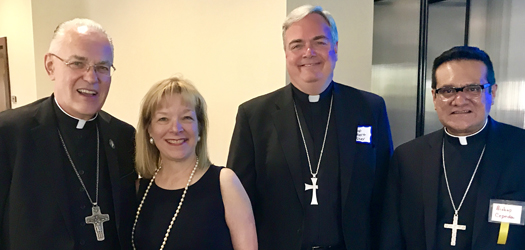 The University recently hosted the Southeast Michigan Catholics for Immigration Justice event titled, "Strangers No Longer," on the McNichols Campus. Provost and Vice President for Academic Affairs Pamela Zarkowski welcomed the special group of Archdiocesan Catholics to address the pressing issues that immigrants and their families currently face in Detroit and Chicago. Pictured from left to right are: Archdiocese of Detroit Auxiliary Bishop Don Hanchon, Zarkowski, Archdiocese of Detroit Auxiliary Bishop Robert Fisher and Bishop Arturo Cepeda.
Thumbs Up!
Associate Professor of History Diane Robinson-Dunn gave a presentation titled "Assuming 'the burden of these days as no other religion is able': Ahmadiyyah Muslim missionaries define their role in English society and the British state during WWI," at King's College, University of London. King's College and the Royal Historical Society organized the conference.