GM Student Corps: Five years of changing young lives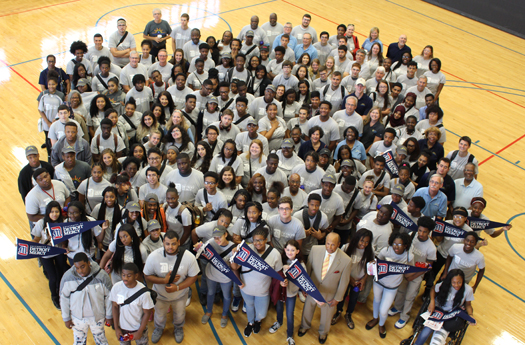 The GM Student Corps celebrated its fifth and largest year at "Day in the D" on Detroit Mercy's McNichols Campus, July 20. GM Student Corps helps young people in underserved school districts transform their communities and jump start their futures. A total of 15 schools and 150 student interns from metro Detroit, Flint and Pontiac spent the day engaging with faculty and learning important life skills as they prepare for college. See the photo gallery and video coverage of the event online.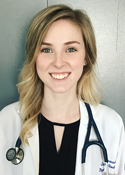 Physician Assistant student offers glimpse of program via social media
University of Detroit Mercy Physician Assistant student Jamie Murawski loves to help people, it's why she's in school to be a physician assistant (PA). She also loves to help potential PA students. Through social media and blogging, Murawski chronicles her ups, downs and everything in between during her journey through PA school. Prospective PA students can follow Murawski's progress and ask questions along the way. See her story online.
Clare Boothe Luce grant helps build a new future for women in engineering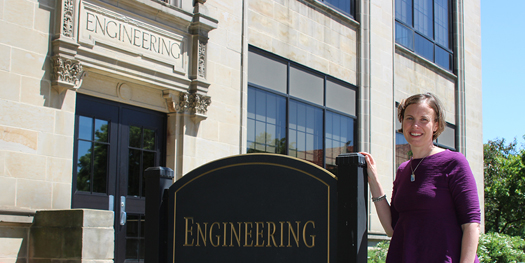 University of Detroit Mercy recently appointed Megan O. Conrad, Ph.D., as the institution's Clare Boothe Luce Professor. Funded by a five-year, $476,000 grant from Henry Luce Foundation's Clare Boothe Luce Program, Conrad will serve as a role model and mentor for women in the STEM fields. She is the only current Clare Boothe Luce Professor in Michigan. See the full story online.
Detroit 1967: 50-year reflection with Ike McKinnon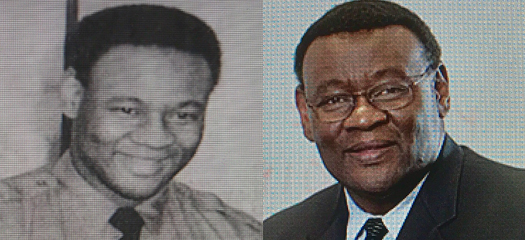 The city of Detroit reflects on the 50th anniversary of the 1967 Detroit Uprising with the recent release of the film, "Detroit." Professor of Education Isaiah "Ike" McKinnon remembers as a young police officer with only two years experience when the tragic event ravaged the city, and has been a consultant during the film's production. See the full story and his recent media coverage online.
Welcome to the neighborhood: Narrow Way Cafe
The new coffee shop, Narrow Way Café, is open for business on the Avenue of Fashion, at 19331 Livernois Avenue. Next to Kuzzo's Chicken and Waffles, the shop will serve Zingerman's coffee and Avalon baked goods thanks to a $45,000 Motor City Match Grant. Stop by and grab some delicious treats!

Alumni help dental students' mission to Central America
When Richard and Penny Persiani heard a group of Detroit Mercy Dental students were raising money for a trip to Central America to help Guatemalans who don't have access to dental care, they knew they had to contribute. See how their experiences inspired support for our students.
Invest Detroit highlights the University
Detroit Mercy's work with our neighborhood was highlighted in the 2016 Invest Detroit annual report titled, "Rebuilding a city. Building community." Invest Detroit is a certified Community Development Financial Institution and a leading source of private-sector financing that utilizes a variety of funding tools through managed for-profit and nonprofit targeted funds to support economic and community development in underserved communities, primarily in the City of Detroit. Detroit Mercy President Antoine M. Garibaldi was elected to the Board of Invest Detroit this May. See the news story online.
AJCU seeks 2017-18 publication topics
The Association of Jesuit Colleges and Universities (AJCU) has begun collecting articles for its 2017-18 issues of Connections. The AJCU represents the 28 Jesuit institutions of higher education located in the United States. Each Jesuit institution is allowed two articles per year. Detroit Mercy's Marketing & Communications Department will select, compose and submit the two stories that best represent our University. If you have a story you'd like us to consider for Connections, please fill out our Submit a Story form.
Spiritus receives Gold Award
The fall 2016 edition of Spiritus received a Gold Award for superb craftsmanship at the annual Craftsman's Club of Detroit Gallery of Superb Printing awards in June. The award honors the print company, Printwell. Communications Specialist Christine Agduma-Busque designed the issue and Communications Specialist Ron Bernas oversaw Spiritus production.
Last chance to walk with the Detroit Mercy Bibliophiles
University of Detroit Mercy Dental Library Assistant Vivian Palmer has created a team to represent the University at the Rhonda Walker Foundation's seventh annual Give and Get Fit 5K/10K Run/Walk on Sunday, July 30, along the Detroit Riverfront. The Rhonda Walker Foundation supports Girls into Women, an excellent program for inner city girls. If you would like to participate and join the Detroit Mercy Bibliophiles, register online.
Thumbs Up!
Associate Professor of Political Science Stephen Manning delivered an invited lecture, "Populism, The Trump Presidency & American Constitutionalism," at Tianjin Normal University in China, July 11.
Professor of Chemistry & Biochemistry Matthew Mio was appointed as Chair of a new committee of the American Chemical Society (ACS) Division of Chemical Education's Examinations Institute. This committee is charged with the responsibility of producing the 2017 Organic Chemistry Examination. See full story online.
Detroit Mercy Athletic Director Robert Vowels participated in a Q&A with The Detroit News, discussing our athletic program, the University and working in northwest Detroit with five important neighborhoods surrounding our city: Sherwood Forest, Green Acres, Palmer Woods, the University District and Fitzgerald. Read the full article online.