Chemistry student heads to NASA for summer internship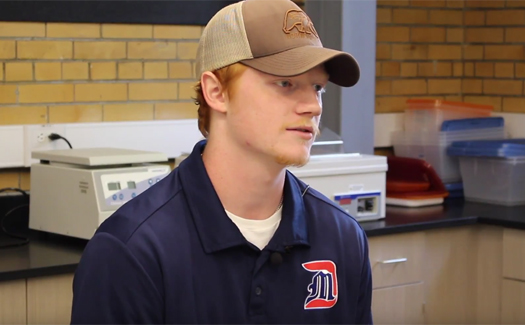 Walking out of his last final, Nick Boynton checked his email to find his ideal summer job waiting for him: he was offered a position with NASA at the Glenn Research Center in Cleveland, Ohio. Boynton, a sophomore Chemistry major and a Titan men's lacrosse player, will be working with polymer aerogels for potential aerospace applications. Read his story online.
Despite life challenges, Detroit Mercy Dental graduate achieves more than his degree
Detroit Mercy Dental Class of 2017 President Horacio Falcón is soaring high with his degree, despite life challenges. "Detroit Mercy gave me a chance to fulfill my dreams, and I'm very thankful. Therefore, I'll be staying in Michigan and the Detroit area. I can't wait to be part of the alumni group and give back to help others fulfill their dreams the way Detroit Mercy helped me." Read his story online.
Fr. Staudenmaier on the temptation of nostalgia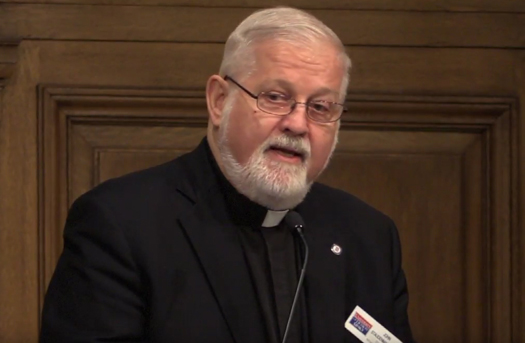 John Staudenmaier, S.J., University of Detroit Mercy's assistant to the president for Mission and Identity, delivered a powerful talk at a gathering of the Jesuit Alumni & Friends of Detroit. He discussed ways to "pray from where you are" – in the here and now – rather than to be distracted by memories of other times, good or bad. Listen to his message online.
Acronym Usage Policy
Do not use acronyms such as DM, UDM, U of D or the like when referencing Detroit Mercy on public websites, marketing materials including fliers, brochures, pamphlets, booklets and other promotional materials. Please remember that following the first reference to "University of Detroit Mercy," use "Detroit Mercy" for subsequent references. This standard applies to all promotional, web content and other material used to promote the institution. In the case of internal systems, such as financial aid records and grant information loaded into databases, the use of UDM is acceptable only when necessary due to character space limitations. For questions regarding the University brand or style guidelines, please contact Marketing & Public Affairs at 313-993-1254, or visit udmercy.edu/brand.
Commencement wrap-up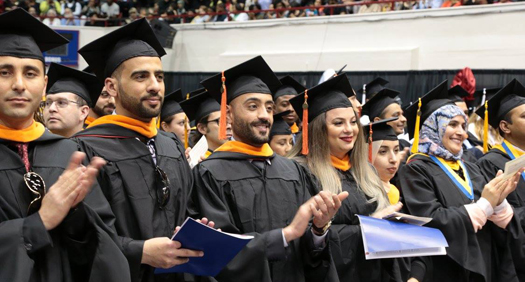 Congratulations once again to the graduating class of 2017. For those participants, family members, faculty and staff who were unable to attend all three Commencement ceremonies, see our Detroit Mercy YouTube playlist for some captivating keynote addresses.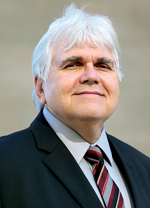 Dean Kuleck receives Engineering Society Award
College of Engineering & Science Dean Gary Kuleck will receive the 2017 Engineering Society of Detroit's Distinguished Service Award from Robert Magee, ESD executive director, and the organization's Board of Directors. Kuleck has also worked with their magazine, Technology Century, as the publication's editorial board chair. See the news release for more information.
Get ready to sweat: Summer Burn is on!
The Summer Burn is in full effect at the Student Fitness Center. Participation in this summer fitness competition is free, with a chance to win up to $50 and feel great while doing it. Contact Matt Chesley at 313-993-1784, or visit the University Recreation team at the front desk for more information. Keep in mind the Student Fitness Center is currently on summer hours: Monday through Thursday from 10 a.m. to 7 p.m., and closed Friday through Sunday.
Professors Union contract ratified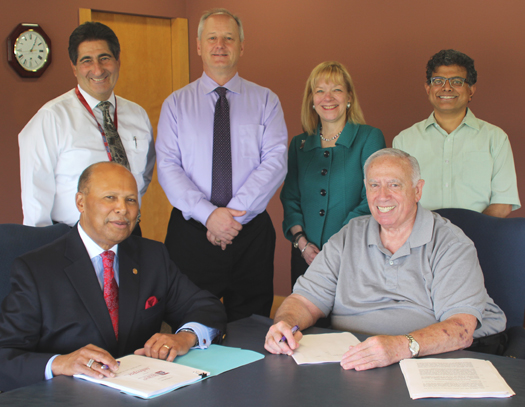 (Pictured top from left to right) Vice President for Business and Finance Vince Abatemarco, Associate Vice President for Human Resources Steve Nelson, Provost and Vice President for Academic Affairs Pamela Zarkowski and University of Detroit Mercy Professors Union President E. Prasad Venugopal convene with Detroit Mercy President Antoine M. Garibaldi (left) and University of Detroit Mercy Professors Union Chief Negotiator Larry Zeff (right) to ratify the Professors Union contract, May 22.
Hustle hard with the Detroit Mercy Bibliophiles
University of Detroit Mercy Dental Library Assistant Vivian Palmer has created a team to represent the University at the Rhonda Walker Foundation 7th annual Give and Get Fit 5K/10K Run/Walk on Sunday, July 30 along the Detroit Riverfront. The Rhonda Walker Foundation supports an excellent program for inner city girls: Girls into Women. If you would like to participate and join the Detroit Mercy Bibliophiles, register online.
University Honors Symposium works with Live6 Alliance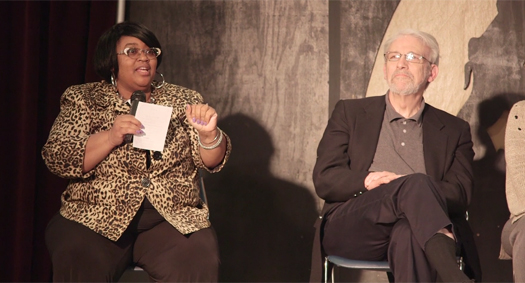 The University Honors Program hosted its 2017 University Honors Symposium, April 21. The event, co-sponsored by the Live6 Alliance, focused on how to bring students and residents of neighborhoods around Detroit Mercy together to build meaningful relationships and create community engagement with the University. You can watch a recap of the evening online.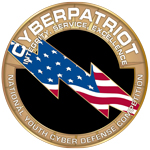 Free cybersecurity summer camp on campus
The Center for Cyber Security & Intelligence Studies will co-sponsor a new summer camp, AFA CyberCamps, for junior and senior high school students interested in cybersecurity, operating systems and computer networks. Many students who attend AFA CyberCamps go on to join a CyberPatriot National Defense Competition team during the school year. The camp will be held July 30 through Aug. 4 from 9 a.m. to 1 p.m. in the Jane & Walter O. Briggs Building on the McNichols Campus. Register online before Saturday, July 15. For more information, contact Center for Cyber Security & Intelligence Studies Director Tamara Shoemaker at shoematl@udmercy.edu.
Detroit Mercy hosts Great Lakes 2017 InfraGard Conference
University of Detroit Mercy will host the MI InfraGard annual conference on Thursday, May 25, on the McNichols Campus. At the event, 2017 Great Lakes InfraGard Conference leaders in their industries will discuss trends related to risks to critical infrastructure, with a focus on the intersection between efforts to protect these assets and the value various underground groups gain by attacking them. This daylong event will feature a continental breakfast, lunch, keynote speakers, breakout sessions and a discussion panel involving numerous authorities from various sectors in the critical infrastructure realm. Register online.
Crack down on computer security: A message from ITS
Detroit Mercy's ITS department is aware of a new malicious software program named "WannaCry" that has recently made news through large-scale infections around the world. WannaCry is a type of malicious software known as ransomware. Though there have been no reports of WannaCry impacting Detroit Mercy systems at this time, as a precaution, ITS is taking steps to make sure Detroit Mercy's infrastructure and supported computers are safe from this attack.
Recently, ITS has seen an unacceptable number of users falling for phishing scams. Too many Detroit Mercy users are giving up account credentials or clicking on bad links before reviewing the link destination. As a reminder, Detroit Mercy will never ask for your password or pressure you to do send it online!
Although the phishing messages sent are looking more and more believable. Many scammers will spoof email accounts to make messages appear as if they are coming from the IT Helpdesk, the University president, your supervisor, your professor or someone you know. Don't be gullible; if something seems unusual from them, pick up the phone and talk to them.
To step up our game, ITS will be implementing two-factor authentication for anyone whose accounts have been compromised. Two-factor authentication requires one more method of authentication than your password, such as a passcode texted to a known mobile device or second email account. Users who wish to have this feature can contact ITS.
Titans, unite and share your stories!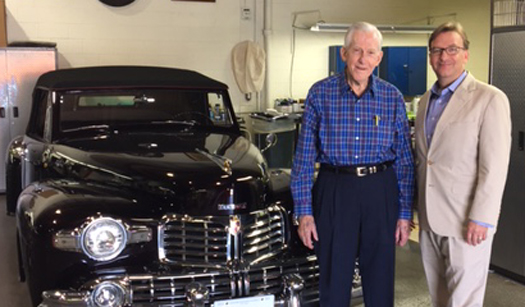 School of Architecture Dean Will Wittig recently met with Dick Kughn, former Chairman of the Board of Trustees, to talk about the University's accomplishments and bright future. Kughn, honorary degree recipient and President's Cabinet Award recipient, was instrumental in leading the University of Detroit in its 1990 conversations with Mercy College that resulted in today's University of Detroit Mercy and its combined commitment to Jesuit and Mercy values.
The Marketing and Public Affairs Department wants everyone to know about the individual stories that make Detroit Mercy such a special place. Do you have a story of a connection made or a life changed? A moment of sharing or giving that makes a difference? Or maybe an experience that can only have taken place at Detroit Mercy? Let us know by filling out the form here.
Thumbs Up!
University of Detroit Mercy School of Law announced the appointment of Amanda Vanover as Detroit Mercy Law communications specialist. In this role, Vanover will create a comprehensive communications plan for the School, including a social media and web strategy, as well as a media relations network. Vanover will also serve as editor of the Detroit Mercy Law alumni magazine, The Docket. See the Detroit Legal News article for more information.
Detroit Mercy Law Professor of Practice David Joswick, with Adam Fucile '17 and Joseph Tung '17, were quoted in the Detroit Legal News article, "Transactional skills evident at Detroit Mercy Law: National LawMeet success a boon for the school's program," May 16.
Professor of Psychology Barry Dauphin presented the paper, "New Standards, But Old Dilemmas…" during the Division 39/APA Education and Training Committee panel, titled, "The Times They are A-Changing, But the Song Remains the Same," April 30.