Commencement ceremonies, May 9 and 10
The 2014 Commencement ceremony for McNichols Campus graduates will be held Saturday, May 10, preceded by the ceremonies for the Schools of Law and Dentistry, which will be held Friday, May 9.
Former UDM President Gerard L. Stockhausen, S.J., Ph.D., will receive UDM's honorary degree at the McNichols Campus ceremony. For all the details, see the Commencement site.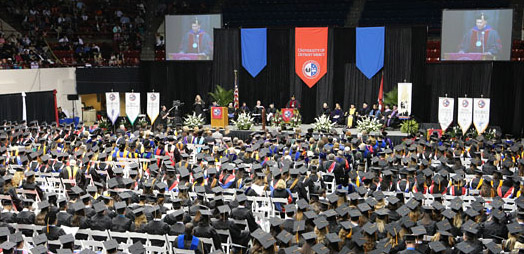 Subject experts needed to create Jesuit Commons courses
Jesuit Commons: Higher Education at the Margins (JC:HEM) is an initiative of the Society of Jesus that brings Jesuit higher education to those at the margins of society. JC:HEM is currently working in collaboration with the Jesuit Refugee Service to offer online higher education courses to more than 500 refugees in Malawi, Kenya, Syria and Jordan. See the JC:HEM site for more on the program.
The project has received grant funding to create 30 new courses for a global diploma program that will be customizable to local needs. The project has an immediate need for subject matter experts who can meet for a curriculum intensive May 12-15 at the NASA Technology Transfer Center on the campus of Wheeling Jesuit University in Wheeling, W.Va. Travel expenses will be paid by the grant and housing will be at the Oglebay Resort. A work-for-hire stipend of $3,000 ($1,000 at the completion of the design and $2,000 at the completion of the production) will be paid.
To join the project in any capacity or to nominate a faculty expert in the following areas, email Cindy Bonfini-Hotlosz, executive director and CIO of JesuitNET Global, as soon as possible:
Math (college algebra)
Science (natural world)
Writing
Interpersonal communication
Detroit Beyond Bankruptcy video online
You can now see the video of "Detroit: Beyond Bankruptcy," the March 18 panel at UDM featuring three distinguished University alumni. Watch the video on UDM's YouTube channel. This discussion of Detroit's condition and future was the keynote event for the 2014 College of Business Administration Alumni Week and featured three distinguished University business alumni:
Louise Guyton '86, founder of the Greater Works Foundation,
Trevor Pawl '11, managing director of Pure Michigan Business Connect, and
Emily Doerr '12, founder of Hostel Detroit and director of Community and Economic Development for the City of Oak Park.
For more information about the panelists, see the event page.
UDM hosts AJCU Finance Officers conference
Representatives from schools in the Association of Jesuit College and Universities (AJCU) came to UDM's McNichols Campus, April 23-25 to discuss institutional finance, accounting, strategies and collaboration at the 66th annual AJCU Chief Finance Officers Conference. UDM's Vice President for Business & Finance Vincent Abatemarco is the current chair of the AJCU Finance Officers organization.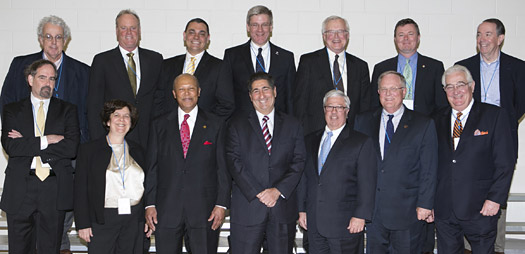 Chief financial officers from AJCU institutions with UDM's President Antoine Garibaldi and Vice President for Business & Finance Vincent Abatemarco (front row, third and fourth from left, respectively), at UDM, April 24.
Jesuit Alumni and Friends of Detroit luncheon
Following the success of their inaugural event last February, the Jesuit Alumni and Friends of Detroit group will hold another luncheon on Tuesday, May 13 from 11:30 a.m. to 1:30 p.m. at the Detroit Athletic Club. The featured speaker will be Stephen Henderson, editorial page editor for the Detroit Free Press and alumnus of University of Detroit Jesuit High School.
The luncheon is an opportunity for those who either attended a Jesuit school or are engaged with a Jesuit ministry to gather for Ignatian inspiration as well as business and social networking. Seating for the luncheon is limited and costs $40 per person. For more information and to register, go to EventBrite.com.
DCDC hosts national community design conference
The Detroit Collaborative Design Center, housed in UDM's School of Architecture, will host the 2014 national conference of the Association for Community Design, June 12-15 in Detroit. See the event page for more information.
More men attracted to Society of Jesus
On Easter Sunday, April 20, CBS News ran the report, "Pope Francis reeling men into the Jesuit order." View the video on CBSNews.com.
Thumbs Up!
In May, Rita Barrios, assistant professor of Computer & Information Systems, will begin her tenure on two boards. She was invited to join the Mobility in Education Advisory Board for the Mobile Technology Association of Michigan and was appointed to the Board of Directors for Ballet in Cleveland.
Professor of Counseling & Addiction Studies Nancy Calleja co-presented "A long, hard road: The transformation of a program for youth with sexual behavior problems" at the joint conference of the Massachusetts Adolescent Sex Offender Coalition and the Massachusetts Association for the Treatment of Sexual Abusers, April 11 in Marlborough, Mass.
Professor of Law Larry Dubin was interviewed in the WDIV-TV Local 4 report, "Affirmative action ruling could impact Michigan's same-sex marriage fight," which was broadcast April 22.
Class of 2014 valedictorian Elizabeth Grabowski is one of 82 finalists (of 850 applicants) to become a 2014-2015 Challenge Detroit Fellow. Fellows work with community organizations in Detroit throughout the year-long fellowship. You can find her application video on the Challenge Detroit finalists page.
A faculty member and two alumni of the UDM School of Architecture will receive awards at the 2014 American Institute of Architects (AIA) Michigan Honor Awards ceremony, to be held Saturday, June 7 in East Lansing, Mich. Associate Professor of Architecture Dan Pitera will be honored with the President's Award for his outstanding contributions to architecture through education, Andrew Dunlap '02, '04 will receive the AIA Michigan Young Architecture of the Year award and Matt Guinta '08 will be named AIA Michigan Associate Member of the Year.
John Staudenmaier, S.J., assistant to the president for Mission & Identity, was quoted in the Associated Press (AP) story, "Poll: Big Bang a big question for most Americans," about a poll measuring Americans' confidence in concepts that scientists say are basic truths.