Spirit of UDM videos, photos online
The University hosted the inaugural celebration of its Spirit of UDM: Alumni Achievement Awards, April 11. The event honored a distinguished alumnus from each of UDM's colleges and schools. For the list of awardees, videos of their remarks and a photo gallery of the event, see the Spirit of UDM page.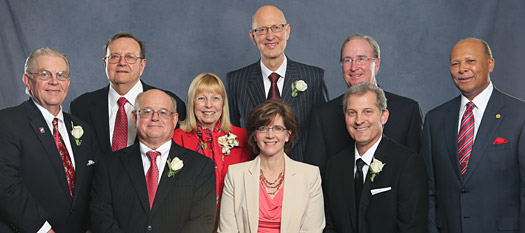 Spirit of UDM 2014 honorees and UDM officials, April 11. Back row, from left: William C. Young '64, CEO, Absopure Water Co. and Plastipak Holdings; Philip J. Kinsella '58, partner, Kevin Roche John Dinkeloo and Associates, LLC; MaryLee Davis, professor of Family & Community Medicine at Michigan State University, (accepting for John A. DiBiaggio '58); Emil J. Brolick '69, '72, president and CEO, The Wendy's Company; John D. Lewis '74, chair of the UDM Board of Trustees; Antoine M. Garibaldi, UDM president. Front row, from left: Frederick M. Seibert '69, '73, owner and president, Preece, Inc.; Nancy A. Susick '86, senior vice president, Beaumont Health System and president, Beaumont Hospital, Troy; Hon. Brian K. Zahra '87, justice, Michigan Supreme Court.
Research Week underway
UDM celebrates its inaugural Research & Scholarly Achievement Week this week with events through Thursday, April 17. The week of research-focused events and activities expands on UDM's annual Celebration of Scholarly Achievement and further highlights the scholarship of faculty as well as undergraduate and graduate students at UDM. For details and a schedule of events, see the event calendar.
Holy Thursday Mass
The Sisters of Mercy invite all students, faculty and staff to join them for Mass on Holy Thursday, April 17 at 4:30 p.m. in the St. Ignatius Chapel in the Commerce & Finance Building. Monsignor John Zenz, pastor of Holy Name Parish in Birmingham, Mich. and episcopal vicar of the Archdiocese of Detroit's northwest region, will be on hand.
DeWindt makes farewell appearance on "Ask The Professor"
Professor of History Edwin DeWindt, who will be retiring this year, reprised his role of emcee of the Ask the Professor (ATP) radio program on April 11. DeWindt's dulcet bass voice announced each ATP show with the ringing of the University Tower chimes from 1974 through 1999. Ask the Professor has been produced at the University since 1952 and claims the title of America's longest running English-language syndicated radio show. You can hear podcasts of the quirky quiz show, now hosted by UDM's Department of Communication Studies, on the ATP website.

Edwin DeWindt, left, at the "Ask the Professor" recording session, April 11.
Law Diversity Luncheon
Organized by Political Science senior Edward F. Martell, the UDM Law Diversity Luncheon took place April 10 and provided information and inspiration to minority UDM students interested in a career in government or law. Featured speakers were Limhi Montoya of the UDM Law Latino Law Students Association and Mikyia Aaron of the UDM Law Black Law Students Association and editor-in-chief of UDM Law Review. The event's keynote address was presented by Hon. Bruce Morrow, judge for Michigan's Third Circuit Court.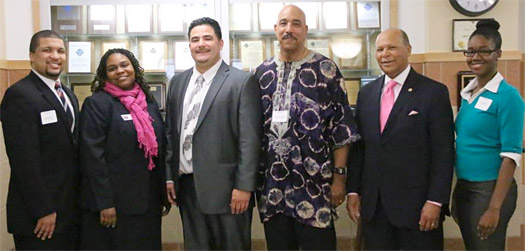 At the Law Diversity Luncheon, April 10, from left: UDM BLSA member Robbie Gaines, Jr., Kimberly Jones of UDM Law Admissions, Political Science student and lunch organizer Edward F. Martell, Hon. Bruce Morrow of Michigan's Third Circuit Court, UDM President Antoine Garibaldi and BLSA member Kyra Harris.
UDM sponsors health care symposium
UDM was host and co-sponsor of the symposium, "Urban Health Issues: Impact of the Affordable Care Act," April 4. The symposium brought together experts from a variety of health care fields to explore the impacts of the Affordable Care Act on urban health care and discuss strategies and models for coordination and delivery of care. The keynote speaker was Nancy Schlichting, CEO of Henry Ford Health System. More details are on the UDM news release and event page. You can also see photos from the event on the UDM gallery.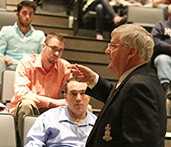 UDM hosts economic symposium at MUC
More than 100 people attended the symposium, "The State of the Economy," held April 12 at the Macomb University Center in Clinton Township, Mich. The event, sponsored by the UDM Department of Economics and the Michigan Council on Economic Education's UDM Center, offered a variety of perspectives on different aspects of the economy. The next symposium is scheduled for Saturday, Oct. 4.
Ethics team represents UDM in championship competition
The UDM Ethics Bowl team competed in the Intercollegiate Ethics Bowl International Championships competition, held in February by the Association for Practical and Professional Ethics in Jacksonville, Fla. UDM achieved the best record of all the teams from the state of Michigan, which included the University of Michigan, Oakland University and Western Michigan University. This was also the first year that UDM finished ahead of arch-rival Loyola University of Chicago.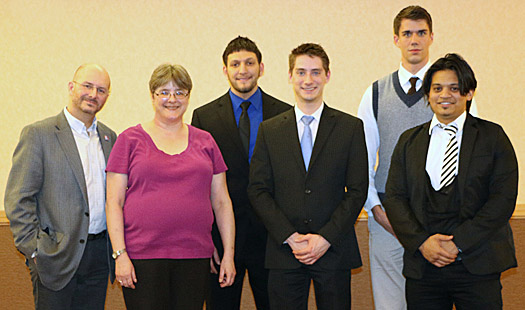 At the Ethics Bowl event, from left: Team coaches Martin Leever, associate professor of Philosophy, and Beth Oljar, assistant professor of Philosophy, and student competitors Samer Sabri, Andrew Gibbons, Andrew Standish and Muhammed Salie.
Thumbs Up!
Associate Professor of Biology James Graves served as a judge in the areas of microbiology and biochemistry at the 20th annual Michigan Science and Engineering Fair for future college students, held April 5 at Kettering University in Flint, Mich.
Professor of Philosophy David Koukal gave the presentation, "Reflections on the debris of Detroit: A philosophical provocation," to the Economic and Global Affairs Alliance, April 12 at the University of Michigan.
Andrea Kwasky, clinical associate professor of Nursing, was awarded the International Society of Psychiatric Nurses Child/Adolescent Psychiatric Nurses Division Award at the Society's annual conference, held March 25-29 in Greenville, S.C.
Associate Professor of Political Science Stephen Manning served as chairperson for the panel, 'Regime and the public in the People's Republic of China,' at the 72nd Annual Conference of the Midwest Political Science Association, held April 3-6 in Chicago.
Associate Professor of Criminal Justice Michael Witkowski was quoted in the April 8 Detroit News article, "Retired nurse gets mob in Detroit to back off, stop beating driver."