Colleague Development Days 2014, April 30 - May 1
The fourth annual UDM Colleague Development Days will take place Wednesday, April 30 and Thursday, May 1, providing a range of programming that is of interest to faculty, staff and/or administrators at all three UDM campuses. For the latest information, see the April 30 event page.
Third Thursday event on Livernois Avenue
Shop, dine and explore Livernois Avenue on Thursday, April 17. The new "Third Thursday" event on the Avenue between Seven and Eight Mile Roads will feature participating businesses staying open late with special art exhibitions, shopping, food and music. Stay tuned for more information about specific events, openings and entertainment on the event's Facebook page.
"Enough is Enough" week addresses violence
As part of a a national collegiate campaign, UDM Student Affairs is hosting "Enough is Enough" events this week, which seek to promote awareness, understanding and a commitment to prevent violence on our nation's campuses. The week is marked by the following events:
Tuesday, April 8
 During the Enough is Enough kick-off day, the UDM community is encouraged to wear black and white to signify a commitment to stemming societal and campus violence. Come to the Titan Dining Room from 11:30 a.m. to 1:30 p.m. to sign a pledge and receive an "Enough is Enough" ribbon to take a public stance against violence. You can also get a ribbon at the Titan Information Center from 10 a.m. to 6:30 p.m.
Wednesday, April 9 - Friday, April 11
"Survivor Story" silhouettes will be in the Titan Dining Room, presented by Residence Life.
Thursday, April 10
The UDM Public Safety Department will hold a "lunch and learn" session from noon to 1 p.m. in the President's Dining Room. Light refreshments will be served.
UDM Athletics hosts Special Olympics Day
Partnering with the Detroit chapter of the Special Olympics of Michigan, the UDM Athletics Department hosted almost 100 young Special Olympics athletes in Calihan Hall and on Titan Field, April 2. Titan student-athletes, coaches and staff were on hand to help attendees hone their skills in basketball, soccer and track and field. See more in the Titans news release.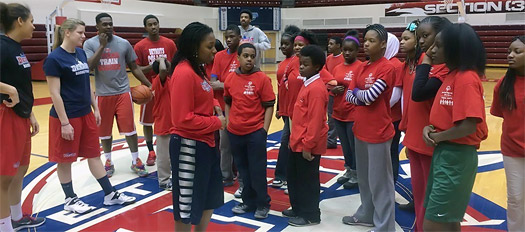 Assistant Women's Basketball Coach Ke'Sha Blanton (with black shorts) and UDM student-athletes with visitors in Calihan Hall, April 2.
Teach in China: Information meeting, April 11
Students are invited to learn about opportunities to teach at a K-12 school in China during the 2014-2015 academic year. Compensation includes a monthly salary, room and board, and flight cost. Candidates must possess at least a bachelor's degree by the time their assignment begins.
Teaching positions are available in the following subjects: English, science, social studies, math and science. No Chinese language background is necessary, as all subjects will be taught in English.
Students will also learn about opportunities to teach English to students from China who will be visiting the Detroit area this summer.
The sponsoring organization, Won Won Global Learning, Ltd., will present an information session on Friday, April 11 from 1 to 2 p.m. in Reno Hall, room 26. For more information, contact UDM Director of Language & Cultural Training Lara Wasner at wasnerle@udmercy.edu.
Thumbs Up!
Assistant Professor of Counseling & Addiction Studies Jocelyn Bennett-Garraway presented "Evidence-based, data-driven comprehensive school counseling," at the Michigan Association for College Admission Counseling's Urban Counselor Workshop, held March 18 at University of Michigan-Dearborn.
Professor of History Roy E. Finkenbine gave three talks recently. On March 28, he presented the paper, "'He will make for Detroit': How the Detroit River borderland became a destination for fugitive slaves from the American South," to the Metro Detroit Historians Collegium at Schoolcraft College in Livonia, Mich. On March 29, Finkenbine presented "The Colored Vigilant Committee of Detroit" to the Michigan in Perspective: Local History Conference meeting in Sterling Heights, Mich. On April 2, he gave the talk, "Solomon Northup's America," to the Detroit chapter of the Women's National Book Association.
Mary-Catherine Harrison, associate professor of English, presented the paper, "'Am I not a man and a brother?': De/humanizing blackness in abolitionist poetry," at the International Society for the Study of Narrative, held March 29 at the Massachusetts Institute of Technology.
Christine Pacini, dean of the College of Health Professions and McAuley School of Nursing, was recently appointed to the board of trustees of St. Mary Mercy Livonia Hospital.
Career Services Coordinator Emily Reetz in UDM's Career Education Center served as a co-chair of candidate relations in "Career Central" during the American College Personnel Association's 2014 national convention, held March 29 through April 1 in Indianapolis. Career Central is a forum for arranging on-site interviews and career development for professionals in student affairs and higher education.