Spirit of UDM: 2014 Alumni Achievement Awards, April 11
The inaugural Spirit of UDM Alumni Achievement Awards event will be held Friday, April 11 at 6 p.m. in the Student Fitness Center. The Awards were established to recognize the University's distinguished graduates from each of its colleges and schools who have excelled in their chosen professions and have been active in service to their communities. Award recipients reflect the University's mission of excellence and service and bring pride to their alma mater. To find out about this year's awardees and how to register to attend, see the event page.
Law clinical program ranked among best in U.S.
UDM's School of Law is home to one of the nation's Top 20 Clinical Law Programs, according to a recent ranking by National Jurist magazine. The accolade reflects the strong commitment by the School to developing the clinical programs, which provide excellent educational opportunities to students while offering important services to the community at no cost. See the UDM news release.

DCDC featured in Model D
A reporter from Model D recently visited the Detroit Collaborative Design Center (DCDC), housed in UDM's School of Architecture, and interviewed several of the staff during the Center's 20th anniversary for a feature article. Read the Model D feature, "Designing with Detroiters: DCDC turns 20."
Architecture lecture, April 4
As the School of Architecture continues its 50th anniversary celebration, Alex Krieger, a professor at the Harvard Graduate School of Design, will give the final presentation in the School's annual lecture series on Friday, April 4 at 5:30 p.m. in the Loranger Architecture Building. In his teaching and practice, Krieger has dedicated himself to improving the quality of place and life in major urban areas. He has taught both a seminar and a studio based on the city of Detroit. For more information, see the event page.
International Night, April 4
Enjoy an evening of free food, fun and performances from around the world! The International Services Office invites the UDM community to the Student Fitness Center on Friday, April 4 at 7 p.m. for International Night, a celebration of the many cultures across the University. For more information, contact Megan Featherstone in the International Services Office at 313-993-3305.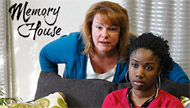 Theatre season's last weekend, April 4-6
Enjoy the UDM Theatre Company's last production of the 2013-2014 season the weekend of April 4-6. The final performances of Memory House, a comedic drama by Kathleen Tolan, will take place Friday, April 4 and Saturday, April 5 at 8 p.m., and on Sunday, April 6 at 2 p.m. For play and ticket information, see the Theatre Company website.
El Salvador talk: Gene Palumbo, April 8
El Salvador-based journalist and teacher Gene Palumbo will talk about conditions in El Salvador, Tuesday, April 8 at 6:45 p.m. in the Student Center Fountain Lounge. Other speakers and performers will also be part of the program in support of the Dean Brackley, S.J., UCA Jesuit Martyrs Scholarship Fund. For admission information and further details, see the event page.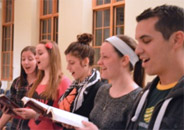 Join the University Chorus!
Come sing with the University Chorus on Mondays and Wednesdays from 1 to 2:25 p.m. The Chorus will sing music from all genres including classical, spirituals, Broadway, contemporary, popular and folk songs. No prior experience is needed to join the new University Chorus, only a willingness to come learn the basics. It's like having voice lessons at every rehearsal!
See more about the program on the University Chorus page. To learn about choral groups in the University's past, see the Spring 2013 issue of Spiritus.
Accepted Students Day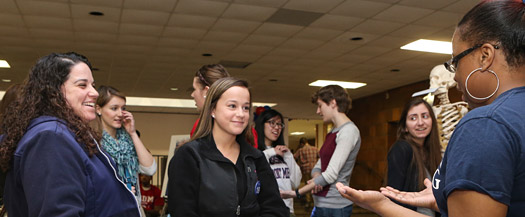 On Accepted Students Day, 183 students visited the McNichols Campus with their families to learn more about UDM through presentations and tours, March 29. View additional photos in the Accepted Students Day photo gallery.
Thumbs Up!
Libby Balter Blume, professor of Psychology, wrote the introduction, "Making connections: Toward a transdisciplinary family science," published in the March 2014 special issue of Journal of Family Theory & Review, which Blume also edited. The issue features invited articles and commentaries by scholars of human development, biopsychology, sociology, political science, philosophy, health care, communications and narrative studies.
Sanjay Chand, clinical assistant professor of Biomedical & Diagnostic Sciences in UDM's School of Dentistry, was interviewed on Fox 2 News on March 28. Health reporter Deena Centofanti asked Chand about "oil pulling," the practice of rinsing one's teeth with oil to supposedly make them feel and look better. Watch the video on UDM's YouTube channel.
At the American Dental Education Association (ADEA) Annual Session held last month, the UDM ADEA chapter received the Award for Outstanding Chapter Organization, which recognizes students who create programs, sponsor events and educational activities and support advances in dental education.
At the recent American Student Dental Association (ASDA) Annual Session, Graham Greenland, School of Dentistry student and current ASDA chapter president, received the District 6 Delegate of the Year Award for personal dedication and outstanding achievement on behalf of ASDA and its local chapter members.
Professor of English Nicholas Rombes wrote the book, 10/40/70: Constraint as Liberation in the Era of Digital Film Theory, which was recently published by Zero Books. Rombes also gave a reading from his forthcoming novel, The Absolution of Roberto Acestes Laing, at Literati Bookstore in Ann Arbor, Mich., March 29.
Joseph A. Weglarz, lecturer in Economics, recently delivered the paper, "Hesiod and the economic significance of his Works and Days," at the 2014 Austrian Economics Research Conference held March 20-22 in Auburn, Ala.