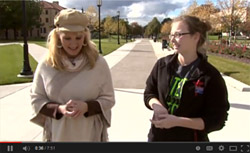 UDM on "Discover the D" show
On March 17, UDM was featured in a segment of the television show, Discover the D, on Detroit Public TV (WTVS Channel 56). Shot last fall, the eight-minute segment features UDM students, faculty and administrators on all three UDM campuses in Detroit. Check out the video and share it around!
Enjoy International Night, April 4
The International Services Office (ISO) invites the UDM community to International Night, a celebration of cultures across campus, on Friday, April 4 at 7 p.m. in the Student Fitness Center. Join ISO and our international students for an evening of free food, fun and performances from around the world! For more, see the event page.
Detroit Police Chief Craig visits UDM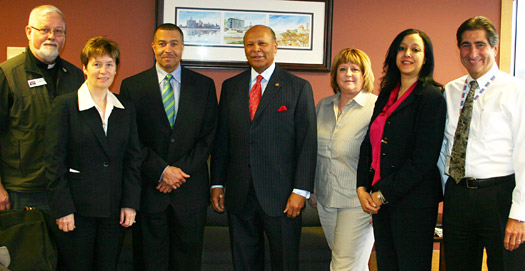 Detroit's Chief of Police James E. Craig visited with UDM officials and toured the McNichols Campus, March 19. Pictured, from left, are Assistant to the President for Mission & Identity John Staudenmaier, S.J., Associate Vice President for Facilities Management Tamara Batcheller, Craig, President Antoine Garibaldi, Interim Vice President for Enrollment Management & Student Affairs Deborah Stieffel, Director of Public Safety Letitia Williams and Vice President for Business & Finance Vincent Abatemarco.
Research and Scholarly Achievement Week begins April 14
UDM is excited to announce the expansion of our annual celebration of research! Research & Scholarly Achievement Week starts Monday, April 14 and showcases the research endeavors of faculty and students from many disciplines and all three UDM campuses.
Keep up to date with the latest announcements on the Research Week Facebook page and "like" it to spread the word to your colleagues and friends. Also, University Advancement has set up a special "crowd-funding" site to enable donations to support research here at UDM.
The annual Celebration of Scholarly Achievement event will take place during the week on Tuesday, April 15 at noon in the Engineering Building High Bay. Deadline for submissions is Friday, March 28. For more information and the submission form, see the Celebration of Scholarly Achievement site.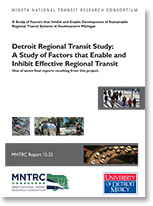 Transit research released nationally
On March 20, the Mineta National Transit Research Consortium (MNTRC) released a set of reports on regional transit in metro Detroit, which is the result of 16 months effort by a dozen researchers at UDM. The work, Detroit Regional Transit Study: A Study of Factors that Enable and Inhibit Effective Regional Transit, comprises reports on the following areas: leadership and politics, governance and law, finance, transit-oriented development, equity and access, and media and public opinion.
Leo Hanifin, professor of Mechanical Engineering and principal investigator on the project, says, "I believe that our findings will have a substantive positive impact on the development of effective regional transit in Metro Detroit." The reports are free to download on the MNTRC website.

2014 Valedictorian named
At the March 23 Honors Convocation, UDM named Elizabeth C. Grabowski, an Architecture major from Sterling Heights, Mich., as Valedictorian for 2014. An intern at the Detroit Collaborative Design Center, Grabowski is described as an "aspiring architectural entrepreneur and social activist who sees design as a collective medium that can greatly impact the human condition through creativity, innovation and passion."
Neighborhood news: Avenue of Fashion signage project
Model D Media has been featuring a neighborhood revitalization project involving the Detroit Lions, the Hatch Detroit organization and retail businesses along the Livernois "Avenue of Fashion," which stretches north of McNichols Campus. The latest implementation of the project can be seen in new retail store signs installed along Livernois Avenue. Read the stories and watch the videos on the Model D site. For more good news about Detroit, see UDM's "Take another look at Detroit" page.
Thumbs Up!
Dean of the School of Dentistry Mert Aksu gave a presentation at the 2013 UC Davis Pre-Health & Pre-Medical National Conference, Oct. 12. The talk, "The future of dentistry," can be viewed on the UC Davis Pre-Health YouTube channel.
The UDM student chapter of the American Chemical Society (ACS) received an Outstanding Chapter award, March 17 at the ACS national meeting in Dallas, Texas. Of 1,066 ACS student chapters in the U.S., only 53 were so recognized this year, putting UDM's "Chem Club" in the nation's top five percent.
Professor of Business Administration Michael Bernacchi was featured in two stories on WDIV-TV's Local 4 News, March 18, one about the possibility of winning the "Perfect Bracket Challenge," and another about the current GM recall situation. Watch both segments on UDM's YouTube channel.
Professor of Law Larry Dubin was quoted in the media several times recently after a U.S. district judge declared Michigan's ban on gay marriage and adoption unconstitutional, including in the March 25 Detroit News column, "Attorney general doubles down on state's weak case against same-sex marriage."
Associate Professor of English Mary-Catherine Harrison wrote "Reading the marriage plot," published in the March 2014 issue of Journal of Family Theory and Review. Also, this month Harrison was awarded the Jesuit Community Summer Stipend for Course Development for her project, "Contemplating empathy and social justice in diverse voices in literature."
On March 14, Associate Professor of Religious Studies Justin Kelly, S.J., gave the talk, "Pope Francis and Karl Rahner: A revolution in process?," at the New American Lyceum in Farmington Hills, Mich. Fr. Kelly will give the lecture again as a Faculty Colloquium for the College of Liberal Arts & Education on Friday, April 4, at 4 p.m. in the front parlor of Lansing-Reilly Hall.
Associate Professor of Law David Koelsch, who also directs the School of Law's Immigration Law Clinic, is scheduled to discuss immigration reform issues in three venues, including in a radio interview on The Craig Fahle Show on Friday, March 28 at 9:05 a.m. on WDET (101.9 FM). Koelsch will also address the topic on Thursday, March 27 at the Community House in Birmingham, Mich. and on Tuesday, April 1 at Monroe County Community College.
Professor of Philosophy David Koukal gave the keynote address, "Embodied politics in the age of the virtual," at the annual Essays of Significance Conference, March 21 at the University of Windsor. Koukal also gave the presentation, "In your end is the beginning of your possibilities," as the "Final Lecture" at the UDM Honors Program induction dinner, on Oct. 6.
Assistant Professor of Communication Studies Jason Roche's documentary film, Stealing Home, was honored with the "Best of Fest" award, determined by a vote of the audience members at the inaugural Freep Film Festival, March 23 in Detroit. For more, see the Detroit Free Press article, "Tiger Stadium doc wins Freep Film Festival audience award."
Professor of History Gregory Sumner's essay on Kurt Vonnegut's writing method is included in Welcome to the Monkey House: The Special Edition, to be published by Dial Press/Random House in April.