UDM comments on Pope Francis' first anniversary
WDIV-TV's Local 4 News covered the first year of Pope Francis' papacy by featuring comments by people at UDM, March 13. Biology student Devon Gac and Assistant to the President for Mission & Identity John Staudenmaier, S.J., are featured in the segment, which you can watch on UDM's Pope Francis page.

McElroy law and religion lecture, March 19
The 2014 McElroy Lecture on Law and Religion will be given by Sarah (Sally) Barringer Gordon, professor of History and the Arlin M. Adams Professor of Constitutional Law at the University of Pennsylvania. The title of her talk is "An American heresy: Trusteeism and the corporate law of religion in the early national United States." The talk will take place Wednesday, March 19 at 5 p.m. at the Ss. Peter & Paul Jesuit Church, adjacent to the UDM School of Law. A reception will follow. For more details, see the event page.

"Band of Sisters" documentary, March 19
UDM's University Ministry will sponsor a showing of the film, Band of Sisters, at Cinema Detroit in Detroit's Midtown area, Wednesday, March 19 at 8 p.m. The documentary highlights "the remarkable journey of Catholic nuns in the United States, from daughters of the Church to citizens of the world." For a preview of the film and more information, see the event page.
Parking tight during MHSAA game at Calihan, March 18
On Tuesday, March 18, UDM's Calihan Hall will host a quarter-final match in the Michigan High School Athletic Association (MHSAA) basketball tournament. Approximately 6,000 visitors are expected on the McNichols Campus for the game, which starts at 5 p.m. The crowd is expected to begin arriving around 3:30 p.m. Therefore, parking in the late afternoon and evening of March 18 will be at a premium.
Public Safety strongly recommends that students, faculty and staff use the Livernois Avenue entrance and park in Lots A and B for evening classes, as they expect to close the McNichols Road entrance and Lot F (across from the Commerce & Finance Building) due to heavy traffic. Please allow extra time for your commute and parking. Faculty who teach Tuesday evening may wish to contact their students through BlackBoard or email to ensure they are aware of this event.
Transfer and graduate student open house, March 19
UDM will hold an open house event especially for transfer and graduate students on Wednesday, March 19 from 4 to 6:30 p.m. in the Student Center Fountain Lounge. Attendees will be able to meet advisors representing UDM's more than 60 academic programs and find out how to finance a UDM education. For more information, see the event page.
Women's History Month display and poetry event
March is Women's History Month. In commemoration, the McNichols Campus Library is featuring a display of books, memorabilia, posters and buttons related to women's history. The exhibit was designed and installed by Megan Novell, adjunct professor of English, and will be in place throughout the month.


Some of the Women's History Month display at the McNichols Campus Library.
Also, on March 16, the Dudley Randall Center for Print Culture and Broadside Press held a special session of Broadside Press Poets' Theater at UDM celebrating Women's History Month and featuring poems by and about women.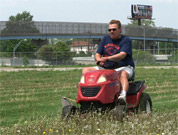 Roche documentary in Freep Film Festival, March 23 and at UDM, March 27
On Sunday, March 23, the inaugural Freep Film Festival will feature the documentary, Stealing Home: At the Corner with the Navin Field Grounds Crew, directed by Assistant Professor of Communication Studies Jason Roche. The documentary tells the story of a group committed to preserving the grounds of the old Tigers Stadium in Corktown. The screening will take place at noon in the Detroit Film Theatre at the Detroit Institute of Arts. The Freep Film Festival is presented by the Detroit Free Press. For more, see the Festival website and the Detroit Free Press story, "Tiger Stadium documentary joins Freep Film Fest lineup."
Stealing Home will also be shown at UDM during the 2014 Honors Symposium, Thursday, March 27 at 6:30 p.m. in the Genevieve Fisk Loranger Exhibition Center in the School of Architecture. The film will be followed by a panel discussion by UDM professors including Roche, Associate Professor of Communication Studies Tom Stanton, Professor of History Greg Sumner and Assistant Professor of Architecture Gilbert Sunghera. Tickets are $10 or two cans of food, with proceeds benefiting the Campus Kitchen program at UDM.
Sports Journalism Conference, April 2
UDM will host a conference on sports journalism, Wednesday, April 2 from 8:45 a.m. to 1:30 p.m. Professionals from various Detroit sports media will give presentations to area high school students and anyone else interested in the topic. Scheduled speakers include Tom Leyden, WXYZ-TV sports anchor, Lynn Henning, Detroit News Tigers beat reporter, Joanne Gerstner, former editor at espnW (ESPN's channel for women), and Michael Happy of Fox Sports Detroit. Tickets are $10 per person to cover lunch costs. For more, see the event page.
Benefits for UDM employees who are also alumni
Many UDM employees are also UDM alumni, and so they have access to a number of alumni benefits, from discounts on Liberty Mutual home and auto insurance and incentives on mortgages to class auditing and job search assistance in the Career Education Center. See the UDM Community site for the list of benefits for all UDM alumni.
Energy savings helps UDM and the planet
The grass may not be green yet, but we can be green on campus! Saving energy always helps, and one of the easiest ways to do it is powering down electric devices in the office over the weekend. Before you leave on Fridays, please take a moment to prevent energy waste. Unplugging devices or turning off power strips is a great way to conserve energy on computers, displays, copiers, printers, coffee-makers, etc. It's not just better for UDM's energy bill, it's better for the environment! If you have questions about energy use at UDM, call Facility Operations at 313-993-1240.
Thumbs Up!
Professors Mark Benvenuto and Liz Roberts-Kirchhoff and Associate Professor Matt Mio of the Chemistry & Biochemistry Department organized the symposium, "Service-learning focused on chemistry and the environment," held during the American Chemical Society's 2014 national meeting and exposition, March 16-20 in Dallas, Texas. Among the seven symposium presentations, Benvenuto and Mio co-presented "Connections between service-learning, public outreach, environmental awareness and the Boy Scout chemistry merit badge" and Roberts-Kirchoff presented "Service-learning project for students in a General, Organic, and Biological Chemistry course focused on the theme of National Chemistry Week: 'Energy now and forever.'"
Associate Professor of Education Joslen Letscher was invited as a delegate to the 2014 World Ocean Summit, hosted by The Economist magazine in association with National Geographic, Feb. 24-26 in San Francisco. Delegates contributed interdisciplinary insights and formulated action ideas for understanding challenges, building solutions and forming partnerships to address the economic, natural and educational challenges inherent in using oceans as global resources.
Heather Hill-Vasquez, associate professor of English, presented "Griselda's patience, Walter's ego, and the representation of lay interpretive practices in Chaucer's Clerk's Tale" at the 2014 conference of the Michigan Academy of Science, Arts & Letters, Feb. 28 in Rochester, Mich.
Isaiah McKinnon, currently on leave of absence as associate professor of Education to serve as deputy mayor of the City of Detroit, was honored with the 2014 Brotherhood Award by the Michigan Department of Jewish War Veterans of the United States of America. The award recognizes McKinnon's service to all people regardless of race or faith.