Philanthropy Awareness Day, Feb. 27
UDM alumni volunteer their time, talents and financial resources to help support our current students throughout the year. Philanthropy Awareness Day is one way to celebrate the many gifts our generous alumni make to the University. In fiscal year 2013, 6,260 UDM alumni gave more than $8.2 million to support UDM students. The following activities will take place to raise awareness of philanthropy at UDM:
Throughout McNichols Campus, signs have been posted identifying areas made possible because of alumni support. Students: Take your picture by at least 10 locations and submit the photos to saa@udmercy.edu by Friday, Feb. 28 for your chance to win one of three UDM sweatshirts.
Join the Office of Alumni Relations and the Student Alumni Association for free hot chocolate on Thursday, Feb. 27. Representatives will be outside the Titan Dining Room from 11:30 a.m. to 2 p.m. and in the McNichols Campus Library from 1 to 2 p.m.
"Mercy in the City" author, March 12
Kerry Weber, associate editor of the national Catholic weekly America Magazine, will visit UDM to speak about her new book, Mercy in the City: How to Feed the Hungry, Give Drink to the Thirsty, Visit the Imprisoned, and Keep Your Day Job," Wednesday, March 12 at 7 p.m. in the Student Center Fountain Lounge.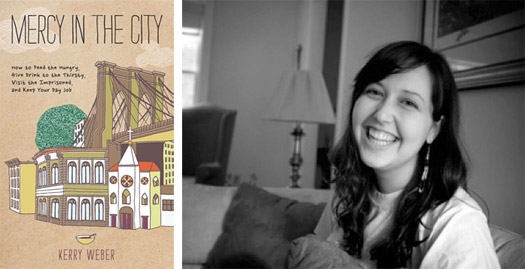 Kerry Weber, right, author of Mercy in the City: How to Feed the Hungry, Give Drink to the Thirsty, Visit the Imprisoned, and Keep Your Day Job.
Her talk will address being a modern, young and social person while still maintaining an authentic, faith-filled and spiritual life. As a former Mercy Volunteer, current Mercy Associate and editor at a Jesuit magazine, Weber (pictured) shares the UDM perspective of bridging the Mercy and Jesuit charisms.
Dance event, Feb. 27
The Texas-based Flatlands Dance Theatre will perform Ordinary Wars, which explores the personal experiences of American women, on Thursday, Feb. 27, at 7 p.m. at Lawrence Technological University (LTU), 21000 West 10 Mile Road in Southfield, Mich. The exhibition is co-sponsored by UDM's Women's and Gender Studies Program and LTU's College of Architecture and Design.
The performance is part of the 2014 Women's and Gender Studies Biennial Jury Art Exhibition, "Trans," which is running through March 13 at Studio Couture at 1433 Woodward Avenue in Detroit. This multi-media exhibition highlights creative feminist works that explore topics of transitioning. For more information, contact Director of the Women's & Gender Studies Program Rosemary Weatherston at 313-993-1083.
Think spring with Detroit Tigers display
Baseball conjures images of green grass and temperatures well above freezing, so maybe it can do some good to visit the Detroit Tigers memorabilia exhibition now on display on the first floor of Briggs Building on McNichols Campus. The items are from the collection of the Detroit Historical Society and include pennants, World Series programs and baseballs autographed by All-Star Mark "The Bird" Fidrych and Hall-of-Famer Al Kaline. The display will remain in Briggs through April.
Discounted summer courses
The University is offering a number of undergraduate courses this summer at a discounted rate of $333 per credit. This rate is more than 60 percent off the standard undergraduate tuition rate per credit hour. See the Registrar's site for available course sections and more details.
President meets with students
UDM President Antoine Garibaldi spent this Valentine's Day with UDM students. On Feb. 14, Garibaldi held his annual luncheon with 18 freshmen to find out about their first-year experience at UDM and to hear their suggestions for improving campus life.

President Garibaldi, left, with freshmen students, Feb. 14.
Thumbs Up!
Laurie Ann Britt-Smith, associate professor of English, gave the plenary address, "The portrayal of Jesuits in contemporary media," at the Heartland/Delta Faculty Conversations Conference at Xavier University (Cincinnati), Feb. 15.
Elissa Clemons, assistant dean of the UDM Career Education Center, participated in the panel, "Career Development as a Retention Tool," along with other members of the Michigan Career Educator and Employer Alliance. The panel was part of the second annual Michigan Student Retention Conference hosted by Oakland University at the Marriott in Troy, Mich., Feb. 5-6.
Professor of Law Larry Dubin was interviewed for the Feb. 7 Voice of Russia article, "Bankruptcy threatening to bankrupt Detroit even more."
On Feb. 11, Professor of History Roy Finkenbine gave the talk, "Solomon Northup's America," at the Berkley (Mich.) Public Library. On Feb. 12, he gave the talk, "Abolition and the Underground Railroad in Detroit," as part of the National Endowment for the Humanities series, "Created Equal: America's Civil Rights Struggle."
Sheryl McGriff, dean of the Career Education Center and chair of the Undergraduate Retention Committee, was one of six national awardees of the National Academic Advising Association (NACADA) scholarships for the NACADA Administrator's Institute. The scholarships provide professional development experience to selected NACADA members who exhibit a potential for leadership roles within NACADA. The Institute was held in Albuquerque, N.M., Feb. 6-8.
This month, the UDM Women's and Gender Studies Program awarded its 2013-14 Faculty Grants to Associate Professor of Religious Studies Hsiao-Lan Hu (Feminist Scholarship Grant) and Associate Professor of English Heather Hill-Vasquez (Feminist Teaching Grant).
Provost and Vice President for Academic Affairs Pamela Zarkowski recently gave the following presentations: "Emerging issues in higher education," at the American Association of Colleges of Pharmacy Interim Meeting, held in Washington DC, Feb. 10, and "Mirror-explorer-probe: Seminar series for dental hygiene educators," at the California Dental Hygiene Educators Association meeting in San Jose, Calif., Feb. 22-23.