Black History Month events continue at UDM
Several upcoming events at UDM continue to celebrate Black History Month. See the special events page for more information on film exhibitions, presentations of the UDM-produced multimedia docudrama Jordan Anderson Writes a Letter, a discussion of the Underground Railroad and a night of blues music at UDM!
E&S video highlights student research
A new video is now online highlighting the ability of UDM students to participate in academic research while they are undergraduates in the College of Engineering & Science. The video was shot during the College's Student Research Symposium, Nov. 1. Check out the video on the UDM YouTube channel.
Campus Kitchen program holds successful fundraiser
The UDM Campus Kitchen program, which uses unserved cafeteria food to feed hungry people in our area, held a successful Valentine's Day-themed fundraiser, Feb. 9. Attended by about 100 people at St. Hugo of the Hills Church in Bloomfield Hills, Mich., the event raised more than $3,000 in support of the student-led program. Find out more about the program on the Campus Kitchen at UDM website.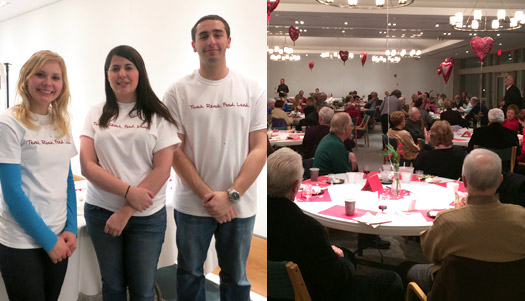 Left: Students (from left) Ariel Katsimpalis, Kathryn Rinna and Anthony Barakat from the UDM Campus Kitchen program. Right: the Feb. 9 fundraiser event.
UDM collaborates on tech conference for girls
University of Detroit Mercy is collaborating with the Michigan Council of Women in Technology to present the "Girls Are IT!" conference, March 19. Along with partner institutions Lawrence Technological University and University of Michigan-Dearborn, UDM is developing programming to introduce girls in grades four through 12 to information technology (IT) as well as science, engineering and math. The hope is that the event, which will be held at UM-Dearborn, will inspire girls to pursue careers in IT and other traditionally male-dominated, technology-related fields.
Celebrating girls and women in sports, Feb. 22
UDM Athletics has announced its annual National Girls & Women in Sports Day celebration will take place Saturday, Feb. 22 starting at 10 a.m. in Calihan Hall. This free event is open to all girls ages six to 13 and will feature a variety of sports clinics led by student-athletes from nearly all of UDM's varsity teams. Find out more on the Detroit Titans site.
Thumbs Up!
The UDM chapter of the American Student Dental Association (ASDA) was awarded a grant from the National ASDA Foundation to participate in a "state lobby day" this spring. UDM ASDA students will visit Lansing and be a voice in policy matters that impact the professional dental community.
Associate Professor of History Diane Robinson-Dunn gave the keynote address, "Oriental and African slavery as reflected in French and English literature, 18th-20th centuries," at a conference of the Humanities Institute at the University of Lyon (France), Feb. 6.
Associate Professor of Nursing Mary L. White wrote two articles published in December 2013: "Development of a spiritual self-care practice scale," published in the Journal of Nursing Measurement, and "Spirituality self-care effects on quality of life for patients diagnosed with chronic illness," published in Self-Care, Dependent Care & Nursing. Also, White has been asked to serve as associate editor of Self-Care, Dependent Care & Nursing, which is the official journal of the International Orem Society.