Jesuit Father Peter Faber canonized by Pope Francis
On Dec. 17, Pope Francis canonized Jesuit Father Peter Faber as a saint. Pope Francis has long admired Faber, one of the first Jesuits and a close companion of St. Ignatius Loyola, founder of the Society of Jesus. Faber lived from 1506 to 1547 and has been called by many the "Second Jesuit." Read more on Jesuit.org.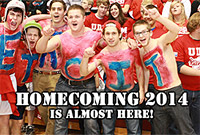 Homecoming, Jan. 11
Join thousands of Detroit Titans basketball fans for Homecoming 2014 on Saturday, Jan. 11! Festivities begin at 2 p.m. when the Titans women's team hosts the Oakland University Golden Grizzlies and don't conclude until after the Titans men's team takes on Oakland at 7 p.m.
All faculty, staff and alumni are invited to Mass on Homecoming Day at 4 p.m. in the Commerce & Finance Building's St. Ignatius Chapel, and to the Alumni Tailgate party beginning at 5 p.m. in the Engineering Building High Bay. The admission price for the Tailgate includes family fun, food, beverages and a vote in the Alumni Chili Cook-off. Visit the Homecoming event page for details, Tailgate registration and downloadable Homecoming Facebook banners to show your school spirit!
Sign up for UDM emergency alert system
The latest UDM emergency alert about the Jan. 6 closure was received via 3,200 text messages, 7,300 emails and 3,600 phone calls. About 60 percent of the UDM community is now registered to receive emergency alerts by text message, phone call and email. The alert system is the fastest way to find out when classes are canceled or campuses are closed due to weather or other emergencies.
Have you set up your free emergency alerts for next time? To register, go to the Rave Mobile Safety site, and sign in with your TitanConnect user name and password. Follow the site's instructions to confirm or modify your contact information. You can also perform a test to make sure you receive system notices.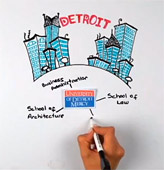 DMS students create stop-motion videos to promote UDM
Three videos created by students of the School of Architecture's Digital Media Studies (DMS) program are now online. Each stop-motion work promotes the University's education and/or mission. Click the students' names to see the videos on YouTube.
Architecture and E&S grants make news
The School of Architecture and the College of Engineering & Science's recent receipt of $2 million in gifts and grants made the front page of the Detroit Free Press' business section, Jan. 3. Read the article on Freep.com.
Christmas party photos online
Pictures from the Dec. 13 Employee Christmas Party and College Recognition Celebration are available online in the UDM photo gallery.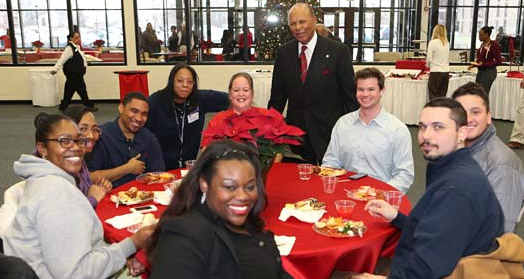 ITS training schedule for faculty, staff and students
The Information Technology Services (ITS) Department provides hands-on training for students, faculty, staff and administrators to learn University technology solutions such as Microsoft Office software, an online survey tool, UDM blogs and more.
UDM students and employees are welcome to attend sessions that are of interest to them. Each session includes an overview presentation and an opportunity to ask questions. See the ITS training session schedule. Individual training sessions may also be scheduled by appointment.
Pope Francis on Catholic institutions of higher education
In a recent article, the president of the Association of Catholic Colleges and Universities (ACCU) reflects on the implications of Pope Francis' first Apostolic Exhortation on Catholic institutions of higher education. Find the article in the Winter 2013 issue of ACCU's Update newsletter.
CES co-hosts innovation webinar
The UDM College of Engineering & Science has partnered with Innovation In Action to present the webinar "Applied Innovation," Jan. 28. The program is designed to help engineering and manufacturing organizations to encourage innovation among their employees in order to increase long-term growth potential.
Alumni "Spirit of UDM" Awards announced
This spring, University of Detroit Mercy will host the inaugural University-wide "Spirit of UDM" celebration, on Friday, April 11. At the event, distinguished alumni from each of each of UDM's colleges and schools will be honored with an Alumni Achievement Award. The award recipients for 2014 are as follows.
School of Architecture
Philip Kinsella, AIA, '58, architect & managing principal, KRJDA, LLC Architects
College of Business Administration
Emil Brolick '69, '72, president & CEO, The Wendy's Company
School of Dentistry
John DiBiaggio, D.D.S. '58, former president of Tufts University, Michigan State University and University of Connecticut
College of Engineering & Science
William C. Young '64, president, Absopure Water Co.; chairman/CEO, Plastipak Holdings; chairman, Clean Tech, Inc.
College of Health Professions
Nancy Susick, MSN, RN, '86, senior vice president, Beaumont Health System; president, Beaumont Hospital, Troy
School of Law
Brian Zahra '87, justice, Michigan Supreme Court
College of Liberal Arts & Education
Frederick M. Seibert '70, '73, owner and president, Preece, Inc.
Thumbs Up!
Vice President for Business & Finance Vincent Abatemarco and Dean of the Career Education Center Sheryl McGriff represented UDM at the "Hire Detroit!" event, held Dec. 12 in Detroit. U.S. Secretary of Labor Thomas E. Perez, U.S. Secretary of Education Arne Duncan and then-Mayor of Detroit Dave Bing were also at the event to help launch a new campaign to encourage economic development in the city.
In December, Professor of Chemistry & Biochemistry Mark Benvenuto had two books published. He wrote the book Industrial Chemistry, published Dec. 13 by De Gruyterk and he co-edited the book Developing and Maintaining a Successful Undergraduate Research Program, published Dec. 17 by ACS Symposium Series.
Assistant Professor Greg Grobis and Associate Professor Melinda Pacha of the Performing Arts Department adjudicated at the Michigan Thespian Festival, Dec. 6. The event, the largest high school theater festival in the state, was held at Saginaw Valley State University.
Associate Professor of Education Isaiah McKinnon has taken a leave of absence to serve as deputy mayor of the City of Detroit. See a CBS Detroit article.
Associate Professor of History Sarah Stever wrote the book, Velio of Volterra: The Story of an Italian Master Alabaster Craftsman, now available on Amazon.com. Since 1987, Stever has taught art history in Volterra, Italy as part of a UDM summer program, where Velio taught sculpture. The book is based on his stories and the traditions of his art and life.