UDM ranks in top tier again in U.S. News and World Report's "2007 - America's Best Colleges"
For the sixth consecutive year, University of Detroit Mercy is listed in the top tier of Midwestern Master's Universities in the 2007 edition of the U.S. News and World Report's "America's Best Colleges." More

"Viewpoints" service projects - August 28, 31
John Daniels, director of UDM's Leadership Development Institute (LDI), encourages UDM staff and faculty to use their annual employee benefit of four hours of community service, "on the clock," to join students in a great annual UDM experience. Freshman students and their group leaders will undertake "Viewpoints" service projects with UDM's community service agency partners Monday, Aug. 28, and Thursday, Aug. 31.  To join in, contact LDI.
Loyola New Orleans student evacuee talks about UDM
The Association of Jesuit Colleges and Universities (AJCU) has published an interview with Lucy Kozak, a student from Loyola New Orleans who attended UDM while LNO recovered from Hurrican Katrina.  Read the AJCU interview.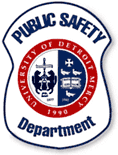 Public Safety Tip: Use Campus Escort service
Think safety first and do not walk alone during the evening hours. Use the buddy system as often as you can. There is safety in numbers. However, when you cannot, the campus escort service is available to students and employees during the evening hours.
A UDM Public Safety officer will be dispatched to accompany you to or from a campus building or parking area. Call (313) 993-1234 to arrange for a nearby escort. We ask that you follow these safety tips:
Wait in a well-lit area
Be specific about your location when you call
Ask for the approximate arrival time
If you are experiencing a problem, tell us immediately
More UDM Public Safety information is online at www.udmercy.edu/publicsafety/. Let us know how we are doing! E-mail us at publicsafety@udmercy.edu.
ABA names School of Law top in nation for public interest
UDM's School of Law has been recognized by the American Bar Association (ABA) Student Law Division as the top university in the country for providing public interest opportunities for its students. The ABA's Judy M. Weightman Memorial Public Interest Award is given annually to a law school or individual in recognition of their outstanding community service projects, public interest programming and strong commitment to helping others in need. More

CHP presents the front lines of health care
UDM's College of Health Professions presents "Living the Mission: Healthcare on the Front," Monday, Sept. 11, 5:30 to 7:00 p.m.  Alumni David Dereczyk, MS, PA-C, '79; Sister Mary Ellen Howard, RSM, RN, MSN '68; and Sheila Keefe, RN, BSN, BS '67, will share their insights on serving distressed and underserved populations here in Detroit and around the world.
Thumbs Up!
Jessica Jenkins, student in the Clinical Psychology Ph.D. program, was named the 2006 winner of the Linda Mealy Award (formerly called the Young Investigator Award) by the International Society for Human Ethology (ISHE). Her presentation, An Investigation of Marital Satisfaction: Assortative Mating and Personality Similarity, was given August 2nd at the biennial ISHE conference, co-hosted at Wayne State University by WSU and University of Detroit Mercy.
Mark Engel, assistant athletic director for sports information for the UDM Titans, received the 2005 Kathy Best "Best of the Best" Award from the Detroit Sports Broadcasters Association, July 10.  The award recognizes "the quality and tireless work performed by Detroit-area media professionals in sports related public and media relations."

Professor of Psychology Libby Balter Blume has co-authored the child development textbook, Middle Childhood to Middle Adolescence: Development from Ages 8 to 18, which will be published by Prentice Hall.

Over the past few months, Isaiah McKinnon, associate professor of Education, was commencement speaker for Macomb Police Academy, the Davis Aerospace Technical High School in Detroit, and the National Institute of Technology in Dearborn. He also gave presentations to the Michigan Sheriff's Association on diversity, and to Macomb Community College on pedophiles.
Sponsored by a Women's Studies Program Conference Travel Honorarium, Claire Crabtree, professor of English, and Donzetta Jones, 2006 UDM graduate in English and Women's Studies, presented papers at the National Association of Women in Higher Education Conference, at Georgetown University in June. Crabtree presented "Re-centering the Subject: Interior Frontiers in Faulkner's 'The Bear' and Morrison's Beloved" and Jones presented "The Probability of Madness: The Pursuit of Power, Prestige, Privilege and Wealth in Beloved and Wide Sargasso Sea."
In UDM's Business Administration department, Professors Mike Whitty and Suk Kim, and Associate Professor Trevor Crick published "The Effectiveness of Economic Sanctions: The Case of North Korea" in The North Korean Review, last spring. Also, Whitty lectured on peacemaking economics at the University of San Francisco in July.
Cisco Systems has awarded a $96,000 equipment grant to UDM's Centre For Information Assurance Studies.  The Centre, located in the College of Business Administration's Computer and Information Systems department, is led by CIS Professor Daniel Shoemaker.