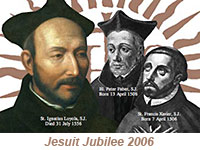 Feast Day of St. Ignatius Loyola - July 31
The end of July marks the feast day of St. Ignatius, founding member of the of the Society of Jesus (Jesuits), who died July 31, 1556. That 450th anniversary, as well as the 500th anniversaries of the birth of Jesuit founders Peter Faber and Francis Xavier, are at the heart of the Jesuit Jubilee 2006 celebration.
President's Convocation - August 18
UDM President Gerard L. Stockhausen, S.J., invites the University community to the 2006 President's Convocation, Friday, August 18, beginning with a continental breakfast at 8:30 a.m. Activities will continue throughout the day, including a picnic lunch and games in the afternoon. Plan on a day-long event, ending with Mass in the Saint Ignatius Chapel. Details are on our event calendar
Brazil leaves impressions on UDM students
This year, 17 UDM students, alumni, and staff learned much more than Portugese during the Brazil Study Abroad program. Read about their experiences.
Challenge grant is a success
UDM topped the challenge grant goal! Many, many thanks to the 2,031 generous alumni and friends who contributed $168,248 for the spring challenge grant. All the new or increased contributions to The Fund for UDM and University-wide scholarships made by June 30 helped us exceed our goal and will make a positive difference in the educational experience of UDM's students.
Credit Union ONE to move Student Center services

With more UDM members accessing their Credit Union ONE (CUO) accounts online, usage of the CUO branch on the McNichols Campus has decreased. As a result, the CUO McNichols branch will close, effective Friday, Sept. 15, 2006. All UDM accounts will be transferred to CUO's nearby Ferndale branch at 400 E. Nine Mile Road.
Credit Union ONE remains committed to offering a variety of options for accessible banking to its UDM members. More
TIAA-CREF Counseling on campus - July 18, 19, 20
TIAA-CREF will provide one-on-one counseling sessions today, tomorrow, and Thursday in Commerce & Finance Building Room 228. Make a reservation online or call Diane M. Frederick at 800-842-2044.
"Effective Grading" workshops - August 21
Two half-day sessions on "Effective Grading: Strategies to Enhance Student Learning" will be presented on August 21 by Towson University professor Virginia Anderson, co-author of Effective Grading: A Tool For Learning and Assessment. More
Briefing Senator Levin on bioethanol
UDM Chair and Associate Professor of Chemistry and Biochemistry Mark Benvenuto visited with Senator Carl Levin July 6 in Detroit. Along with Wayne State University researchers, they discussed the use of peat, which is abundant in Michigan, as a source of production for bioethanol, a gasoline alternative. The next day, Levin issued a press release on the topic.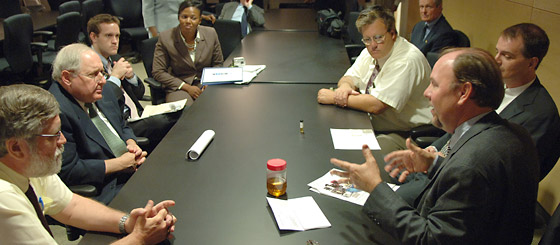 Senator Carl Levin, second from left, meets with researchers including UDM's Mark Benvenuto, far right, to discuss bioethanol. The jar on the table contains a sample of the gasoline alternative. Photo: Mary Jane Murawka, WSU
Thumbs Up!
On June 16, Mary Ann Hazen, professor of Business Administration, presented "Finding Hope: Learning from Hurricane Katrina, Rosa Parks, and the Homeless" at the National Organizational Behavior Teaching Conference at Nazareth College in Rochester, NY.
Christine Panyard, professor of Psychology, gave a presentation to the command staff of the Dearborn Police Department, July 10. The topic was pre-employment psychological evaluations in law enforcement.
Director of Instructional Technology Sarah Swart has been elected to serve a one-year term on the Alumni Board of Directors for Aquinas College in Grand Rapids.
Susan Trudeau, assistant director of University Academic Services, has completed the Cambridge eMaster Tutor Training Course, and is now a Certified Master Tutor Trainer.
Business Administration Professor Mike Whitty presented a paper on industrial policy at the Global Detroit/Global Michigan Symposia entitled "Hopeful Policies for Michigan's Future 2010 and Beyond," June 21 in Detroit along with representatives of the AFL-CIO, the UAW and the auto industry. Whitty will also present at the San Franciscio Laborfest while he teaches this summer at the University of San Francisco.
Weekly issues of Campus Connection will resume in mid-August.
Campus Connection is available online at www.udmercy.edu/campus_connection/. To submit news and information for publication in a future issue of Campus Connection, please visit www.udmercy.edu/campus_connection/forms/submit.jsp.

More University news and event information is available online at www.udmercy.edu/news_events/.