Dental Commencement scheduled for May 20
Approximately 120 School of Dentistry graduates and their families are expected to attend the University of Detroit Mercy School of Dentistry Commencement ceremony on Saturday, May 20 at 10:30 a.m. at St. Scholastica Church. The keynote address will be delivered by Richard W. Valachovic, D.M.D., M.P.H., M.Sc., the executive director of the International Federation of Dental Education Associations and the executive director of the American Dental Education Association.
Photos of the UDM Law School Commencement and McNichols Commencement ceremonies are now online. Dental Commencement photos will be added by May 23.
New graduates in the news
Two of UDM's most recent graduates have already made headlines. Both the Associated Press and the Detroit News (pdf) covered Mario Tabone, who earned both his law degree and an MBA at age 21. And on radio, WWJ Newsradio 950 interviewed Carmen Waldron, a new nursing graduate from UDM's McAuley School of Nursing in Grand Rapids, who is on her way to Kenya for eight months to help the sick and poor at the Misikhu Mission Hospital. You can listen to her WWJ interview online.
Hollywood comes to UDM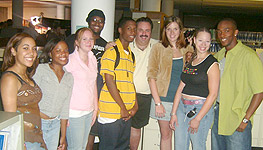 The UDM McNichols Campus served as the location for four scenes in the new film, Crossover, directed by former Detroiter Preston Whitmore II. The urban film is about two friends, Noah (Wesley Jonathan) and Tech (Anthony Mackie) who are gifted high school basketball players but whose paths diverge upon graduation. Wayne Brady also appears as an unethical sports agent.
The interiors of UDM's Commerce & Finance Building and the Library are used in the film as well as exterior shots of the Health Professions facility. University of Detroit Mercy is actually identified in one scene as the school where Noah is studying to get into medical school. Crossover, which opens nationwide on Sept. 1, also features several UDM students and staff who worked as paid extras in the film. Preview the film at AOL Video.
Did you know...
...that a group of University employees has been working to make this a better place for all? The idea for this column, which will become a regular feature in Campus Connection, came from the Staff and Administrator Development Advisory Team, formed as a part of the Shared Governance Process. The team is co-chaired by Yvonne King and Karen Martin. Other team members are Sally Young, Elissa Clemons, Russ Heatwole, Kathleen Caprio, and Connie Stier.
As the team members were getting acquainted they realized that there was a great deal they did not know about functions and activities in each other's areas. They also discussed the professional and personal benefits attained through networking. Out of these discussions, they identified a need for a forum in which valuable information could be presented to the University community on a regular basis.
"Did you know..." will provide interesting links to useful information about benefits, policies, and activities around the University. While the primary focus will be on Human Resources-related information, topics may expand into other areas as well. If you have a topic you would like covered in a future column, write Human Resources at hr@udmercy.edu. We look forward to helping you stay "in the know."
Dental School holds successful alumni weekend
More than 200 alumni, faculty and graduating dental and dental hygiene students turned out for the all-day, continuing education program on Friday, April 28 at the Ritz-Carlton Hotel, Dearborn. The day's presenter, Michael Glick, DMD, spoke on the "Medically Complex Dental Patient: Identification, Assessment and Treatment Protocols."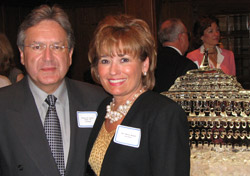 Rodney Hyduk '74, left, and Nancy Hyduk, co-chairs of the auction
Glick is the editor of the Journal of American Dental Association (JADA), co-author of the ADA's Oral Healthcare Guidelines, and a nationally recognized expert in the treatment of medically complex dental patients. Also at the event, School of Dentistry Dean H. Robert Steiman presented alumni awards to Kathi Shepherd '82,'95, S. Pamela Herrera, and John DiBiaggio '58.
On Saturday, April 29, 200 alumni and friends attended the annual School of Dentistry alumni auction at the Western Golf and Country Club in Redford. The event, which generated nearly $30,000 for student scholarships and support, featured a variety of auction items, including tickets to sporting events, jewelry, food baskets and destination vacations.
Thumbs Up!
Stephen Manning, associate professor, Political Science, organized and served as chair and panelist on the Roundtable, "Prospects of Democratic Transition in China," at the 64th Annual National Conference of the Midwest Political Science Association in Chicago, April 20-23.
Betty Nelson, head of the Circulation Department in the McNichols Campus Library, was honored with the first Libraries/IDS Employee/Department of the Year Award, May 5. She was recognized for her excellent leadership, patience with patrons and her staff development skills. Nelson began working for the University in 1978 and has trained 30 new employees during that time, and witnessed the implementation of the Library User Information Systems, which replaced card catalogs, and the barcode system, which replaced manually typed date due cards. Also recognized were Circulation employees:
Maurice Greenia, for his work as curator of the Library lobby display area and for his restoration and preservation of the libraries' books.
Nicole Almond and Jessica Szubeczak, for the competence, efficiency, and enthusiasm these new employees have brought to their respective departments.
Aloha VanCamp, associate professor, Social Work, participated in a panel discussion on "Children, the Media and Sexual Exploitation," at Wayne County Community College, May 3.
Michael Whitty, professor, Business Administration, has published a new, revised edition of his reader, At Work: Spirit Matters, co-edited with Jerry Biberman (Scranton Press, 2006). Whitty also delivered a paper on "The Fate of Detroit's Big Three and the Future of Michigan" at the University of Washington.
Note: With this issue, Campus Connection will begin its summer schedule with a monthly issue in June and July; weekly issues will resume in mid-August.
Campus Connection is available online at www.udmercy.edu/campus_connection/. To submit news and information for publication in a future issue of Campus Connection, please visit www.udmercy.edu/campus_connection/forms/submit.jsp.

More University news and event information is available online at www.udmercy.edu/news_events/.