May 9, 2006
McNichols Commencement to occur May 13
Nearly 800 graduates and their families are expected to attend the McNichols Campus Commencement ceremony on Saturday, May 13 at 1:30 p.m. in Calihan Hall. Valedictorian Mead Goedert, a social work major, will address the convocation as the senior class speaker. Charles Currie, S.J., president of the Association of Jesuit Colleges and Universities (AJCU), and Mary Ellen Howard, RSM '68, executive director of St. Frances Cabrini Clinic of Most Holy Trinity Church, will receive honorary degrees at the ceremony.
In addition, a group of alumni from the "Golden Jubilee" Class of 1956 will process and celebrate their academic accomplishments at Commencement, and provide inspiration to the newest class of graduates. Please note: there is a traffic advisory for the day of Commencement. More
Media highlights two UDM programs
Last week, two UDM academic programs were featured in the local media. The Detroit Free Press in a May 1 article highlighted the work of UDM Architecture students in designing a house using salvaged materials from an historic house, and WDIV-TV4 on its late newscast, May 2, interviewed Criminal Justice Instructor Erick Barnes about UDM's Intelligence Analysis graduate program, which prepares individuals to analyze information for various security and crime control situations.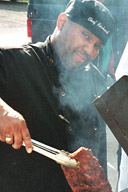 Chef takes second place in cook-off
Richard Flack, Sodexho executive chef at UDM, won second place at the Sodexho 6th Annual BBQ Ribs Cook-off, April 29 at the Gleaners Food Bank. Assisted by Catering Manager Susan Callahan, Flack created a menu of Bourbon Street ribs with his own sauce, Bayou cole slaw, grilled vegetables and ornate garnishes. About a dozen Sodexho chefs from the Detroit area participated in the event, which is held every year at the Gleaners Food Bank as a way to combat hunger through greater awareness in the community.
Thumbs Up!
Barry Dauphin, instructor, Psychology, recently chaired the panel, "EBT, EST, EBPP: What Will this Alphabet Soup Spell for Psychoanalysis?" and presented the paper, "Does psychoanalysis treat passive receptacles with disembodied entities? Thinking about some assumptions behind evidence based practice initiatives," at the APA Division 39 (Psychoanalysis) Spring Conference. Dauphin serves as president of Section IV (Local Chapters) of Division 39.
Marcel O'Gorman, associate professor, English and program director, Electronic Critique, spoke on the pertinence of the humanities in today's culture in his presentation, "The Digital Fate of the Humanities," May 2 at the University of Windsor. His comments were based on his new book, E-Crit.
Audio Visual Services Manager Bob Rouse and his staff made about 11,000 deliveries of AV equipment around the University during the past two semesters. This includes TV/VCR/DVD carts, laptop computers, and projectors often used by faculty for classroom presentations.
Campus Connection is available online at www.udmercy.edu/campus_connection/. To submit news and information for publication in a future issue of Campus Connection, please visit www.udmercy.edu/campus_connection/forms/submit.jsp.

More University news and event information is available online at www.udmercy.edu/news_events/.