May 2, 2006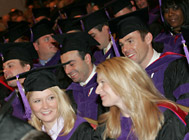 School of Law to hold Commencement, May 6
Edsel B. Ford II will be the keynote speaker at the School of Law Commencement ceremony, Saturday, May 6 at 11 a.m. in the Columbus Room of the Detroit Marriott Hotel in the Renaissance Center. Ford serves as a member of the Board of Directors of Ford Motor Company and also as chairman and CEO of Pentastar Aviation and chairman of Marketing Associates. He is active in numerous charitable organizations and community initiatives. Harold "Buzz" Wilson, CEO of Rainbow Rehabilitation Centers, will receive the Sister Maureen A. Fay Public Service Award. The Law Commencement ceremony will be preceded by a Baccalaureate Mass at 9 a.m. at Sts. Peter & Paul Jesuit Church with UDM President Gerard L. Stockhausen, S.J., presiding.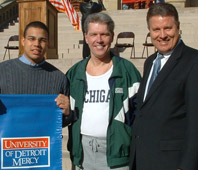 UDM participates in higher education rally in Lansing
UDM Government and Community Relations Coordinator Charley Jackson, Jr., represented UDM at a Rally for Higher Education at the Capitol in Lansing on Wednesday, April 26. State Representative John C. Stewart (20th District), chair of the House Appropriations Subcommittee on Higher Education, sponsored the rally, which included a two-mile run to the Capitol stairs with representatives from each of the 60 Michigan universities and colleges. Photo: Charley Jackson, Jr., left, with State Rep. John C. Stewart and Ed Blews, Jr., president, Association of Independent Colleges and Universities of Michigan.
Web site provides student health insurance information
The UDM Student Health Center web site was recently updated to include current insurance information for the UDM student health insurance plan, including new pricing and an available plan brochure on the site. Future links will be added to allow students to link to the plan online and sign up for the plan directly with the insurance company. Other updates include links to current health topics.
Submit calendar events for handbook
Submit your 2006-07 academic year events for inclusion in the new Student Handbook calendar. Send the information by Friday, May 26 to Student Life Director Michael Houdyshell at houdysme@udmercy.edu or via fax at 313-993-3275 or through campus mail.
Students explore Michigan geography for final exam
When given the choice, 10 students in the Michigan Geography (GEO 212) course decided to take a non-traditional option for their final examination. Instead of a written exam in class, the students elected to explore Michigan's geography up close over a weekend adventure, April 22-23. The students completed the 1,200-mile journey with Education instructor Kathryn Gross through the state taking in such historic sites as: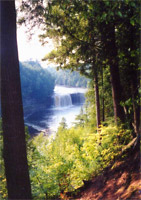 Hartwick Pines State Park, to see the impact of logging on the state and the Civilian Conservation Corps;
Whitefish Point, where most of the ships, including the Edmund Fitzgerald, sunk in Lake Superior;
Tahquamenon Falls (pictured), the largest falls in the state, observing the color change due to acidity of cedar forests;
Sable Falls/Pictured Rocks, to view the historic geologic formation of the state and uplifting of the Canadian Shield;
Sleeping Bear Dunes, with a hike to Lake Michigan to see the impact of glacial deposits.
It may be the most memorable exam these students will ever take.
Thumbs Up!
Roy Finkenbine, professor, History, co-moderated a session on "Historians and Reparations" at the annual meeting of the Organization of American Historians at Washington, D.C., on April 20. The session was covered by the History News Network (HNN), Inside Higher Ed, and the H-Slavery academic listserver. The news story by Inside Higher Ed is available online.
UDM faculty members were awarded the following promotions, effective August 16:
Mark Benvenuto, professor, Chemistry/Biochemistry
Byron Cooper, professor, School of Law
Amy Green Deines, associate professor, Architecture, and granted tenure
Martin Leever, associate professor, Philosophy, granted tenure
John E. Knisely, clinical assistant professor, Nursing, continuing in clinical track
Browne Lewis, associate professor, School of Law
Pamela Lysaght, associate professor, School of Law, and granted tenure
Gary Maveal, professor, School of Law
Kirstie Plantenberg, associate professor, Mechanical Engineering, and granted tenure
Alexa Rihana-Abdallah, associate professor, Civil & Environmental Engineering, and granted tenure
Nicholas Rombes, professor, English
Will Wittig, associate professor, Architecture, and granted tenure
Lawrence Zeff, professor, Business Administration
Campus Connection is available online at www.udmercy.edu/campus_connection/. To submit news and information for publication in a future issue of Campus Connection, please visit www.udmercy.edu/campus_connection/forms/submit.jsp.

More University news and event information is available online at www.udmercy.edu/news_events/.