April 25, 2006
Students display design and video work
The University community is invited to attend the annual "Arch-E-Crit" show today, April 25 in the Loranger Architecture Building's Exhibition Space from 5-7 p.m. The exhibit is a celebration of select student work, including:
graphic and web design (Amy Deines' Graphic Design class)
video and flipbooks (Allegra Pitera's Electronic Critique studio)
"Border Games" (Marcel O'Gorman's Electronic Critique class collaborating with Lee Rodney's University of Windsor Visual Arts class)
digital design projects (Wladek Fuchs' Architecture students)
After 7 p.m., students of Marcel O'Gorman and Lee Rodney will present their cross-border game design projects. Light refreshments will be served.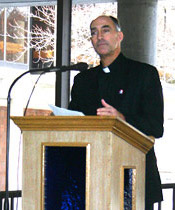 President Stockhausen updates University community
At the April 18 Town Hall meeting with faculty, staff and students, UDM President Gerard L. Stockhausen, S.J., highlighted a number of University activities and updates, including strong enrollment indicators for fall term with freshman applications and acceptances up slightly over last year. In addition, transfer student applications are up 70 percent over last year while transfer acceptances are up 40 percent. Capital project amounts have been allocated to the University's three projects (McNichols, Dental and Riverfront) and are currently being reviewed to bring a final recommendation to the Board of Trustees meeting in June. With the arrival of orange barrels, it appears the Livernois Boulevard project is about to begin. The first phase is planned from Eight Mile Road to Grove (one block south of McNichols). Additional Town Hall highlights are available online.
IT to hold user session
The ITS Department will host an Administrative Computing User Group session this Thursday, April 27, at 1 p.m. in Engineering 131. The session will focus on any matters related to the processing of information through UDM's IT systems.
UDM adds audio programs to web site
Recent presentations at UDM are now available for online listening on our web site. You can also sign up for UDMcasts and listen on your iPod or MP3 player. Presentations currently online include two Lenten Spiritual Exercise talks, "Grief and Joy in the Spiritual Life" and "Making Decisions for a Better Life" by John Staudenmaier, S.J. Guest presenters Emil Brolick '69,'72, president and chief concept officer of Taco Bell, reflects on "Leadership," and Ford Motor Company Executive Vice President Anne Stevens speaks on the need for students to pursue the hard sciences. More
Increase your money smarts
During the week of April 22-29, the Federal Reserve—in partnership with banks, businesses, government agencies, schools, community organizations and libraries in the Detroit area—is sponsoring Money Smart Week 2006. Each event during the week is designed to help consumers learn more about money and how to manage it. A number of events will be held on the campus of Marygrove College. For times and locations of Money Smart Week events, see this flyer.
UDM group to assist in hurricane clean-up
Beginning April 29, eight students, three colleagues and two parents will provide hurricane clean-up assistance for one week at St. Thomas the Apostle Church in Long Beach, Mississippi. This is one of the Alternative Spring Break sites located in the area of Gulfport/Biloxi, Mississippi. To assist this initiative, contact University Advancement at 313-993-1250 or Sr. Beth Finster at finsteba@udmercy.edu.
Theatre Company previews new season
To promote season ticket sales, The Theatre Company will perform scenes from the 2006-2007 theatre season productions on Sunday, April 30 from 2-4 p.m. at Marygrove Theatre. The new season will include the plays, Of Mice and Men, Polish Joke, Malice Aforethought, and a musical still to be named. For more information on the preview performance, contact The Theatre Company at 313-993-3270 or theatre@udmercy.edu.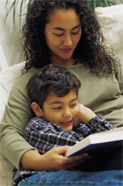 UDM to offer summer reading program
This summer, UDM will again partner with the Institute for Reading Development to offer a series of enrichment reading programs for pre-kindergarten students through adults. Programs will be offered on the McNichols Campus, as well as many other sites in the greater metropolitan area, in five-week segments from June through August. Employees of the University may enroll immediate family members for a reduced tuition of $219. For more information or to have a brochure sent to you, call the IRD office at 800-978-9596. Promotional material for the program has recently been mailed to parents. If your office takes a call regarding the program, refer the caller to 800-978-9596. Associate Vice President for Academic Services Nancy Surma, OSF, is the UDM contact person for the program.
Alpha Sigma Nu inducts new members
On April 9, Alpha Sigma Nu, the national Jesuit Honor Society, inducted 33 new members, representing all UDM schools and colleges. Membership is based upon scholarship, loyalty and service.
Web site offers helpful information to employees
Human Resources announces a new information service offered by Ceridian: LifeWorks On-Line, a 24-hour employee assistance web site with articles, self-assessments and financial tools. The web site includes helpful articles and self-assessment tools on topics such as healthcare, legal, parenting, and child care issues. Other valuable information on new vehicle and home purchases as well as some financial tools is also available. To learn about this benefit, see the HR web page.
Thumbs Up!
James Graves, associate professor, Biology, served as a judge at the 12th Annual State of Michigan Science and Engineering Fair in Flint. Student projects evaluated ranged from methane fuel production by bacteria to the mutagenic effects of tobacco.
Sue Homant, associate librarian, McNichols Library, presented the PowerPoint paper entitled, "Purchasing, Promoting, Using K-12 Electronic Textbooks," at the Education Curriculum Interest Group's spring workshop, April 21. The ECIG is a unit of the Michigan Library Association.
University Registrar Diane Praet chaired the annual meeting of the Conference of Registrars in Jesuit Institutions (CORe) on April 20-21 in San Diego, CA. She has chaired this group for the past two years and will now serve on the Executive Committee as past chair.
Campus Connection is available online at www.udmercy.edu/campus_connection/. To submit news and information for publication in a future issue of Campus Connection, please visit www.udmercy.edu/campus_connection/forms/submit.jsp.

More University news and event information is available online at www.udmercy.edu/news_events/.