April 18, 2006
Today: UDM President's Town Hall Meeting
All UDM students, faculty and staff are invited to the last President's Town Hall Meeting for this academic year, today at 1 p.m. in the Fountain Lounge, Student Center. UDM President Gerard L. Stockhausen, S.J., will provide an update on university issues and will respond to questions.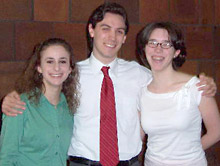 From left: Moran, Chirco, and Janusch
New Honors Student Deans appointed
Honors students John Chirco, Jennifer Janusch and Cassie Moran were named UDM's Honors Program Student Deans, effective April 30, by University Honors Program Director David Koukal. The Honors Program Student Deans are responsible for organizing activities that cultivate the social, service and intellectual life of both the Honors Program and the University.
Blood Drive today
The Delta Sigma Theta sorority is sponsoring a blood donation drive today from 10 a.m. to 7 p.m. in the Student Center Ballroom.
IC-SEC expands
The International Cyber Security Education Coalition (IC-SEC) – a founding member of which is UDM's Centre for Assurance Studies – will hold its annual "Signing Event," Friday, April 21, at noon at Eastern Michigan University's Eagle Crest Conference Center. IC-SEC will add several university, college, and industry members in its effort to promote information assurance education in order to protect the national information infrastructure of the United States. More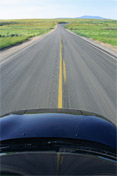 Safe travel tips from UDM Public Safety
With UDM students and faculty burning the midnight oil to finish up the term, it's important to note that as many as 50 percent of all car crashes result from falling asleep at the wheel, according to national statistics. Read potentially life-saving road travel tips from UDM Public Safety.
Thumbs Up!
Katherine Lanigan, assistant professor of Chemistry and Biochemistry, Alexa Rihana-Abdallah, assistant professor of Civil and Environmental Engineering, and Mary Tracy-Bee, associate professor of Biology, have been awarded an NSF-CCLI grant for the purchase of an Atomic Absorption Spectrometer for metals analysis. The grant will facilitate an interdisciplinary collaboration on analysis of environmental samples such as water, soil, and aquatic life. The new instrument will be used in five laboratory courses spanning the three departments, as well as for research projects.
Nursing Instructor Joanne Malecki's and Assistant Professor of Nursing Maureen Anthony's abstract, "Issues, Innovation and Outcomes in 2nd degree BSN Programs," was presented at the First National Conference on Accelerated Baccalaureate Nursing Education, April 12-14 in Philadelphia.
John Freeman, professor of English, will present his paper, "Complementary Witnessing: Nicholas of Cusa and David Bohm on the Arnolfini Portrait," at the 41st International Congress on Medieval Studies, May 7 at Western Michigan University in Kalamazoo.
Assistant Professor of Nursing - Clinical Track Kimberly Texley-Quigg will present the poster, "Mononucleosis on the College Campus - Diagnosis, Treatment, and Prevention," at the annual meeting of the American College Health Association, June 1 in New York.
Affiliate Associate Professor of Prosthodontics Lawrence M. Haber, who last year was appointed to the Michigan State Board of Dentistry, will be inducted into the Omicron Kappa Upsilon National Dental Honor Society on May 18.
The UDM-hosted conference, "Emerging Educational Technologies: Trends and A Look Ahead," was held March 27. UDM presenters included:
Thomas Jeffrey, web designer, Information Technology Services, presented "Open Source Applications: Browsers, Presentations, Word Processing, and Spreadsheets."
Sarah Swart, director of Instructional Technology, Instructional Design Studio (IDS), presented "Ready-to-Use Open Content Sources: A Preview."
Mike Verdusco, instructional designer, IDS, presented "Podcasting Applications" and co-presented "Flash Conversion Tools For Web Friendly Presentations."
Mary Lou Caspers, professor of Chemistry and Biochemistry, presented the paper, "The genetic background of ( Na+,K+ ) - ATPase, a-2 knock-out mice affects the distribution of a-2 and a-3 isoforms of this enzyme in brain and the survival time of homozygous newborns" at the annual meeting of the Society for Neuroscience, Nov. 15, 2005, in Washington, DC. Caspers was accompanied by Biochemistry majors Adrienne Baran and Theresa Spranger, who participated in this research.
Professor of Ethics Leonard Weber's book, Profits before People? Ethical Standards and the Marketing of Prescription Drugs, has been published by Indiana University Press.
Nick Young, adjunct instructor of Language and Cultural Training, received the 2006 Glenn M. Knudsvig Outstanding Latin Teacher Award during the University of Michigan's annual Celebratio ceremony, April 12.
Campus Connection is available online at www.udmercy.edu/campus_connection/. To submit news and information for publication in a future issue of Campus Connection, please visit www.udmercy.edu/campus_connection/forms/submit.jsp.

More University news and event information is available online at www.udmercy.edu/news_events/.