April 11, 2006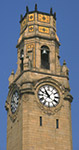 Commencement speakers and honorary degrees
Receiving honorary degrees at the McNichols Campus Commencement will be Charles Currie, S.J., president of the Association of Jesuit Colleges and Universities, and Mary Ellen Howard, RSM '68, executive director of St. Frances Cabrini Clinic. Commencement speakers for the Schools of Law and Dentistry include Edsel B. Ford II, member of the Board of Directors of Ford Motor Company, and Richard W. Valachovic, executive director of the American Dental Education Association.
Engineering & Science events - April 12
The College of Engineering and Science will hold its Undergraduate Research Colloquium Wednesday, April 12, from 11 a.m. to noon, and from 1 - 2 p.m. in the High Bay of the Engineering Building. On display will be 17 scholarly presentations by E & S students about their research.
On hand for the colloquium will be approximately 200 students from UDM's partner high schools (Advanced Technology Academy, and Shrine, West Bloomfield, Cody, and Southeastern high schools) who will be visiting as part of the Ford Partnership for Advanced Studies (PAS) program. The Ford PAS Day at UDM will provide the high schoolers with tours, workshops, interaction, and a keynote speech by alumnus Andy Acho, worldwide director for Environment Outreach and Strategy for Ford Motor Company.

Green roof at McAuley Center
The Sisters of Mercy didn't wait until Earth Day (April 22) to make an environmentally friendly improvement to their McAuley Center in Farmington Hills. They transformed an aging roof into a living "green" roof to substitute for the vegetated area that was destroyed when the building was constructed. Full story
President's Town Hall meeting - April 18
Plan to attend the President's Town Hall meeting Tuesday, April 18, at 1 p.m. in the Fountain Lounge, Student Center. The talk by UDM President Gerard L. Stockhausen, S.J., will be followed by a question and answer session, and is open to all UDM faculty, staff and students.
Job search workshop - April 20
The Career Education Center is sponsoring the workshop, "Procrastinators Anonymous: Last Minute Advice for Your Job Search" for graduating seniors. The workshop will be held Thursday, April 20, from 1 - 2 p.m. in the Theater Conference Room, Reno Hall. To register, you can log into your TitanCareerLink account, or call 313-993-1017.

Arts & Sweets event - May 7
The Sisters of Mercy of the Americas, Regional Community of Detroit will host the event, "Arts & Sweets," on Sunday, May 7, from 2 - 5 p.m. at the Costick Center in Farmington Hills. Sisters and Associates will display and sell their artwork while local restaurants and bakeries offer samples of their desserts. Tickets are $20.00. More
Thumbs Up!
Sheri Pickover, instructor, Counseling/Addiction Studies, facilitated a parent education group to parents/supporters of Gesu students this month. Instructor Pickover and Counseling students will also facilitate psycho-educational groups and other counseling interventions to Gesu students this spring.
Professor of Psychology Mary Hannah and Assistant Professor of Psychology Jack Martin gave the presentation, "Adding Teen Resources In Suicide Knowledge (ATRISK)," to the National Association of School Psychologists 2006 Convention, March 31 in Anaheim, California. Their research drew on the experience of UDM graduate students who participated in more than 100 depression awareness and suicide prevention workshops provided for more than 2,000 high school freshmen.
Barbara Schirmer, vice president for Academic Affairs and provost, gave the presentation, "Who Is Preparing the Teacher Educators Who Will Be Preparing Our Teachers?" at the annual convention of the Council for Exceptional Children, April 7 in Salt Lake City. She also presented "Research Quality Indicators: Application to Research on Deaf Readers" at the annual meeting of the American Educational Research Association, April 10 in San Francisco.
Robert Homant and Daniel Kennedy, professors of Sociology and Criminal Justice, have recently had their chapter, "Serial Murder: A Biopsychosocial Approach," published in the book, Serial Crime: Theoretical and Practical Issues in Behavioral Profiling, by Academic Press.
College of Health Professions Dean Suzanne K. Mellon is co-author of the article, "A Population-Based Study of the Quality of Life of Cancer Survivors and Their Family Caregivers," published in the March/April 2006 edition of Cancer Nursing.
The following members of the College of Health Professions gave presentations at the 2006 annual conference of the Midwest Nursing Research Society, March 31 - April 3:
Dean Suzanne Mellon presented "Cancer Worries and Risk Perception in Families at Risk for Inherited breast/Ovarian Cancer."
Assistant Professor Julia Stocker-Schneider presented "Evaluating Home Health Care Nursing Outcomes with OASIS and NOC."
Assistant Professor Pat Rouen presented the poster, "Menopause Effects on Adipokines and Insulin Resistance in Healthy Volunteers."