April 4, 2006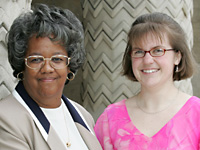 Sandra Ross, left, and Katie Pidsosny
Magis Awards presented at Honors Convocation
Out of "many good candidates," the Jesuit 100 Association selected Sandra Ross, director of the Financial Aid Office, and Katie Pidsosny, a senior in the College of Engineering and Science, to receive the 2006 Magis Awards for promoting UDM's mission, especially its Catholic identity. The awards were presented at the April 2 Honors Convocation. Congratulations and thanks to Sandy and Katie.
Muller Reception
The UDM community is invited to a thank-you celebration for University Historian Herman J. Muller, S.J., Thursday, April 6 at 3:30 p.m. in the President's Dining Room, Student Center.

NCA report meetings this week
To discuss the first draft of UDM's North Central Association self-study report (part of the NCA accreditation process), open meetings will be held in Reno Commons today at 2:30 p.m., Wednesday at 1 p.m., and Thursday at 2:30 p.m. Please RSVP to Jennifer at 313-578-0392. The report examines all aspects of the University, and is available online for review.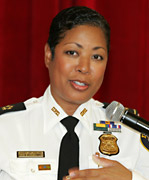 Phenomenal Women's Dinner
Detroit Chief of Police Ella M. Bully-Cummings (pictured) was the featured speaker at the third annual Phenomenal Women's Dinner, held March 30 by UDM's Student Programming Board. Bully-Cummings inspired the audience with her life-long story of pursuing her aspirations despite the significant challenges she faced.
Voice for Justice Auction
The fourth annual auction to fund the Emily George, RSM, Public Interest Law Fellowships is scheduled for Friday, April 7, at 6:30 p.m. in the UDM Law School Atrium. The Voice for Justice Auction raises funds to enable law students to intern at non-profit organizations, serving or advocating for the disadvantaged of society. More
CHP Tech Fair
The College of Health Professions will host a Resource and Technology Fair for UDM faculty and staff to preview some of the emerging technologies that are available to enhance allied health curricula. The fair will occur Monday, April 10 from 11 a.m. to 2 p.m. in the Maureen A. Fay, O.P. Center, Health Professions Facility. More
Women in Managua presentation
Ana Narvaez, field supervisor of "Women in Action," will give the presentation, "Women's Empowerment in Managua, Nicaragua" Tuesday, April 11 from 2 to 4:30 p.m. in the Commerce & Finance Building, Room 209. For details, see the CLASA events page.
Dining for Success etiquette dinner
UDM students and faculty interested in polishing their business etiquette skills should register by April 7 for a "Dining for Success" Etiquette Dinner to take place Tuesday, April 11 from 5:45 to 8 p.m. in the President's Dining Room, Student Center. More
Gulf Coast service trip
University Ministry plans to send a group to help rebuild in the hurricane-ravaged Gulf Coast area, April 30 to May 7. All students, faculty, staff and administrators are invited to help clean up rubble, install roofing and dry wall, paint, tear out black mold, etc. Contact Sr. Beth Finster at 313-993-1560 or by e-mail. Applications for the trip are available in University Ministry and are due April 14.
Student blog
While Jake Gehring, a junior in Architecture, studies architecture in Poland in one of UDM's "study abroad" programs, he has been keeping a blog ("web log," or online diary) to share his experience. To check out his comments, see the student blog page.
School of Dentistry Alumni Awards
As part of its upcoming Alumni Weekend, the School of Dentistry will present its Alumni of the Year Awards to John DiBiaggio, DDS '58, Kathi Shepherd, RDH '82, '95, and honorary alumna Pamela Herrera, DDS. Awards will be presented during the Alumni Day Luncheon, Friday, April 28 at the Dearborn Ritz-Carlton. Recipient biographies.
Thumbs Up!
Assistant Professor of History Diane Robinson-Dunn's book, The harem, slavery, and British imperial culture: Anglo-Muslim relations in the late 19th century has just been released by Manchester University Press in Europe and the U.K. It will be published in the U.S. by Palgrave MacMillan, in Canada by the University of British Columbia Press, and in Australia by Footsprints Ltd.
Daniel Kennedy, professor of Sociology and Criminal Justice, has been selected by the Foundation for the Defense of Democracies to receive an academic fellowship to study terrorism and anti-terrorism at the University of Tel Aviv this spring. The fellowship includes classroom lectures by leading diplomats, politicians, academicians and military personnel as well as site visits to sensitive locations throughout Israel.
UDM's Language & Cultural Training Department collaborated with parents, teachers and administrators at Our Lady Star of the Sea Academy in Grosse Pointe to coordinate this year's "Passports Around the World" program, a day-long event for fourth and fifth graders featuring stories and performers from a variety of cultures.
UDM was represented at the Michigan Academy of Arts & Letters Annual Meeting, held at Oakland University, March 3:
Professor of Psychology Carol Weisfeld gave the presentation, "Marital satisfaction, decision-making power and length of marriage in American couples: A cultural examination," with Ph.D. student Lindsay Yeager and recent graduate Yobany Pardo. Weisfeld also presented, with Ph.D. student Robert Rogers, "The concept of fear of success revisited."
Marian Woyciehowicz Gonsior, assistant coordinator of the American Culture and Language Program, co-presented the paper, "Expand the Audience: Excellence in L2 Writing."