March 28, 2006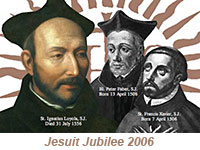 Lenten series to conclude
The last two talks in UDM's special Lenten series on the Jesuit Spiritual Exercises will be given this coming Friday and Monday. The talk, "Making Decisions for a Better Life" will take place Friday, March 31 at noon in the School of Law Faculty Lounge, Riverfront Campus. The final talk, "Grief and Joy in the Spiritual Life" will take place Monday, April 3 at noon in Lansing-Reilly Hall, McNichols Campus. More
Theatre Company performs Working
UDM's professional Theatre Company will wrap up its 2005-2006 season this weekend with three performances of the musical, Working, based on Studs Terkel's book of interviews with American workers. See the Theatre Company's web page for details.

Talent show results
Hundreds turned out last Friday for the "Ultimate Talent Show," sponsored by Student Programming Board. Hosted by the 2004 National Star Search Comedian Horace H. B. Sanders, the event featured 20 student acts. The judges awarded the $1,000 first place prize to Jennifer Clarke (pictured), a singer/songwriter whose song about an angel with a broken wing touched the audience. Other prize winners included guitarist/singer Ben Salazar, singer Taylor Williford, and The Four Letter Band.
LDI Homeless Seminar
A concluding seminar on homelessness in Detroit will be hosted by UDM's Leadership Development Institute on Thursday, April 6 in the Student Center Ballroom. On the theme of "What we can DO NOW to fight homelessness in Detroit," the seminar will include exhibits, food, and a program to launch the "Every Person Counts" campaign. Seminar flyer
CHP Recognition Open House


College of Health Professions Dean Suzanne K. Mellon (right) recognizes contributions to the education of CHP students by UDM's clinical partners – affiliate faculty, clinical/ administrative preceptors, and clinical site coordinators at UDM's partnering health systems – at a Recognition Open House, March 23.
Mission Leadership Award nominations
The UDM Mission and Vision Team is collecting nominations for the 2006 Mission Leadership Awards. The awards recognize faculty and administrator/staff members who exemplify the characteristics of UDM's Mission. Nominations are due Tuesday, April 11. More
Easter Egg Hunt
Hundreds of young children from the communities around UDM are expected to visit McNichols Campus for an Easter Egg Hunt on Thursday, April 13. Sigma Pi Fraternity, with volunteers from other UDM student organizations, will host the event for children in grades K-4. For questions or to volunteer to help with clean-up, e-mail Casey Daly.
Dental Alumni Auction
The UDM School of Dentistry is hosting its Third Annual Alumni Auction on Saturday, April 29 as part of its Alumni Weekend event. For more information about attending or donating, see the event page.
Thumbs Up!
Paula Guthat, Communications Specialist, Marketing and Public Affairs, received a 2006 American Inhouse Design Award from the editors of Graphic Design USA for her design of UDM's Christmas Brunch invitation. Less than one in five received recognition from nearly 3,500 competitive entries.
Prasad Venugopal, associate professor, Chemistry and Biochemistry, gave the presentation, "Local and Global Issues in Workplace Diversity" at the 8th Annual Diverse Voices Conference at Oakland University, March 18.
Associate Professor of Philosophy David Koukal's article, "Speaking to the World Through Husserl and Merleau-Ponty" was selected for publication in the book, Issues in Interpretation Theory, published by Marquette University Press.