March 7, 2006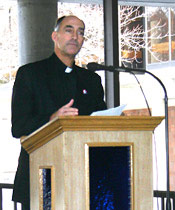 President's Town Hall remarks
During the Feb. 23rd Town Hall meeting, President Gerard L. Stockhausen, S.J., provided a variety of updates, including:
Good news regarding enrollment for winter and fall terms 2006
Campus security enhancements
Progress made by North Central Accreditation Self-Study committees and Shared Governance committees
Continued efforts on UDM strategic planning and capital projects
He also noted two upcoming events: a reception in honor of University Historian Herman Muller, S.J., who recently moved to Columbiere Center, to be held on April 6 at 3:30 p.m. in the Student Center President's Dining Room; and the upcoming Detroit visit of Fr. Peter-Hans Kolvenbach, S.J., the superior-general of the Jesuits, on Oct. 6 and 7.
Fr. Stockhausen also presented his perspective of UDM as the University of the Future - a message he is currently sharing with alumni and friends during receptions and visits around the country. More

Lenten Spiritual Exercises
Everyone in the UDM community is invited to learn more about UDM's spiritual heritage with John Staudenmaier, S.J., from UDM's Office of Mission & Identity. The first talk of a special Lenten series is "The Inner Geography of Prayer," Friday, March 10 at noon in the School of Law Faculty Lounge, Riverfront Campus. The series, reflecting on the Jesuit Spiritual Exercises, is part of UDM's commemoration of the Jesuit Jubilee Year 2006. More
Theatre production, Working
The Theatre Company will present Working beginning Friday, March 24 at the Marygrove Theatre on the Marygrove College campus. The musical is based on the book of interviews with American workers by Studs Terkel. More
Public Safety tip: protect your identity
The FBI lists identity theft as "one of the dominant white collar crime problems of the 21st Century," leaving victims unable to utilize their credit and their financial identity, sometimes for years. UDM Public Safety highlights how to avoid this growing problem in a recent Facilities Management article.

Spring marketing campaign under way
UDM's integrated marketing spring campaign is scheduled from mid-March to mid-April with radio, TV and print advertising. Five billboards promoting UDM are currently located along major highways and thoroughfares. For a complete schedule of the spring campaign, visit www.udmercy.edu/marketing.
Students excel at Moot Court competitions
University of Detroit Mercy School of Law used the mental muscles of their talented students and brought home two silver medals recently after competing in the 18th Annual National Environmental Law Moot Court Competition and the regional competition in the Philip C. Jessup International Law Moot Court program. More
Thumbs Up!
Heather Hill-Vasquez, assistant professor of English and co-director of the Women's Studies Program, is the author of Sacred Player: The Politics of Response in the Middle English Religious Drama, which has been accepted for publication by The Catholic University of America Press.