February 28, 2006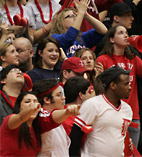 Today: UDM President's Town Hall Meeting
All UDM students, faculty and staff are invited to the President's Town Hall Meeting today at 1 p.m. in the Fountain Lounge, Student Center. UDM President Gerard L. Stockhausen, S.J., will provide an update on university issues and will respond to questions.
Homecoming highlights
Check out photo highlights from Homecoming last Saturday in the UDM online photo gallery. Titan basketball resulted in a loss for the women and a win for the men while School of Architecture Dean Stephen Vogel's recipe in the Dean's Chili Cook-Off won him the title of UDM's Supreme Chili Chef. See photos

Paczki sale today to benefit ASB
University Ministry (UM) will sell traditional pre-Lent paczki today at the UM office in the Student Center to help fund the Alternative Spring Break program. The jelly-filled, deep-fried pastries will go on sale at 8:30 a.m. for $1 each.
Ash Wednesday services
Services for Ash Wednesday will begin early March 1 with a midnight Ash Service in Young Martyrs Chapel, Shiple Hall. Masses will also be held on McNichols Campus at noon and 4:30 p.m. in St. Ignatius Chapel, Commerce & Finance Building, and finally at 10:00 p.m. in Young Martyrs Chapel. At Gesu Church, Masses will be held at 6:30 a.m. and 5:30 p.m. as well as a school prayer service at 9:45 a.m. At SS. Peter and Paul Church, there will be an 11:40 a.m. Mass, and at St. Scholastica Mass will occur at 6:30 a.m., 8 a.m., and 7 p.m. Contact University Ministry at 313-993-1560 for more information.

Annual McElroy Lecture
Cass R. Sunstein is the featured speaker at the 2006 McElroy Lecture on Tuesday, March 7 at 5:30 p.m. at the School of Law. Sunstein, professor of Jurisprudence at University of Chicago School of Law, has clerked for Justice Thurgood Marshall of the U.S. Supreme Court and worked in constitution-making and law reform in nations from Ukraine to China. The annual McElroy Lecture is made possible through a gift from the Philip J. McElroy estate to establish the Center of Law and Religion at UDM's School of Law.
School of Dentistry auction
The UDM School of Dentistry Alumni Association will hold its third annual Silent and Live Auction this spring to support dental student programs and scholarships. The auction, scheduled for Saturday, April 29 at Western Golf and Country Club in Redford, will include items listed on their auction preview web site.
Thumbs Up!

A number of School of Dentistry faculty and students are either serving as speakers or will make presentations about their research at a joint meeting of the American Dental Education Association and the American Association of Dental Research, March 8-11 in Orlando. Faculty presenters include Mert Aksu, Levyee Cabanilla, Maged Etman, Ahmad Fard, Rose Y. Geist, James Geist, Sara Gordon, Diane Hoelscher, Nahid Kashani, Shilpa Kolhatkar, Anthony Neely, Kathy Neveu, F.E. Pink, Kathi Shepherd, Warren Wagner, Kimberly Werth, James Winkler, and Pamela Zarkowski.