February 21, 2006
Forum tonight on homeless experience during Super Bowl
UDM's Leadership Development Institute (LDI) will host several notable panelists tonight to discuss how Detroit treated its homeless people during the Super Bowl. Co-sponsored by the Homeless Action Network of Detroit, the "Super Bowl Wrap Up" forum will begin tonight, Tuesday, Feb. 21 at 6:30 p.m. in the Student Center Ballroom. For more information, see LDI's web site.
Speaker to discuss famous opera
Karen Vanderkloot DiChiera, Michigan Opera Theatre's Director of Community Outreach Programs, will discuss Giuseppe Verdi's opera Aida, Thursday, Feb. 23 at 5:15 p.m. in Briggs Building, Room 10. A production of Aida, about an enslaved Ethiopian princess, will open MOT's spring season at the Detroit Opera House, April 22.

Homecoming events Saturday, Feb. 25
This Saturday, Feb. 25 come show your Titan spirit and vote for your favorite at the 2006 Deans' Chili Cook-Off. The cook-off and surrounding activities will provide an inexpensive afternoon of family-friendly fun, food, and prizes. Homecoming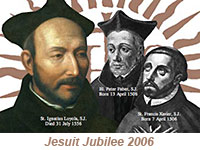 Series on Jesuit Spiritual Exercises
As part of its celebration of the 2006 Jesuit Jubilee Year, UDM will present a special Lenten series on the Jesuit Spiritual Exercises. John Staudenmaier, S.J., from UDM's Office of Mission & Identity, will provide the weekly reflections beginning March 10. More
Fr. Herman Muller Day Gallery
A photo gallery from last Saturday's Fr. Herman Muller Day at Calihan Hall is online for viewing at www.udmercy.edu/gallery.
Women's Studies Art Exhibition

The second UDM Women's Studies Biennial Juried Art Exhibition, "Embodiment: Gender+Culture+Action," will be held March 13 - 18 in the Genevieve Fisk Loranger Gallery in the Loranger Architecture Building. The exhibition includes sculpture, ceramics, drawing, painting, photography, printmaking, mixed media, video, and installation by artists from 20 states and 5 countries. The public is invited to an opening reception Monday, March 13 from 5-7 p.m., after which gallery hours will be 12-6 p.m., daily.
Sandwich Bus is bigger than ever
Alpha Phi Omega's Sandwich Bus program will distribute its largest number of lunches ever to homeless people in Detroit thanks to the generosity of the UDM community. Last fall, the program distributed about 120 bag lunches per run. But when Detroit police officers told the students about an additional location of homeless people, the Sandwich Bus increased its bag lunches to feed 240 people. This effort is only possible due to the increased donations of supplies.
Thumbs Up!
History Professor Roy E. Finkenbine published the article, "Historians and Reparations," in the February 2006 issue of the OAH Newsletter, published by the Organization of American Historians.
David J.R. Brook, associate professor, Chemistry, and UDM students Elizabeth Chacko and Manisha Dutta, Olga Radekovich and Kimberly Lenton participated in a research collaboration with a Nobel Prize winner, resulting in a paper published in the European Journal of Inorganic Chemistry. The international team of co-authors includes Jean-Marie Lehn, 1987 Nobel laureate in chemistry. The paper, "Self-Assembly, Structure and Solution Dynamics of Tetranuclear Zn2+ Hydrazone [2×2] Grid-Type Complexes," is published in this month's journal.
Associate Professor of Philosophy David Koukal gave a talk entitled, "A Portrait of the Philosopher as a Young Honors Director," at the first annual Association of Jesuit Colleges and Universities Honors Conference held in Los Angeles, CA on Feb. 10-11. Co-sponsored by Loyola Marymount and Fordham universities, the conference brought together honors students and directors from 11 Jesuit schools to share strategies to strengthen their various programs.