February 7, 2006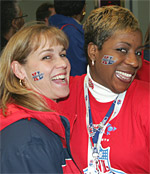 Super Bowl Ad Nauseam
Over a hundred high school students from around Michigan met with Professor of Business Administration Michael Bernacchi on Monday for his annual "Super Bowl Ad Nauseam" lecture to analyze the TV ads that appeared during Super Bowl XL, the world's most-watched television program.
This year, Bernacchi worked with Oakland Schools staff to coordinate the program on a special web site, www.admetrix.org, which will allow teachers and students across the country to participate.
UDM Volunteers at Super Bowl XL
Students, alumni, faculty and staff from UDM were part of the Super Bowl XL action Sunday, both at Ford Field and around the city. Many UDM volunteers helped out at the NFL Experience theme park. See photos
Alumnus to skate at Olympic Winter Games
Aaron Parchem, a 2003 graduate in Economics, will be in competition at the XX Olympic Winter Games starting Feb. 10 with figure skating partner Marcy Hinzmann. The two recently won the silver medal at the 2006 U.S. National Pairs competition.
Parchem and Hinzmann's web site

Fr. Herman Muller Day
After 50 years of dedicated service to the University, University Historian Herman Muller, S.J., changes residence from the McNichols Campus to the Colombiere Jesuit Community in Clarkston. UDM will pay tribute to him Saturday, Feb. 18 at Calihan Hall just before the UDM Men vs. Toledo basketball game. An Open House at 2:45 p.m. in the Ed & Brooks Room will precede an on-court pre-game ceremony at 3:45 p.m.
As an outstanding history and economics professor, a longtime Titan athletics fan, an author, scholar, and University historian, Fr. Muller has enriched the lives of thousands of people. For more information on Fr. Herman Muller Day, or to RSVP, call 313-993-1700 or e-mail GoTitans@udmercy.edu.
Last weekend for The Importance of Being Earnest
The Theater Company's last performances of Oscar Wilde's comic masterpiece, The Importance of Being Earnest, will be staged this Friday through Sunday, Feb. 10-12. The audience may participate in a "talkback" with the company after Sunday's performance. More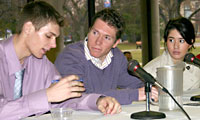 Ethics Bowl winners headed to Florida
After five hours of competition last Friday, three-person team "Canadian Connection" became the 2006 UDM Ethics Bowl champions. The three winners - Mikhial Pasic, Peter Verschoote, and Stephanie Hill - will head to Jacksonville, Fla., March 2 to represent UDM at the Intercollegiate Ethics Bowl. Second place went to "Team I.M.": DeQuan Gentry, Kindra Love, Cari McCaskill, and Daniel McGriff.
Sandwich Bus program to feed hungry
This week, co-ed service fraternity Alpha Phi Omega (APO) is making it easy for everyone to help feed homeless people in Detroit. You can donate certain food supplies at nearly every building on the McNichols Campus for APO's Sandwich Bus program. Acceptable items are: jars of peanut butter or jelly, sandwich bags, granola bars, half-liter (500mL) bottles of water, pre-wrapped small candy, and 1 oz. bags of chips. Each building's tally will be recorded at Friday, Feb. 10 at 3 p.m.
Art on display at Library
The McNichols Library presents an art exhibit entitled, "Wood, Canvas, Paper, and Associates." The exhibit, which runs through Monday, Feb. 20 features works by Larry Wilson of Berkley, Mich., as well as 14 other artists.
Busy Person's Retreat next week
Next week, University Ministry will offer a special "Busy Person's Retreat" service for participants who register by Wednesday, Feb. 8. Participants schedule daily times during the week of Feb. 12-16 to meet with a spiritual companion (a Sister of Mercy or a Jesuit or University Minister) in a retreat-like atmosphere for reflection and prayer. More
Faculty/Staff needed for All-Star Game vs. students
One of the fun events leading up to Homecoming on Feb. 25 will be the Faculty/Staff vs. Students All-Star Game on Tuesday, Feb. 21 at 5:30 p.m. in Calihan Hall. Staff and faculty with basketball skills should contact Adam Hollmann at 313-993-1154 or hollmaap@udmercy.edu.
Thumbs Up!
Nicholas Rombes, associate professor, English, is the subject of a recent Metro Times column, "The Beat Reader," in which Creem magazine editor Brian J. Bowe gives a positive review to Rombes' book Ramones, about the influential punk rock album.
Douglas MacDonald, associate professor, Psychology, is one of a small handful of people to receive the American Psychological Association's 2006 Early Career Contributions award. He will formally receive the award at the APA conference this August in New Orleans.
Erick Barnes, assistant professor, Sociology and Criminal Justice, was a featured speaker for an online conference involving law enforcement in the Czech Republic and the United States. The conference, which was sponsored by the International Criminal Investigation Training Program, focused on the problem of domestic violence.