January 31, 2006

Titans score high academically
Recent measures show that UDM student-athletes are serious about their education. The NCAA's new Graduation/Success Rate (GSR) data shows that UDM has the second-highest GSR among seven Division I athletic programs in Michigan, and Titans are first in some categories. Also, 64 percent of the UDM student-athlete population is on the 2005 Athletic Director's Honor Roll for academic achievement. More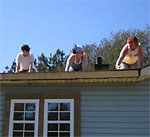 UDM students to help others during spring break
Some UDM students will not be relaxing this spring break. Instead, they will be confronting social issues directly through University Ministry's Alternative Spring Break program, March 4-10. Students will spread out across the country to help those in need: hurricane relief in Mississippi, home repair for the elderly or handicapped in South Carolina, and hunger relief in Spokane, Washington. There are several ways you can participate or support the program. More
Largest ever UDM Ethics Bowl at noon, Friday
Unhealthy product advertising, Hurricane Katrina, and hospital mistakes are just a few of the issues to be tackled at the upcoming Intercollegiate Ethics Bowl in Jacksonville, Florida. To determine the team to represent UDM, an unprecedented number of participants will compete this Friday, Feb. 3, starting at noon in the Student Center Fountain Lounge. More

UDM at Super Bowl XL
Over 100 UDM faculty, staff, and alumni will be at Cobo Hall this Friday, Feb. 3, volunteering at the NFL Experience, an interactive theme park which the NFL calls the "the most exciting continuous event surrounding Super Bowl XL." And at the Super Bowl itself on Sunday, look for some lucky UDM students who will be down on the field for the pre-game and half-time shows featuring Stevie Wonder, Aretha Franklin, and the Rolling Stones.
Scholar to speak on Berrigan
James Marsh, professor of Philosophy at Fordham University, will speak Tuesday, Feb. 7, at 10 a.m. in the Ford Life Sciences Building, Room 113. His topic, "Philosophy After Catonsville," concerns the influence of Fr. Daniel Berrigan, S.J.'s writings and nonviolent civil disobedience actions. Marsh served as president of the American Catholic Philosophical Association this academic year, and he is author of many articles and books, including Post-Cartesian Meditations. This event is cosponsored by the Philosophy Department and the Philosophy Club.
Law School auction to fund Public Interest Fellowships
The fourth annual auction to fund the Emily George, RSM Public Interest Law Fellowships is scheduled for Friday, April 7, at 6:30 p.m. in the UDM Law School Atrium. Funds raised from the auction will enable law students to intern at non-profit organizations, serving or advocating for the disadvantaged of society. Plan to support the initiative by attending the auction or by donating gifts or services for the auction. More
Thumbs Up!
Robert Ross and Prasad Venugopal, associate professors, Chemistry and Biochemistry, co-authored the paper, "On the problem of (dis)charging a capacitor through a lamp," for publication in the American Journal of Physics.