January 24, 2006
College of Business Administration dean to step down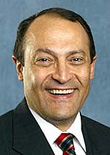 College of Business Administration Dean Bahman Mirshab will step down as dean and return to the faculty as professor of Management Science Information Systems, effective June 30, 2006. During Mirshab's four-year tenure as dean, the College has made important strides, including reaccreditation by AACSB, renovation of the Commerce and Finance Building, and development of new programs including the Executive MBA program, master of science in Information Assurance, certificate program in Business Turnaround, international program with Fu-Jen Catholic University, and on-site MBA program with Trinity Health System in Macomb County. The University will embark on a national search for a dean of the College of Business Administration.
New trustee joins UDM Board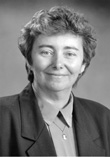 Susan M. Sanders, RSM, vice president for University Mission and Heritage at Saint Xavier University, was appointed recently to the UDM Board of Trustees. Sr. Sanders also serves as founding director of the Center for Religious and Public Discourse at Saint Xavier University. In addition to her administrative responsibilities, she holds two academic appointments at Saint Xavier as professor of Public Policy in the Department of History and Political Science and as associate professor in the Graham School of Management.
Sr. Sanders received a Bachelor of Arts degree from Michigan State University and a Master's degree in Public Policy from University of California, Berkeley. She earned her doctorate in public policy at University of Chicago. Sr. Sanders also attended the Jesuit School of Theology, Chicago and Harvard University's Institute for Educational Management.
Career services available
The Career Education Center offers the following career services and activities for students:
Feb. 2, 1-2 p.m. - Resume Café Coffee & Critique
Fountain Lounge, Student Center. Bring resume to customize.

Feb. 6-10 - Practice Interviews with employers from JP Morgan Chase, Perot Systems Corp., First Investors Corp., Plante Moran Global Services, National City Bank, Comerica Bank, Ford Motor Co. (for Business Administration majors only!) For exact dates and times, visit TitanCareerLink.

Feb. 15 - Campus Interviews with Ford Motor Company for MBA candidates and junior or senior undergraduate Business Administration or Economics majors with a 3.2 GPA or better. Career Education Center. For more information, visit http://www.udmercy.edu/cecc
Students should submit their resume for posting on the TitanCareerLink, the online recruiting system for UDM students and alumni, available at http://www.udmercy.edu/cecc. UDM faculty members can also register and utilize the TitanCareerLink to learn about numerous co-op/paid internships, full/part-time opportunities and CEC career development events available to UDM students.
Super Bowl Ticket Winner Announced

Congratulations to Glen and Linda Perry, who will be attending the 2006 Super Bowl XL on Feb. 5 at Ford Field in Detroit. Glen is a 1997 College of Business Administration graduate and Linda is a 1980 College of Health Professions graduate. There were 2,453 donors who made a new or increased gift between Sept. 1 and Dec. 31, 2005. The generous contributions of all the donors supported The Fund for UDM and the University's colleges, schools and programs.
Honors students provide community service
Honors Program students began the new year by assisting Focus: HOPE in Hamtramck on January 14 with packing 660 food boxes for those in need. For event photos, visit
http://www.udmercy.edu/honors/upcoming_events.html

Has your personal information been compromised?
Misplaced your wallet or purse? Been a victim of theft? Each person needs to safeguard documents with your name, address, date of birth and social security number. To combat Identity Theft with preventative safety tips, take the interactiveID Quiz at http://onguardonline.gov/quiz/idtheftquiz.html.
UDM's Department of Public Safety advises individuals to take proactive steps to keep personal information in a safe place at all times. For more helpful information, visit the following links:
Language workshop scheduled
UDM's Language & Cultural Training Department, in partnership with the Arab American Language Institute, will host a two-day, skill-building workshop to prepare bilingual English/Arabic speakers for translation careers as well as for the Michigan State Certification Exam and the U.S. Department of State Exam. The workshop, which will be conducted by Michigan State Certified Arabic Language Interpreter and Accredited Trainer Muhannad F. Haimour, will be held Feb. 4-5 in the Commerce & Finance Building, Room 209. For more information, call Lara Wasner at 313-993-1191.
Technology conference to highlight future trends
The instructional technology conference, "Emerging Educational Technologies: Trends and A Look Ahead," will be held Monday, March 27 from 11:30 a.m. to 4:30 p.m. in the Maureen A. Fay, O.P. Center, Health Professions Facility. Joseph Hardin, chair of the Sakai Project, will provide the keynote address at the free event. For more information and to register, visit http://research.udmercy.edu/ids/conference306/
Thumbs Up!
Nancy Calley, assistant professor, Counseling and Addiction Studies, has been awarded a $10,000 research grant to address depression among teens and young adults in the child welfare and juvenile justice systems. The project involves promoting awareness and knowledge of depression, conducting assessment screening, and providing treatment options and resources to promote wellness and self-empowerment.
Pat Rouen, assistant professor, Nursing, received the Nurse Practitioner Excellence Award from the North American Menopause Society in September 2005.
Michael Whitty, professor, Business Administration, has revised the second edition of the publication, Work and Spirit: New Spiritual Paradigms for Organizations (Scranton Press, 2006). He has also had a paper accepted by the North Korean Review.
Michael J. Witkowski, associate professor, Sociology & Criminal Justice, was awarded the 2006 Grant for the Advancement of Feminist Scholarship by the Women's Studies Program for his proposal to develop a new Criminal Justice course for Women's Studies credit: Gender Issues in Criminal Justice. The $500 grant helps support the course through enhanced library holdings; acquisition of relevant books, journals, and videos; and small stipends for invited guest speakers.