January 10, 2005
In observance of Martin Luther King, Jr. Day
• UDM students, faculty and staff are invited to participate in a Day of Service, sponsored by City Year Detroit on Monday, Jan. 16 beginning at 9 a.m. at the Blue Cross Blue Shield Bricktown Service Center, 500 East Lafayette, Detroit. Morning activities include a rally and a presentation by Detroit Mayor Kwame Kilpatrick. Service projects, which occur from noon to 3 p.m., encompass neighborhood and school beautification activities, meal preparation, and processing of donated items. For more information, call 313-874-4737.
• UDM's Student Life Office and the Student Speakers Bureau will sponsor the presentation, "Are We Still Dreaming," on Tuesday, Jan. 17 from noon to 2 p.m. in the Student Center Ballroom. The program will include student reflections, remarks by Associate Professor of Sociology Lyn Lewis on Rosa Park's funeral, and music by the UDM Gospel Choir. All are invited to attend.
Dental School to host Smile Day
The School of Dentistry will collaborate with the Detroit, Macomb and Oakland Dental Societies to host Give Kids a Smile Day at the Outer Drive Dental Clinic on Saturday, Feb. 4 from 8 a.m. to 5 p.m. UDM dental and dental hygiene students, faculty and alumni will help provide free dental treatment to area children in need. Last year, more than 120 children received dental care.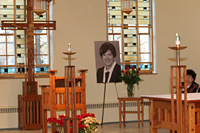 In memory of former Mercy College president
More than 50 Sisters of Mercy, friends and family members attended a memorial mass in remembrance of the life of former Mercy College of Detroit President Agnes Mary Mansour on Jan. 6 in the St. Ignatius Chapel. A reception and tours followed in the new Health Professions facility, highlighting many of the building's Mercy artifacts.
Register to compete in Ethics Bowl
Now is the time for students to form their teams to enter UDM's 2006 Ethics Bowl, which will be held Feb. 3. The winning first place team will represent UDM at the Intercollegiate Ethics Bowl in Jacksonville, FL in late February. For more information or to register for the competition, visit http://liberalarts.udmercy.edu/philosophy/ethicsbowl.html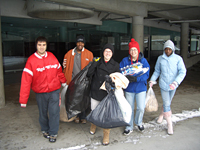 Sandwich Bus resumes service
The Sandwich Bus Project is in full gear with UDM's Alpha Phi Omega service fraternity students preparing food packages and distributing them to the homeless on Saturday mornings. If you would like to donate or assist the fraternity with this project, please contact Katie Pidsosny at pidsoska@students.udmercy.edu.
UDM recognized
The Council for Advancement and Support of Education (CASE) Region V recognized UDM with the following 2005 Pride of CASE V Awards:
A Silver Award for "Best Collaborative Program" for the 2004 Presidential Inauguration Celebration Week
A Bronze Award for "Best Video PSA and Commercial Spot" for UDM's "Great Things" 30-second commercials
Congratulations to the Presidential Inauguration Committee members and the Integrated Marketing Team for their work on these projects.
Thumbs Up!
Librarians Sue Homant and Sandra Wilson completed the adaptation and enhancement of an online, interactive research tutorial called SearchQuest to help students conquer the mystique of research. Six modules introduce students to various types of resources, topic formulation, effective and efficient utilization of the catalog, databases, and the Internet, evaluation of sources, as well as proper citing. Professors may choose to require individual or all six modules as a class assignment or as extra credit. Check it out at: http://image.udmercy.edu/library/searchquest/