October 25, 2005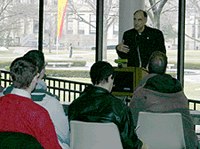 Fr. Stockhausen to speak today
Plan to attend the President's Town Hall meeting today at 1 p.m. in the Fountain Lounge, Student Center. The talk by UDM President Gerard L. Stockhausen, S.J., followed by a question & answer session, is open to all UDM faculty, staff and students.
Volunteer opportunities
The Student Volunteer Center has several opportunities for students, faculty and staff to assist community outreach activities in Southeast Michigan.
Friday, Nov. 11, 10 a.m.-9 p.m. and Saturday, 9 a.m.-6 p.m.
Forty volunteers needed for the Salvation Army and WJLB's 23rd annual "Coats for Kids" Radiothon at Oakland Mall
Saturday, November 12, 10 a.m.-noon
Eighteen volunteers are needed to package boxes of food for homebound senior citizens at Focus Hope, 6500 Davison, Detroit

Tuesday, November 15, 4-6 p.m.
Eight volunteers are needed to help serve meals to homeless individuals at the Capuchin Soup Kitchen, 4390 Conner, Detroit
For more information on volunteer opportunities, contact the Student Volunteer Center at 313-993-1550.
Community to hold Harvest Festival, Oct. 29
University Commons will present a community Harvest Festival on Saturday, Oct. 29 from 11 a.m.-4 p.m. in the Livernois lot of the Farmer Jack's at the corner of 7 Mile and Livernois. The event includes candy, games, and opportunities to explore Livernois businesses. For more information, contact Charley Jackson at jacksoch@students.udmercy.edu.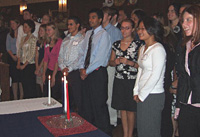 Students inducted into Honors Society
A record 83 guests attended the University Honors Program's annual Induction Ceremony and Dinner at Pasquale's Restaurant in Royal Oak on Sunday, Oct. 9. Following dinner, UDM Professor of Biology R. Gerard Albright, S.J., gave the annual "Final Lecture" in which he challenged the 27 inductees not to waste their days of youth. The inductees were then presented with the Honors Challenge Triad and received their Honors pins, along with honorary inductees UDM President Gerard L. Stockhausen, S.J. and Fr. Albright.
Faculty XChange to highlight teaching and technology
Full-time and adjunct faculty are invited to attend the Faculty XChange on Thursday, Nov. 10 from 2-7:30 p.m. in the Maureen A. Fay, O.P. Lecture Hall and the Distance Learning and Seminar area, Health Professions Facility. The event will provide current information on the latest developments and tools to make teaching with technology more effective. Several Teaching with Technology Academy scholars will present their work. Additional information will cover teaching and learning centers, available technology, the benefits of the TEACH Act to instruction, and student-based ePortfolio development. For more information and to register, visit http://research.udmercy.edu/ids/facultyxchange/.
Conference to focus on energy-efficient technology
The Institute for Building Sustainable Communities at UDM is co-hosting the third annual Great Lakes Interfaith Power and Light Conference on Thursday, Nov. 3 from 8:30 a.m.-4 p.m. in the Fountain Lounge with additional breakout sessions. The conference will disseminate best practices from government laboratories, university researchers, and respected energy professionals to accelerate the use of energy-efficient technology within congregations of faith. Speakers include ecologist Terry Gips; Eric Carlson, Carbonfund.org; Will Wittig, UDM assistant professor of Architecture; Patty Gillis, Voices for Earth Justice; and various government officials. For additional conference information and a registration form, visit http://www.miipl.org/pdf/InterfaithEnergyConf2005.pdf or http://www.miipl.org/.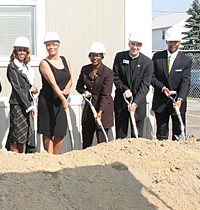 Condominium project breaks ground
NorthStar Community Development Coalition broke ground on the Titan Pointe Condominiums project on Oct. 6 with representatives from community, government and UDM present. The site is located on Puritan Avenue, two blocks east of Livernois (next to the former Smith Media Center). The 40 brownstone units will include two and three bedroom designs with attached garages and decks or patios.
Thumbs Up!
Gerald Cavanagh, S.J., Charles T. Fisher Chair of Business Ethics, and professor of Business Administration, published the book, American Business Values: A Global Perspective, 5th ed. (Prentice Hall), along with the article, "U.S. Business and Global Politics," in the Journal of International Business and Economy. Fr. Cavanagh also served as the "Distinguished Visiting Scholar" at The Markkula Center for Applied Ethics, Santa Clara University, February- March 2005.
He presented the following lectures: "Business and Personal Values" at Santa Clara University; "The Ethics of Small Business" at John Carroll University; "Ethics of Global Markets" at the College of Philosophy, University of Munich; "Corporate Social Responsibility in the U.S. and the Global Marketplace" at the College of Economics and Business, University of Mannheim. Fr. Cavanagh also co-directed the conference, "Social Capital in the Global Marketplace," at the Heinrich Pesch Haus, Ludwigshafen.
Pamela Zarkowski, executive associate dean, Dentistry, gave the presentation, "Reframing Organizations: The Leadership Frames on North American Dental Women Administrators," at the Third International Women's Leadership Conference in Montréal, Canada in October.