October 18, 2005
Fall enrollment numbers reflect positive indicators
UDM's overall Fall 2005 enrollment totals 5,552 students, the first fall-to-fall increase in total students at the University in 10 years. The number of full-time students is 3,345, an increase of 20 percent since Fall 2001 and the largest number of total full-time students in nine years. Full-time students now represent 60 percent of the total student population, the highest percentage since 1990. UDM's freshman class totals 502 students, representing the second largest freshman class since 1990 and the most in 10 years. In addition, the freshman average ACT score of 22.5 is the second best average since consolidation and the highest in eight years. Resident students number 753, a six percent increase from last fall. UDM's professional school enrollment of 2,062 represents the largest overall, full-time and new professional school enrollment in 10 years.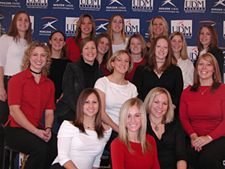 Softball team has top GPA in nation
Congratulations to the Titan Women's Softball Team, which had the highest grade point average in the country among NCAA Division I universities with a cumulative GPA of 3.591 on a 4.00 scale. The 2004-05 school year marks the fifth straight season that the Titans have been in the top-five of the country in terms of their classroom work. This also marks the second time (2002) that the team captured the top ranking.
City Council candidates to speak / Open meeting
A Detroit City Council Candidates Forum will be held on Wednesday, Oct. 19 at 7 p.m. in the Life Sciences Building, Room 113. The event is hosted by the 12th Precinct Neighborhood Coalition. For more information, call 313-993-2257.
Tonight, Tuesday, Oct. 18 at 7p.m, the current Detroit City Council will hold an open evening community meeting in the School of Law Atrium. Dean Mark Gordon and UDM President Gerard Stockhausen, S.J., will welcome the Council and community members.
Congress to determine student loan cuts
In its efforts to reconcile the federal budget, the House Education and Workforce Committee has cut $11 billion from student loan programs and may cut another $7.5 billion. Currently the Perkins Loan program is under fire. The Student Aid Alliance is asking students to voice their concerns to Congress on National Call-in Days, Oct. 19 and 26. Students should address the following points:
UDM Student Senate is coordinating a reponse. Please contact your UDM representative to voice your concern.
Please Stop the Raid on Student Aid by opposing reconciliation. Congress should not pay down the deficit and disaster aid on the backs of students.
Students will absorb $5,800 in additional burdens if reconciliation passes. This is not the way to balance the budget or pay for a huge disaster.
DO Not cut or eliminate the Perkins Loan Program--This is a vital low interest loan program for undergraduate and graduate students. We need to KEEP THE PERKINS LOAN PROGRAM.
Students can call: 1-800-574-4AID (4243) starting NOW AND OVER THE NEXT THREE WEEKS, or link online www.studentaidalliance.org.
Fall marketing campaign under way
UDM's integrated marketing fall campaign is scheduled from mid-October to mid-November with radio, TV and print advertising. Five billboards promoting UDM are currently located along major highways and thoroughfares. For a complete schedule of the fall campaign, visit www.udmercy.edu/marketing.
Crime Prevention Seminar scheduled - Oct 19
The Detroit Police Department Crime Prevention Unit, in conjunction with UDM's Public Safety Department, will present a Crime Prevention Seminar on "Personal Safety" on Wednesday, Oct. 19 from 5-6:30 p.m. in the Life Sciences Building, Room 115.
Submit entry for T-shirt design contest
To help promote itself, Digital Media Studies is sponsoring a T-shirt design contest that is open to all students. Deadline for entries is Oct. 27. See submission criteria (pdf).
Children to trick-or-treat at Safety Street - Oct 28
Don't forget to donate candy for the 16th annual Safety Street for neighborhood children to be held Friday, Oct. 28 from 4–6 p.m. in the Fountain Lounge and Ballroom, Student Center. Donations must be received by Oct. 21. Departments can sign up for a contest to submit the most candy and win up to 10 Safety Street T-shirts. To participate in the contest, call 993-1493 or 993-1150.
Volunteer for Super Makeover - Oct. 22

Help prepare for Super Bowl XL by volunteering for the Super Makeover, Oct. 22. The Super Makeover brings together thousands of metro Detroit residents to work on beautification projects in downtown Detroit and key destination points in the region. More than 1,000 volunteers are needed to pick up garbage, clear debris, paint, weed, and complete other necessary preparations for February's big event. To register, visit www.theworldiscoming.com/supermakeover.html or call 313-313-1999.
Thumbs Up!
Dan Lawrence, assistant professor, Counseling and Addiction Studies, presented "Using Reality Therapy in School Guidance Programs" at the Michigan Counseling Association's annual convention on Oct. 17.
Marcel O'Gorman, professor, Digital Media Studies, performed on the "Dreadmill," Oct. 4 at Waterloo University (Ontario) and has future performances on Oct. 26 at Bowling Green State University and Oct. 31 at Transylvania University, Lexington, KY. The Dreadmill is a treadmill hardwired to a computer. The runner's speed and heart rate generate a multimedia "show." In performances of 5-7 kilometers, O'Gorman runs and lectures about the relationship between death and technology. The Dreadmill was assembled in collaboration with Electrical and Computer Engineering Professor Mark Paulik and Electrical Engineering students Morgan Davenport and Ryan Davis. Nathan Blume, an E-Crit student, also contributed to the project.
O'Gorman currently serves as the Visiting Humanities Fellow at the University of Windsor, where he is working on a large-scale video installation project called "Spleenhouse". O'Gorman's book, E-CRIT: Digital Media, Critical Theory, and the Humanities, will be released by the University of Toronto Press in February.
Julie Kim, associate professor, Architecture, co-chaired the Central Regional Conference of the Association of Collegiate Schools of Architecture at UDM, Oct. 7-9. Nearly 100 people attended the event to hear 47 papers on the theme, "intervention + experimentation." Architecture Dean Stephen Vogel presented the paper, "The Eight Mile Divide," at the conference followed by a panel discussion with community leaders.
Michael Whitty, professor, Business Administration, spoke on "The Spirit of Hope: A Positive Future for Detroit" at the first annual Praise Detroit Festival in October to a network of grassroots community leaders at the Innate Community Center in Detroit.