November 8 , 2005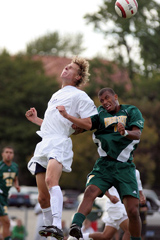 Horizon League recognizes UDM soccer teams
Congratulations to Titans men's soccer team coach Morris Lupenac and women's soccer team coach Mike Lupenac, who were each named Coach of the Year in the Horizon League—a UDM first! The Horizon League also recognized the following student athletes:
Andrew Ornoch, Player of the Year, Offensive Player of the Year, All-league First Team
Jason Massoglia, Defensive Player of the Year, All-league First Team
Sasha Boskovic, Goaltender of the Year, All-league First Team
Aaron Smith, All-league Second Team
Allison Epple, All-league First Team
Mary Parker, All-league First Team
Allie Bullard, All-league Second Team
Lauren Moss, All-league Second Team
In addition, Massoglia was selected to the ESPN The Magazine/CoSIDA Academic All-District First Team and Parker was named to the ESPN The Magazine/CoSIDA Academic All-District IV Team.
Flu shots available
The Visiting Nurse Association will sponsor the following Flu Busters Clinics at UDM:
Monday, Nov. 14, 11 a.m.-3 p.m., Fountain Lounge, McNichols Campus
Wednesday, Nov. 16, 4-6 p.m., School of Dentistry
Tuesday, Nov. 22, noon-2 p.m., School of Dentistry
Wednesday, Nov. 23, 11 a.m.-2 p.m., School of Law
Cost for the flu shot is $22, and payable by cash or check. For more information, contact the University Health Center at 313-993-1185.
Job fair open to students, alumni
The Michigan Collegiate Job Fair (MCJF) will be held Friday, Nov. 18 from 9 a.m.-3 p.m. at Burton Manor in Livonia. Supported by the Michigan Association of Collegiate Career and Employment Services (Mi-ACCES), the MCJF is an effective way for companies to recruit qualified graduates for primarily degreed, entry-level positions. MCJF is open to seniors, graduates and alumni of any two or four-year college or university. There is a $10 registration fee (one week prior to the fair) or $20 at the door. To register, visit http://www.mcjf.org/ or complete and return a registration form that is available in the Career Education Center office and in college and department offices throughout the McNichols Campus. For additional information, visit www.mcjf.org.
Workshops to assist Hispanic students
UDM will host "Steps for Success" workshops on Saturday, Nov. 12 from 9 a.m.-3 p.m. in the Engineering Building, McNichols Campus. The workshops, sponsored by the Hispanic Scholarship Fund, will provide helpful information to Hispanic students in grades 9-12 about preparing for and enrolling in college. Parents are invited to attend also. For more information or to register, visit http://www.hsf.net/resources/steps-reg.php.
Theatre production, Sez She, to open, Nov. 11
UDM Theatre Company's performance of Sez She by Jane Martin will open Friday, Nov. 11 and run weekends through Sunday, Nov. 27. Individual tickets are $13 for faculty and staff, and $5 for students. For more information, contact the box office at 313-993-3270.
Week highlights international education
November 14-18 is designated as International Education Week to celebrate the benefits of international education and exchange worldwide. Among the events planned at UDM are a study abroad fair, weeklong international dining, and a number of social and educational activities involving intercultural exchange. Look for additional publicity on specific events.
Thumbs Up!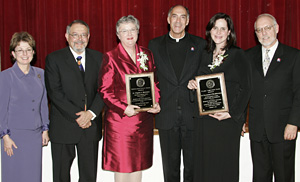 Associate Professor of English Rosemary Weatherston received the Faculty Achievement Award and Professor of Biomedical Services Virginia Merchant received the Distinguished Faculty Award at the 2005 Faculty Recognition Dinner, Nov. 4.
Weatherston was recognized for her student-centered teaching that furthers "the intellectual, spiritual, ethical and social development of our students." She is a model of diligence, exacting standards, dedication and commitment. As a scholar, Weatherston has presented papers and published her work in journals and book collections. She has also promoted scholarly exchange through a series of biweekly University faculty meetings. As director of the Dudley Randall Center for Print Culture and UDM Press, she has helped produce several scholarly publications, including the poetry anthology, A Different Image: The Legacy of the Broadside Press. The Library of Michigan included the book on its list of Michigan Notable Books for 2005.
Merchant was recognized for her abilities as a professor, teaching mentor, role model, scholar, author, editor and professional. As an educator, she fosters an environment of learning and professional growth and development. As a faculty advisor, she has provided counsel to individual students and for student-focused research. She has served on numerous School and University committees, and is the current editor of the Dental alumni magazine, The Leading Edge. Merchant has published her work in scholarly journals and books, and has made numerous presentations on local, state and national levels. She is an active member in dental professional organizations and serves as editor of The Detroit District Dental Bulletin. She is also a member of the Michigan Dental Association's Forensic Identification Team.