November 29, 2005

Detroit Titans game to broadcast statewide
The Detroit Titans men's basketball team will play a fifth straight game on the road Tuesday, Nov. 29 at Eastern Michigan University. The game will be televised at 7 p.m. statewide on Comcast Local. Tune in to cheer the Titans on!
Speakers to discuss peace efforts in Middle East
Michigan Peace Team members Karen Donahue, RSM and Liz Walters, IHM, will speak on "Working Towards Peace in the Middle East: from Detroit to Gaza," on Tuesday, Nov. 29, 7–8:30 p.m. in the Quad Commons Theater. They will share their recent experiences in Gaza during summer 2005 and discuss their work for peace in the Middle East. The Michigan Peace Team, which was created in 1993, empowers people to engage in active, nonviolent peacemaking. The event is co-sponsored by University Ministry and Four West Floor.
Fraternity to collect blankets for homeless
The service fraternity Alpha Phi Omega will collect blankets for Detroit's homeless on Tuesday, Nov. 29 outside the Loft during lunch and dinner hours. Blankets can also be dropped in boxes by the main offices in all academic buildings on the McNichols Campus. Blankets do not need to be new as long as they are in good condition. For more information on the blanket drive or the sandwich bus service opportunities, e-mail Andy Wakeland at wakelade@students.udmercy.edu.
Volunteer to assist Catholic Social Services
The Student Volunteer Center seeks volunteers to assist female teen parents at an annual Christmas party on Wednesday, Dec. 7 from 5-9 p.m. The party, which is hosted by Catholic Social Services of Oakland County, will be held at All Saints Episcopal Church in Pontiac. To volunteer, please contact the Student Volunteer Center at 313-993-1550 or studentvolunteer@students.udmercy.edu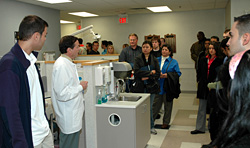 Dental Open House attracts strong interest
More than 800 prospective students, family members, college advisors and high school counselors attended the School of Dentistry Annual Open House, Nov. 13. Rosie Schafer, a third year dental student, spoke about her curricular and extracurricular experiences in the dental program and provided insight into the life of a dental student. Currently enrolled students also provided demonstrations throughout the clinic and simulation laboratory as guests toured the clinical facility.
Pistons honor UDM trustee
The Detroit Pistons honored UDM Trustee Dave Bing by permanently securing his name and number on the sidelines of the Pistons court, Nov. 25. The recognition is part of a Pistons 2005-2006 season program, "Flashback Fridays," that recognizes team legends. Bing was the first Pistons player to have his number (21) retired. Read his Nov. 22 online chat with sport fans.
Thumbs Up!
Libby Balter Blume, professor, Psychology and Women's Studies, spoke on "Agency: Meanings and Control for Women in Families" for the Theory Construction and Research Methodology Workshop, Nov. 17 at the National Council on Family Relations Conference (NCFR) in Phoenix. She also participated in a paper session on "Intersectional Parenting: Negotiating Race, Class, and Gender" at the conference.
Mark Benvenuto, associate professor, Chemistry/Biochemistry and Matt Mio, assistant professor, Chemistry/Biochemistry, recently published an article about teaching chemistry in the post-9/11 era in the most recent issue of Thought & Action.
Carla Groh, professor, Health Professions, co-presented the paper, "Women and Mood Disorders: How biological gender differences may impact advanced practice prescriptive decisions," at the American Psychiatric Nurses Association 19th Annual Conference in Nashville, TN in November. In addition, she was the keynote speaker at the Wayne State University College of Nursing annual conference, "Building Psychiatric-Mental Health Competencies: Mind-Body Connection," in October.
Mary Hannah, professor, Psychology, Judy McCown, associate professor, Psychology, and Michael Bambery presented the paper, "Augmenting Undergraduate and Graduate Psychology Education with Computer Mediated Communication," at the annual meeting of the American Psychological Association in Washington, D.C. in August. McCown also published the chapter, "Schizophrenia," in the Handbook of Adolescent and Behavioral Problems: Evidence-Based Approaches to Prevention and Treatment.
Sharon Moser, assistant professor, Physician Assistant, presented "Predictors of Success in PA Education" at the Annual Meeting of the Association of Physician Assistant Programs in November.
Mitzi Saunders, assistant professor, Nursing and Maureen Anthony, assistant professor, Nursing, co-authored the article, "Homecare Nurse's Perception of Control over Pain" in Home Healthcare Nurse, October.
Gerard L. Stockhausen, S.J., president, UDM, was named to Crain's Detroit Business' first list of Who's Who in Metro Detroit. The directory is "a listing of business leaders and nonprofit chiefs who are at the top of their industries, who stand out among their peers or who are at the top of their game."
Joan Urbancic
, professor, Nursing, serves as co-principal investigator on a research grant for depression in primary care patients. The project will investigate whether formal screening increases the identification of depressed patients in primary care settings, and study the differences in effectiveness of four interventions in achieving remission from depression. The two-year study will involve a sample of 220 primary care patients that screen positive for depression. In addition, she and
Carla Groh
, professor, Health Professions, presented the paper, "Collaborating with Psychiatric Mental Health NPs to Optimize Health Care Outcomes in Primary Care Settings," at the 4th annual National Nursing Center Consortium in Albuquerque, NM in October.