November 22, 2005
Human Resources implements online training course
The Human Resources Department is pleased to announce the rollout of UDM's new online Sexual Harassment Prevention Training. The course, entitled "Preventing Sexual Harassment," enables employees and students to train in a practical, convenient way. The online course takes approximately 45 minutes to complete, including the mastery test. The training uses an active learning process that does not disrupt work responsibilities or require employees to schedule specific off-site training classes. In addition, the program produces documentation of when the course was taken and that a passing score in the mastery test was achieved. The course is accessed on UDM's HR web site or directly: http://training.newmedialearning.com/psh/udetroitmercy/
For more information about this course, contact the Human Resources Department at 313-993-1036.
Win Super Bowl XL tickets!
Make a new or increased gift to the University between Sept. 1 and Dec. 31 to be entered to win two tickets to Super Bowl XL on Feb. 5, 2006 at Ford Field in Detroit. Faculty and staff may utilize payroll deduction to maximize their contribution to the University. More information on faculty and staff giving may be found on our website: http://www.udmercy.edu/giving.
Flu shots available
The Visiting Nurse Association will sponsor the following Flu Busters Clinics at UDM:
Tuesday, Nov. 22, noon-2 p.m., School of Dentistry
Wednesday, Nov. 23, 11 a.m.-2 p.m., School of Law
Cost for the flu shot is $22, and payable by cash or check. For more information, contact the University Health Center at 313-993-1185.
Library displays crystal exhibit
Handcut crystal from the Republic of Slovakia (formerly Czechoslovakia) is on display through November in the lobby of the McNichols Campus Library. Exquisitely detailed pieces include vases, serving dishes, butter dishes, ring holders, candy dishes, candleholders, pitchers, goblets, crosses, etc. Library hours are as follows:
Monday - Thursday 8 a.m. to 10 p.m.
Friday 8 a.m. to 5:30 p.m.
Saturday 9 a.m. to 5 p.m.
Sunday 12:30 p.m. - 7 p.m.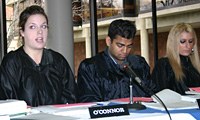 Students highlight Law Day with trial
UDM Political Science students enacted a Moot Court trial, arguing Ayote v. Planned Parenthood before the "Supreme Court" during Law Day, Nov. 17 in the Fountain Lounge, Student Center. Students interested in law school were invited to attend the trial and speak to representatives from law schools in and outside of Michigan.
Counseling students reach out
The Counseling and Addiction Studies Student Association (CASSA) continues to provide a wide array of support to its service partner, St. Aloysius Outreach Center. In October, Counseling students sponsored a toiletry drive at the Michigan Counseling Association's annual convention resulting in the delivery of thousands of toiletry items to the Center. The group also spends regularly scheduled community service each Saturday with the Outreach Center making sandwiches, sorting clothes, and distributing food and coffee. CASSA will also donate $250 to the Center in December to provide additional support to the homeless population in Detroit.
Thumbs Up!
Joyce Conley, associate professor, Nursing and Mary Serowoky, coordinator, McAuley Health Center, presented "Hypertension Outcomes in an Urban Nurse Managed Center" at the National Nursing Centers Consortium in Albuquerque, NM in October.
Barry Dauphin, instructor of Psychology, presented the paper, "Seeing the Trees Through the Forest: Science, Rhetoric, the Individual and the Social. A Psychoanalytic Inquiry into Culture and the Shrinking Space for Free Thinking Professional Inquiry," on Oct. 22 at the 2005 annual conference of the International Federation for Psychoanalytic Education in Fort Lauderdale, Fla.
Maurice Greenia, Jr. (Maugre), Library, currently has his artwork on display in two area exhibits: "All Monsters Welcome"—Universal Metaphors for Anxiety, Nov. 12-Dec. 18 at the Zeitgeist Gallery in Detroit and at the U-M Institute for the Humanities' "Art Brut and Affiliated Works," Nov. 7-Dec. 17 in the Gallery of the Rackham Building in Detroit.
Rose Higgins and Mary Urbanek, clinical track instructors for the Physician Assistant program, are involved in a community project with Sinai Grace Hospital and the Heart Association for blood pressure screenings.
Adrian V. Kerrigan, vice president, University Advancement, was honored recently for his service as chairman of the Jesuit Advancement Administrators (JAA) Conference of the Association of Jesuit Colleges and Universities (AJCU). Kerrigan has been a member of the organization representing Advancement professionals from the 28 Jesuit Colleges and Universities in the United States since 1992 and has been its chairman since 2003.
Diane Robinson-Dunn, assistant professor, History, presented a paper at the Berkshire Conference at Scripps College, Claremont, Calif. in June. In October, she presented work from her forthcoming book, The Harem, Slavery, and the British Imperial Culture: Anglo-Muslim Relations in the Late Nineteenth Century (June 2006) at the "Atlantic and Ottoman Empires" Conference held at Bogazici University, Istanbul, Turkey. She also made a presentation at the Institute for Historic Research at the University of London.
Nicholas Rombes, associate professor, English, recently published the article, "The Rebirth of the Author," in CTheory.
John Staudenmaier, S.J., professor, History, participated in two panels at the annual meeting of the Society for the History of Technology, presenting "Creative Tensions between the History of Technology and Environmental History" and "The Nuts and Bolts of Academic Publishing." Fr. Staudenmaier edits Technology and Culture, the Society's peer reviewed international journal.
Michael Witkowski, associate professor, Criminal Justice, spoke on gang avoidance to students at Webster Elementary School in Southwest Detroit, Nov. 16. Titan men's basketball center Ryvon Coville also addressed the assembly. They were invited to the school by UDM social work intern Mead Godert.
The UDM Women's Studies Program has received an Award of Appreciation from the Gay/Straight Alliance in recognition of "outstanding dedication and lasting contribution" to the Alliance. Most recently, the Women's Studies Program and Gay/Straight Alliance sponsored the Oct. 25 presentation, "Living with Courage: Gays, Lesbians, and Moral Choices" by Sr. Jeannine Gramick, which was attended by more than 200 people.