November 15, 2005
Health Professions programs receive accreditation
The McAuley School of Nursing is now officially fully accredited by the National League for Nursing Accrediting Commission for another eight years, and by the Commission on Collegiate Nursing Education for five years (this was an initial visit by this organization). The Nurse Anesthesia program also received continuing accreditation for 10 years from the Council on Accreditation of Nurse Anesthesia Educational Programs.
Architecture lecture series to begin
The School of Architecture's 2005-06 lecture series will focus on the theme of "Resistance" as the series begins with speaker Hernan Diaz Alonso from xefirotarch in Los Angeles on Nov. 16, 6:30 p.m. in the Genevieve Fisk Loranger Architecture Center, Loranger Architecture Building on the McNichols Campus. [More]
Writer to speak on U.S. foreign policy
New Yorker staff writer Mark Danner will speak on " Do We Remember? A lecture on U.S. Foreign Policy from El Salvador to Iraq" on Thursday, Nov. 17, 7-9 p.m. in the Ford Life Sciences Building, Room 113. Danner, who is also a professor of Journalism at the University of California, Berkeley and the Henry R. Luce professor of Human Rights, Democracy and Journalism at Bard College, will reflect on U.S. foreign policy and how it has incorporated lessons from international tragedies. The talk is sponsored by the Detroit Province of the Society of Jesus, Religions for Peace USA and UDM's University Ministry in commemoration of the Martyrs of El Salvador's Jesuit university, who were killed Nov. 16, 1989. For more information, call 313-861-7500, ext. 23.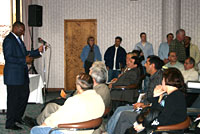 Career day with intelligence community draws crowd
More than 450 students attended career information sessions with the National Security Agency and other state and federal government intelligence agencies on Nov. 9 in UDM's Student Center. Students also had the opportunity to learn about UDM's new graduate programs in Information Assurance and Intelligence Analysis.
United Way nears end of fund drive
The United Way campaign for Southeastern Michigan is nearing its completion date of Nov. 22. However, support is still needed to reach its goal of $66.5 million. United Way helps improve lives by addressing immediate and long-term needs by supporting more than 340 programs at 150 agencies throughout Macomb, Oakland and Wayne counties. Its Emergency and Stabilization Fund also assists local hurricane evacuees. To make a contribution to the United Way, UDM employees are encouraged to visit the United Way website at www.uwsem.org or call 313-226-9300 for further information.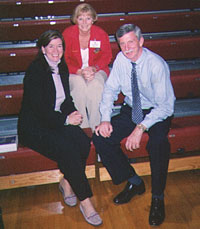 UDM hosts Super Bowl volunteers
UDM hosted the first of three orientation sessions for Super Bowl XL volunteers at Calihan Hall, Nov. 2. More than 500 volunteers attended the session in preparation for Super Bowl XL on Feb. 5, 2006 in Detroit. Additional orientation sessions are scheduled for Nov. 16 and Dec. 7. Approximately 125 UDM alumni, faculty and staff will serve as Super Bowl volunteers as part of "Team Titan" to staff the NFL Experience on Feb. 3-4. "Super Captain" Cathy Roglitz '66 serves as the team coordinator. Photo (left to right): Super Bowl XL Host Committee Executive Director Susan Sherer, Super Captain Cathy Roglitz '66 and UDM Athletics Director Brad Kinsman.
Theatre performances continue
UDM Theatre Company's production of Sez She by Jane Martin continues with performances Nov.18-20 and Nov. 25-27. Individual tickets are $13 for faculty and staff, and $5 for students. For more information, contact the box office at 313-993-3270.
Thumbs Up!
Roy Finkenbine, professor, History, participated in a conversation with the Brown University Steering Committee on Slavery and Justice, Nov. 1 His insights will appear in the committee's 60-page final report, which is intended to "help the nation and the Brown community to think deeply, seriously, and rigorously about the questions raised" by the current national debate over slavery and reparations.
Gail Mitchell, associate professor, Theatre/Music, performed the soprano solo in Felix Mendelssohn's "Hear My Prayer" at a concert of sacred choral and organ works at St. Mary's of Redford, Oct. 30.
Aloha Van Camp, associate professor, Social Work, presented "Teaching Research Methods: Preparing Undergraduate Social Work Students for the Real World," at the 23rd Annual Baccalaureate Social Work Education Conference in Austin, Texas, Nov. 5.
Michael Whitty, professor, Business Administration, has published "The Future Necessity of a Live and Let Live Philosophy" in the November issue of the New Renaissance Journal. He also presented the workshop, "Ageing into Sageing" at the Theosophical Society meeting in Seattle in November.
Suzanne York, associate professor and chair, Physician Assistant, was elected to the executive board of the Accreditation Review Commission on Education for the Physician Assistant in September. She will serve a two-year term as commission secretary.