November 1 , 2005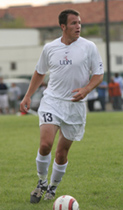 Men's soccer team wins season championship
Congratulations to the Detroit Titans Men's soccer team in winning the Horizon League regular season championship with a 3-0 win over Butler on Oct. 28. As the top seed in the Horizon League tournament, the Titans will host the eight-seed Cleveland State on Saturday, Nov. 5 at 1 p.m. in a quarterfinal match.
The Detroit Titans Women's soccer team took second place in the Horizon League regular season with a victory over Youngstown State, 2-0, Oct. 28.
Town Hall provides University updates
During the Oct. 25th President's Town Hall meeting, UDM President Gerard L. Stockhausen, S.J., highlighted UDM's positive enrollment trends. UDM's overall Fall 2005 enrollment of 5,552 students is the first fall-to-fall increase in total students at the University in 10 years.
Fr. Stockhausen also provided an update on University capital projects, which are still under review; the University has employed Hines, a real estate and construction consultant, to provide detailed programming, design, and analysis of proposed projects. Fr. Stockhausen also noted that planning facilitator Dr. Thomas Scheye is assisting the University in developing a single planning strategy based on previous plans created at UDM. He also is conducting an audit of the University Advancement area, developing a feasibility study of prospective donors and assisting the Board of Trustees in developing goals and objectives for a capital campaign.
UDM to host career day with intelligence community
Career information sessions will be held with the National Security Agency and other state and federal government intelligence agencies on Wednesday, Nov. 9 at 2 p.m. and at 6 p.m. in the President's Dining Room (PDR), Student Center. Representatives from these agencies, Eastern Michigan University's Center for Regional and National Security, and UDM's Center for Information Assurance Studies, the Intelligence Analysis program and the Language & Cultural Training program will also be available from 11 a.m.-7 p.m. in the PDR to discuss educational and career opportunities. The event is sponsored by the Midwest Coalition for Information Assurance Education, of which UDM is a member.
Theatre production, Sez She, to open, Nov. 11
UDM Theatre Company's performance of Sez She by Jane Martin will open Friday, Nov. 11 and run weekends through Sunday, Nov. 27. Individual tickets are $13 for faculty and staff, and $5 for students. For more information, contact the box office at 313-993-3270.
Volunteer opportunities
The Student Volunteer Center has several opportunities for students, faculty and staff to assist community outreach activities in Southeast Michigan.
Friday, Nov. 11, 10 a.m.-9 p.m. and Saturday, Nov. 12, 9 a.m.-6 p.m.
Forty volunteers needed for the Salvation Army and WJLB's 23rd annual "Coats for Kids" Radiothon at Oakland Mall
Saturday, November 12, 10 a.m.-noon
Eighteen volunteers are needed to package boxes of food for homebound senior citizens ant Focus Hope, 6500 Davison, Detroit

Tuesday, November 15, 4-6 p.m.
Eight volunteers are needed to help serve meals to homeless individuals at the Capuchin Soup Kitchen, 4390 Conner, Detroit
For more information on volunteer opportunities, contact the Student Volunteer Center at 313-993-1550.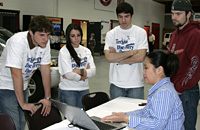 High school students visit UDM
More than 600 students from 25 high schools in metropolitan Detroit attended Technology Awareness Day, hosted by the College of Engineering and Science, on Oct. 21.The event included the annual UDM Chemistry Magic Show, engineering displays and exhibits with several corporate displays from Ford Motor Company, DaimlerChrysler, Pfizer, Comau Pico, Continental Teves, DTE Energy and the Detroit Police Forensic Department.
Hunger Week focuses on homeless children
"Save the Babes" is the theme of Hunger Week, scheduled Nov. 11-18, to focus on the fact that one out of every five homeless person is a child. During the week, which is sponsored by the Student Senate's Mission and Values Committee, a campus-wide Baby Drive will be held to collect items such as baby food, diapers, pampers, baby wipes, baby formula, clothing and toys. The items can be dropped off at the University Ministry office in the Student Center. For a complete list of the week's events, see the University calendar, or for more information, contact David Walker at walkerd2@students.udmercy.edu.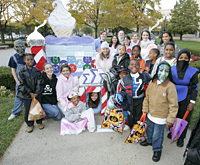 'Trick or treaters' come to Safety Street
Approximately 200 neighborhood children visited UDM's Safety Street, Oct. 28 for a safe and fun Halloween event. UDM students designed facades to create Safety Street, which is sponsored by the Student Advisory Board/Student Life.
Thumbs Up!
Libby Balter Blume, professor, Psychology and Women's Studies; Margaret Stack, associate professor, Psychology and Catholic Studies; and Carla Groh, associate professor, Health Professions and Women's Studies, presented "Constructing LGBTQ Discourse in a Catholic Context: Intersection of Theory, Theology, and Pedagogy" as part of "Out There: First National Conference of Scholars and Student Affairs Personnel Involved in LGBTQ Issues on Catholic Campuses," at Santa Clara University, Oct. 29.
Shirley Escamilla, assistant professor of Nursing, is co-author of the article, "Health Risk Assessment in an Urban Hispanic Community," published in The Clinical Nurse Specialist - The Journal for Advanced Nursing.