May 10, 2005

Join the UDM community for a Motor City Makeover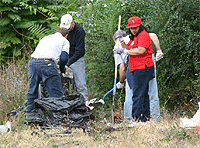 Charley Jackson, Jr., coordinator of Government and Community Relations, is organizing volunteers for a Motor City Makeover in collaboration with the University Commons Organization and Northstar CDC. On Saturday, May 21, volunteers will clean up neighborhoods and areas near the McNichols Campus. Fore more details or to volunteer as a member of the UDM community, please contact Jackson by Wednesday, May 18, at 313-993-1025 or jacksoch@students.udmercy.edu.
Photo: UDM students and staff assisted Northstar CDC in cleaning debris near neighborhoods and businesses on Livernois, McNichols and Puritan last September.
Titan Golfers Bound For South Bend With NCAA Central Regional Berth
The Detroit Titans men's golf team will make its third NCAA post-season appearance in five years when it travels next week to South Bend, IN, to play in the 2005 Central Regional. [
more
]
UDM develops Master's in Community Development
UDM has developed a new community development program, the first of its kind in the nation, teaching the theory and practice of building sustainable communities. The Master of Community Development is a unique, interdisciplinary program, integrating human organizational, physical and economic development into its core curriculum. [more]
Thumbs Up!
Barbara Bommarito, director of Corporate-Foundation Relations, will present "Bridging the Quantum Leap from Ask to Actualization: Building the Evaluation Plan into Your Proposal" at the Annual Conference for Corporate & Foundation Relations Officers hosted by CASE in Chicago.
Shirley Escamilla, assistant professor of Nursing, is a co-author of the article, "Health Risk Assessment in an Urban Hispanic Community," published in The Clinical Nurse Specialist - The Journal for Advanced Nursing.
Gail Presbey, associate professor of Philosophy, has spent this past semester in India on a Fulbright research grant. While there she gave the following presentations:
"Gandhi's Ahimsa" at the National Conference on the Role of India in Promoting World Peace at the Maharashtra Institute of Technology in Pune, India
"How Did Gandhi Resolve Conflicts" at a conference sponsored by Gandhian Studies Program at the University of Mumbai
"The Non-Violent Army: Reflections on Gandhi's Salt March" at the Gandhi Museum and Library in Bombay
Rose Higgins and Mary Urbanek, clinical track instructors for the Physician Assistant program, are involved in a community project with Sinai Grace and the Heart Association for blood pressure screenings, as well as a May walk-a-thon.
The Women's Studies Program has been honored with an Award of Recognition from the Student Senate's Committee on Mission and Religious Values.