June 7, 2005
UDM to host mayoral candidate forum
Detroit's mayoral candidates will visit University of Detroit Mercy to discuss their vision for the City of Detroit this Wednesday, June 8. The forum, hosted by University Commons and affiliated community groups, will begin at 6 p.m. in the Fountain Lounge on the McNichols Campus. For more information, contact Charley Jackson, Jr., at 313-993-2034.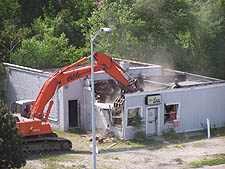 Demolition continues on vacant facilities
Demolition of the former Polymer Institute and the Detroit Police sub-station began last week. Both buildings, located off Livernois on the east side of campus, had been unoccupied for over a year. Last fall, the former Brent Hospital building on Fairfield was torn down. The vacant property will be used temporarily for additional parking.
President Stockhausen joins Detroit's leadership at 2005 conference
UDM President Gerard L. Stockhausen, S.J., attended the Detroit Regional Chamber 2005 Leadership Policy Conference on Mackinac Island, June 2-5. Visit Crain's Detroit Business for coverage from the annual conference.
Save the Date – President's Convocation, Celebrate Spirit and Founders Week
Faculty and staff are invited to join President Stockhausen in welcoming a new academic year at the President's Convocation on Friday, August 19 on the McNichols Campus. More details to follow.
Celebrate Spirit, the official welcome to the new school year for UDM faculty, staff and students, will take place Thursday, September 15, from 11:30 a.m.-2 p.m. at Calihan Hall. President Stockhausen will celebrate the "Mass of Holy Spirit," which welcomes people of all faith traditions.
UDM's Founders Week will take place during the week of September 25-30. During this weeklong celebration, the University will sponsor many activities, beginning with rededication of the renovated St. Ignatius Chapel on Sunday, September 25 and concluding with the Founder's Gala on Friday, September 30.
Thumbs Up!
Michael Whitty, professor of Business Administration, participated in a symposium on social security and social justice principles in New York City in May. He also discussed religion and politics at Unitarian Church and comparative religion at the Theosophical Society.
Stephen Manning, associate professor of Political Science, chaired the panel, "Formal Theory and Institutions in the Postcommunist World," at the 63rd Annual National Conference of the Midwest Political Science Association held in Chicago, April 7-10.
Associate Professor of Philosophy and Director of the University Honors Program David Koukal presented "Dwelling in the Classroom/Learning at a Distance: A Heideggerian Investigation of Distance Learning" to the Seventh Annual Conference of the Society for Phenomenology and Media at Western Oregon University (Monmouth, OR), May 12-14.
Koukal also presented "