January 25, 2005
Two new members join the Board of Trustees
John D. Lewis '74, vice chair of Comerica Incorporated and director of Comerica Bank, and Faye A. Nelson '75, '80, president and CEO of the Detroit River Conservancy, joined the University of Detroit Mercy Board of Trustees in January.

Lewis holds a B.S. from the University of Dayton and a M.B.A. from the University of Detroit. He also attended the University of Michigan Graduate School of Banking. In addition to his current position at Comerica, Lewis has several professional and community affiliations, including: the Bank Administration Institute; Detroit Institute of Arts Founders Society; Detroit 300 Conservancy Board; Oakwood Healthcare Incorporated; New Detroit, Inc. and Greater Detroit Area Health Council. He is also a member of the Dominican High School Board, The Financial Services Roundtable and The Economic Club of Detroit.

Nelson has a B.A. in Political Science from Mercy College in Detroit, a J.D. from the University of Detroit School of Law and completed the Harvard Institute for Higher Education Management Program. A native Detroiter who is dedicated to the community, Nelson serves on the board of directors for Compuware Corporation, the National Conference for Community and Justice and the Michigan Economic Growth Authority. She is also a member of the American Bar Association, State Bar of Michigan, life member of the Sixth Circuit Judicial Conference, Leadership Detroit XIII, Detroit Athletic Club and Economic Club of Detroit.
Theatre Company presents "A Patch of Earth"
The UDM Theatre Company invites you to its February production of "A Patch of Earth." Written by National Public Radio journalist Kitty Felde, "A Patch of Earth" tells the story of the first young man to be sentenced by the international criminal tribunal of the former Yugoslavia. The production runs Thursday-Sunday, February 3-6 and February 10-13 at the Marygrove Theatre. Tickets are $12 for faculty and staff and $3 for students. To purchase tickets, call the UDM Theatre Box Office at 313-993-3270.
EDS Officers visit McNichols Campus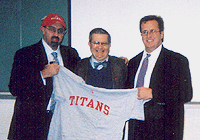 On Tuesday, January 18, Criminal Justice and Security Administration students had the opportunity to discuss global risk management issues facing multinational corporations with Electronic Data Systems (EDS) Chief Risk Officers Tony Abraham (Asian-Pacific Operations) and Andrew Daily (America Operations). Topics raised by Abraham and Daily included terrorist threats, security intelligence, and environmental threats.
Photo (l to r): EDS Chief Risk Officer Tony Abraham, Michael Witkowski, associate professor of Sociology, and EDS Chief Risk Officer Andrew Daily.
Thumbs Up!
The chapter, "Quantitative Initiatives in College Biology: Profiles of Projects at Undergraduate Institutions," co-authored by Stokes Baker, associate professor of Biology, Jeffery Boats, associate professor of Mathematics and Computer Science, and Debra Hydorn of the University of Mary Washington, has been published in Math & Bio 2010: Linking Undergraduate Disciplines (The Mathematical Association of America, 2005).
The article, "Global Business Ethics: Regulation, Code, or Self-Restraint," by Gerald F. Cavanagh, S.J., professor of Business Administration, was recently published in the journal, Business Ethics Quarterly. "Toward a Spirituality for the Contemporary Organization: Implications for Work, Family and Society," also by Fr. Cavanagh, was accepted for publication in Research in Ethical Issues in Organizations (Elsevier, 2005).
Yolanda Fleischer, associate professor of Theatre, will present the paper, "Theatre and Social Justice: An Overview," at the Jewish Community Center, Oak Park Branch, at 3 p.m. on Sunday, January 30. Fleischer will trace the development of American drama, which often addresses important social issues, and assess the theater's ability to affect social change. This presentation is an encore to an October presentation at Oakland Community College.
Fleischer is also directing "Door to Door" at the Jewish Ensemble Theatre in West Bloomfield. Written by James Sherman, "Door to Door" is a play about three generations of women.