January 18, 2005
Colleagues recognized for service to UDM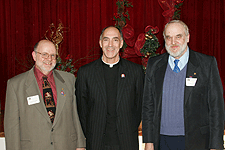 Ninety-two employees were recognized for their loyalty and service to the University of Detroit Mercy at the Employee Holiday Colleague Recognition Celebration held on Friday, December 17. Among those honored were Jacques Boettcher, associate professor of Business Administration, for his 50 years of service. Charles Dause, associate professor of Communications Studies, and John Thomson, executive assistant to the Provost, were both recognized for 45 years of service to the University.
Photo (l to r): Kenneth Henold, associate dean of Engineering and Science, President Gerard L. Stockhausen, S.J., and John Dwyer, associate professor of Mathematics and Computer Science. Henold and Dwyer were recognized for 35 years of service to UDM at the Colleague Recognition Celebration in December.
Complete listing of employees recognized at December's celebration
Presentation to discuss chilling story of slavery
On Tuesday, January 25 at 5:30 p.m. in Briggs, Room 10, Karen VanderKloot DiChiera, director of Community Programs at the Michigan Opera Theatre, will give a presentation on the upcoming Detroit Opera House production, Margaret Garner. Based on the true story of a slave who crossed the Ohio River to Cincinnati, where she decided to kill her child rather than see her return to slavery, Margaret Garner will have its world premiere in Detroit in May 2005. DiChiera's presentation is open to the entire University community.
Thomson Gale to hold on-campus interviews
Thomson Gale will conduct on-campus interviews for editorial assistant internships for summer 2005 on Tuesday, February 8 from 8:45 a.m.-4:30 p.m. Candidates must be Business, Liberal Arts or Science majors. Resumes must be submitted to the Career Education Center (CEC) by Wednesday, January 19. Visit the CEC web site for qualifications.
Psychology program receives recertification
The Department of Psychology has received full 5-year recertification by the National Council on Family Relations (NCFR) for the certificate program in Family Life Education (CFLE). Students majoring in Developmental Psychology may elect to complete a CFLE from the NCFR by completing UDM's Approved Program. For more information about this program, visit the Developmental Psychology web site or contact Libby Blume at 313-578-0446.
Thumbs Up!
Stephanie Y. Mitchem, associate professor of Religious Studies, presented two papers at the American Academy of Religion Conference, held in San Antonio, Texas, in November. The papers were: "Testing Inequality: Losing Brown v. Board, Maintaining Race" and "A Real Woman with a Dollar in Her Shoe: African American Women and Theologies of Prosperity."
Gregory Sumner, professor and chair of the UDM History Department, will present his annual winter film and discussion series at the Baldwin Public Library in Birmingham, beginning Saturday, February 5. The subject this year is "American Icons," featuring Edward R. Murrow, Thurgood Marshall, Betty Ford and others.
Mike Whitty, professor of Business Administration, recently spoke on Sustainable Detroit at the Innate Community Center in Detroit. He also presented at the MLK Day workshop on mass transit and economic development sponsored by the Birmingham Bloomfield Task Force and Race Relations and Ethnic Diversity.