January 11, 2005
Adopt-A-Family Program provides local families with holiday gifts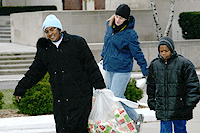 University of Detroit Mercy students and colleagues teamed with the Coalition of Temporary Shelter (COTS) to provide 37 families with gifts this holiday season. Generous donations and gifts from the UDM community provided 146 people with clothing, toys and household items – an increase from 26 families and 99 people last holiday season.
Included in the gifts were 10 fleece blankets made by Charlene Tessmer, supervisor for Accounts Payable, and her family. The Tessmer family also donated blankets to COTS families last holiday season.
Photo (l to r): Current LDI students Toni Byais and Sarah Schaffer, joined by David Byais, prepare to deliver gifts for 37 families to COTS.
UDM Theatre Company
The UDM Theatre Company invites you to its February production of A Patch of Earth. Written by National Public Radio journalist Kitty Felde, A Patch of Earth tells the story of the first young man to be sentenced by the international criminal tribunal of the former Yugoslavia. The production runs Thursday-Sunday, February 3-6 and February 10-13 at the Marygrove Theatre. Tickets are $12 for faculty and staff and $3 for students. To purchase tickets, call The UDM Theatre Box Office at 313-993-3270. (photo)
CHP Site Visits in 2005
The McAuley School of Nursing will undergo a site visit from the National League for Nursing Accrediting Commission for continuing accreditation from Tuesday, February 1-Wednesday, February 3. As part of ongoing efforts to make the accreditation process responsible to a broad range of constituents, the National League for Nursing Accrediting Commission welcomes and invites comments from interested individuals from the nursing community, students and graduates as well as the public at large about the McAuley School of Nursing.
Comments may be submitted in writing to:
Suzanne Mellon, PhD, R. N, Dean
College of Health Professions and McAuley School of Nursing
4001 W. McNichols Road
P.O. Box 19900
Detroit Michigan, 48221
Or to:
National League for Nursing Accrediting Commission
61 Broadway, 33rd Floor
New York, NY 10006
The McAuley School of nursing is undergoing a site visit from the Commission on Collegiate Nursing Education (CCNE) for initial accreditation. The Commission provides the opportunity for interested individuals from the nursing community as well as the community at large to submit comments in writing concerning a program's qualifications for accreditation status. The Accreditation visit is scheduled for Wednesday, April 6 – Friday, April 8. Written comments will be received by the Commission until 30 days before the scheduled visit. Only signed comments will be accepted by the Commission. CCNE shares third-party comments with members of the evaluation team prior to the visit, but at no time during the review process are these comments shared with the program.
Written and signed comments may be sent to:
ATTN: Ms. Sarah Jameson, Accreditation Assistant
Commission on Collegiate Nursing Education
One Dupont Circle, NW, Suite 530
Washington, DC 20036-1120
Wednesday morning reflections
The House of Mercy's morning reflections on Catherine McAuley, the foundress of the Sisters of Mercy, continue this semester. The reflections, co-facilitated by Sarah Swart, director of Instructional Technology and associate for Sisters of Mercy, and Theresa Blaquiere, RSM, a resident at the House of Mercy, are currently scheduled for Wednesdays from 8-9 a.m., January 12 -February 23.
For more information, please contact Sr. Theresa Blaquiere at 313-340-1162 or Sarah Swart at 313-578-0579.
Thumbs Up!
Daniel B. Kennedy, professor of Sociology and Criminal Justice, was named to the editorial board of the Journal of Physical Security. The journal recently published its first issue and is sponsored by the Los Alamo National Laboratory in New Mexico.
Stephanie Y. Mitchem, associate professor of Religious Studies, presented two papers at the American Academy of Religion Conference, held in San Antonio, Texas, in November. The papers were: "Testing Inequality: Losing Brown v. Board, Maintaining Race" and "A Real Woman with a Dollar in Her Shoe: African American Women and Theologies of Prosperity."
Pat Rouen, assistant professor of Nursing, will present the paper, "The Metabolic Challenges of Midlife Women," at the Michigan Council of Nurse Practitioners Annual Conference this March in Dearborn. She will also present, "Delivering NP Education in Urban Settings: Helping Students Reconcile Issues of Disparities," at the National Organization of Nurse Practitioner Faculties Annual Conference in Chicago this April.