February 8, 2005
Town Hall Meeting with President Stockhausen
University of Detroit Mercy President Gerard L. Stockhausen, S.J., invites you to attend the third in a series of Town Hall Meetings on Tuesday, February 15, at 12:45 p.m. in the Student Center's Fountain Lounge on the McNichols Campus.
Upcoming CEC workshops
The Career Education Center (CEC) will sponsor the following workshops for students the week of February 14:
Health Professions Majors
Tyra Tomlin, marketing and planning analyst for St. Joseph Mercy Oakland, will present a Brown Bag Resume Workshop from 1-2 p.m. on Monday, February 14, in the Reno Commons. Students in the College of Health Professions can register by calling 313-993-1017 or e-mailing careerlink@udmercy.edu (indicating "Brown Bag Workshop" in the subject line). Students with an EASE account can also register online at www.udmercy.edu/cecc.


All Majors
On Tuesday, February 15, students from all majors are invited to learn why a business degree is not necessary to work for the IRS. The workshop will take place in the Reno Commons. Students can also visit the CEC web site for information on current IRS employment opportunities.
CHP Open House to kick-off annual Alumni Week
The College of Health Professions (CHP) will kick-off its first annual Alumni Week with an open house on Monday, February 21, from 2-5 p.m. The event will include tours of the College's new facilities, student displays and the opportunity to interact with current CHP students. Preceding the open house, Jeanette Wrona Klemczak '63, Michigan's first Chief Nursing Executive, will discuss her vision and the future of nursing in Michigan at 1 p.m. For more information, please call 313-993-1208.
High school students attend post-Super Bowl party on UDM campus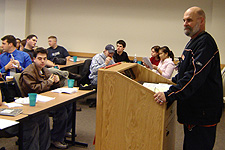 On Monday, February 7, approximately 150 students from UDM and local high schools joined Mike Bernacchi, professor of Business Administration, for "Super Bowl Ad Nauseam XVII" — a post-Super Bowl party celebrating Super Bowl advertising. In January, Bernacchi visited five area high schools, discussing advertising and what students should look for while watching this year's commercial spots. A marketing teacher and 10 students from each high school were invited to attend Monday's party and discussion. The Admissions Office provided attendees with a pizza lunch and UDM backpacks to high school participants.
Photo: Mike Bernacchi, professor of Business Administration, discusses this year's Super Bowl advertisements with students at his annual "Super Bowl Ad Nauseam."
Interactive program introduces children to Dentistry profession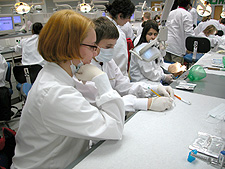 "Dentist for a Day," an interactive educational program held Saturday, January 29, for members of the Boys and Girls Club, was a big success! Members of the American Student Dental Association (ASDA), the National Student Dental Association (SNDA) and the Student Pediatric Dental Association (SPDA) organized the half-day event to introduce children to the profession of Dentistry and to educate them about oral health. Dental students provided presentations, tours of the Dental Clinic and one-to-one, hands-on experience in indirect vision, oral hygiene techniques and taking impressions of teeth.
Photo: UDM dental student with Boys Club member at "Dentist for a Day."
Academic Symposium presentations available online
Presentations from the Academic Symposium, "The Catholic University of the 21st Century: The Influence of Location on the Mission," held during the Presidential Inauguration week, are now available for download on the Inauguration web site.
Download the Academic Symposium Presentations (PDF)
National conference to address Ignatian spirituality
UDM faculty and staff are invited to a national conference to educate and encourage those who practice Ignatian spirituality at Saint Louis University, July 28-31. The conference, "Sharing God: The Ignatian Way," is sponsored by Saint Louis University, the Missouri Province of the Society of Jesus and the St. Louis Center for Ignatian Spirituality and will feature major presentations and small group workshops. For registration information, call Saint Louis University at 314-977-8880 or go online at www.slu.edu/conferences/isc/.
Thumbs Up!
Erick Barnes, assistant professor of Sociology and Criminal Justice, has designed and implemented an innovative computer-based crime mapping system for the Inkster Police Department. In addition to providing command staff the ability to map crime trends over distinct temporal periods, the system helps to reduce crime by reallocating resources to target specific locations or times. The system has also given officers the ability to gauge the impact of their patrol actions on a daily basis.
On Saturday, February 12, Isaiah McKinnon, associate professor of Education, will be recognized for his outstanding service to the community in a special ceremony at the Michigan District Women's Auxiliary Luncheon.