February 22, 2005
Homecoming 2005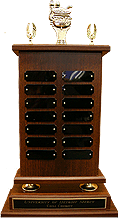 Don't miss Homecoming 2005! This year's event falls on the final home game of the season against Youngstown State. Festivities begin at 2 p.m. and include:
Dean's Chili Cookoff
Raffle, door prizes and great food
Players from '98 & '99 NCAA basketball team
Post-game liturgy in the renovated St. Ignatius Chapel, Commerce and Finance Building
Tours of the new Health Professions facility and the renovated Commerce and Finance building
Tickets are $15 per person ($10 for season ticket holders). Children under five are free. For more information and to make your reservation, please visit the Alumni web site or e-mail udmgrad@udmercy.edu.
Photo: Trophy to be presented to the winning dean at this Saturday's Homecoming Chili Cookoff.
Upcoming CHP accreditation visit
The McAuley School of Nursing is undergoing a site visit from the Commission on Collegiate Nursing Education (CCNE) for initial accreditation. The Commission provides the opportunity for interested individuals from the nursing community as well as the community at large to submit comments in writing concerning a program's qualifications for accreditation status. The Accreditation visit is scheduled for Monday, April 4–Wednesday, April 6. Written comments will be received by the Commission until 30 days before the scheduled visit. Only signed comments will be accepted by the Commission. CCNE shares third-party comments with members of the evaluation team prior to the visit, but at no time during the review process are these comments shared with the program.
Written and signed comments may be sent to:
ATTN: Ms. Sarah Jameson, Accreditation Assistant
Commission on Collegiate Nursing Education
One Dupont Circle, NW, Suite 530
Washington, DC 20036-1120
Task Force addresses needs of first-year students
Eighteen faculty, administrators and students joined together last fall to form the Freshman Success Task Force. The Task Force is working to improve Prologues, Transitions and Viewpoints (PTV), a week-long program designed to help first-year students become acclimated to university life. Also under discussion is the first six weeks of the fall term and what can be done during that time to help freshmen make the transition to college. The group plans on having its recommendations ready by the end of March.
To assist in the discussion, Mary Hannah, professor of Psychology, and Barbara Hollar, professor of Biology, devised a Flashlight online survey to see how faculty members perceive the skills, behaviors and attitudes freshmen need to succeed. Over 85 survey responses have been received. Initial responses show a priority for freshmen to acquire time management skills, understand appropriate classroom behavior and recognize the difference between college and high school classes.
Chemistry Club hosts merit badge workshop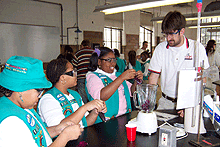 On Saturday, February 5, the Chemistry Club hosted a merit badge workshop for 20 girls from the Junior Girl Scout Troop 1013 on the McNichols Campus. The girls completed six activities to earn the merit badge, "Making it Matter." Also participating in this workshop were Assistant Professor of Chemistry and Biochemistry Matt Mio, and Associate Professors of Chemistry and Biochemistry Elizabeth Roberts-Kirchhoff and Mark Benvenuto. This is the second year that the Chemistry Club has sponsored a merit badge workshop for Junior Scouts from the Detroit area.
Photo: Matt Mio, assistant professor of Chemistry and
Biochemistry, with members of the Junior Girl Scout Troop 1013 at the "Base-ic Facts" station.
Students Leading and Serving
Have you donated to Alternative Spring Break or the International Service Experience this year? ASB and ISE invite students to spend a week of vacation time living and working together in diverse locations, while serving the communities they visit. Sponsor a "Breaker" with a gift and make a difference! For more information, visit the ASB web site or contact Sister Beth Finster in University Ministry at 313-993-1560. You can also make an online gift at www.udmercy.edu/giving.
Thumbs Up!
The American Society for Industrial Security has selected Daniel Kennedy, professor of Sociology and Criminal Justice, as a member of its national workplace violence guidelines committee. The purpose of this committee is to promulgate national standards for the prevention of workplace violence, as well as the prevention of domestic violence, the effects of which often extend into the workplace.
Gregory Sumner, professor and chair of the History Department, has been awarded his second William J. Fulbright Fellowship to lecture abroad. From April to July 2006, Sumner will be a visiting professor of American Studies at Tsuda College in Japan. He was previously a Fulbright lecturer in Rome in 2001.
Michael Whitty, professor of Business Administration, recently spoke on behalf of the Institute for Building Sustainable Communities to raise awareness of environmental justice issues in the Detroit area. Whitty will also discuss nonviolence and the environment at the Seventh Global Conference on Nonviolence in April.