February 15, 2005
Town Hall Meeting with President Stockhausen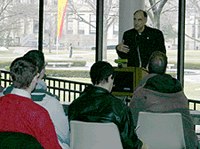 Approximately 100 faculty, staff and students attended today's Town Hall Meeting with UDM President Gerard L. Stockhausen, S.J. Highlights included positive enrollment news, with an increase of 2.8 percent in students for winter semester 2005, as well as an increase in fall 2005 applications and admissions over this time last year. This was the third session in a series of meetings to be held throughout the academic year.

Photo: President Stockhausen answers questions from faculty, staff and students at Tuesday's Town Hall Meeting.
UDM names Rev. Andrew J. Thon, S.J., to Board of Trustees


Rev. Andrew J. Thon, S.J., vice president of Student Affairs for Marquette University, recently joined the UDM Board of Trustees. Fr. Thon entered the Society of Jesus in 1960 and was ordained in 1974. He earned a bachelor's degree in philosophy and letters from St. Louis University, a master's degree in education from Marquette, a master's of divinity from Regis College in Toronto and a Ph.D. in higher education administration from the University of Wisconsin-Madison. [more]
Upcoming CEC workshops
The Career Education Center (CEC) will host two workshops this Thursday, February 17, from 1-2 p.m.: Resume Writing for Architecture Majors will take place in the Student Lounge of the Architecture building, and Resume Writing for Science Majors will take place in Room 101 of the Engineering building. Students can register for CEC events by e-mailing careerlink@udmercy.edu (including "Brown Bag Workshop" with the date and time in the subject heading) or logging into EASE at www.udmercy.edu/cecc.

CHP Open House to kick-off Alumni Week
The College of Health Professions (CHP) will kick-off its annual Alumni Week with an open house on Monday, February 21, from 2-5 p.m. The event will include tours of the College's new facilities, student displays and the opportunity to interact with current CHP students. Preceding the open house, Jeanette Wrona Klemczak '63, Michigan's first Chief Nursing Executive, will discuss her vision and the future of nursing in Michigan at 1 p.m. in the Architecture Exhibition Room. The talk is open to all. For more information, please call 313-993-1208.
Seminar on U.S-Korea Relations
On Wednesday, March 23, the Korea Economic Institute of America in Washington D.C. and UDM's Institute for North Korea will present the seminar, "The United States and the Two Koreas." Six distinguished experts on U.S.-Korea relations, three speakers from Washington D.C. and three speakers from Metro Detroit, will form two panels to discuss economic relations between the U.S. and South Korea and political relations between the U.S. and North Korea. This free seminar will take place from 2-5 p.m. in the Commerce and Finance Building and is open to all. For additional information, call Mary Hassett at 313-993-1204 or e-mail ink@udmercy.edu.
Give Kids a Smile Day

Over 200 children from metro Detroit received free dental care on Saturday, February 12, during "Give Kids a Smile" Day. The event was sponsored by the School of Dentistry and Clinic in partnership with the Detroit, Oakland and Macomb Dental Societies. The national campaign, sponsored by dental and hygiene societies, educational institutions and individual dentists, provided children with free dental care ranging from preventative, restorative and surgical care.
Photo: Over 200 children from metro Detroit received free dental care last Saturday, during the School of Dentistry's "Give Kids a Smile" Day.
Support Alternative Spring Break
Spring is on its way and with it comes Alternative Spring Break and the International Service Experience. Once again, our students will donate their time and goodwill to help those who need it most. This year students are traveling to Guatemala, South Carolina and Florida in early March and Jamaica at the end of April. Help them get there. You can sponsor a "Breaker" with a gift. Support ASB/ISE 2005! For more information, click on www.udmercy.edu/ministry/asb or contact Sister Beth Finster in University Ministry at 313-993-1560, or email at finsteba@udmercy.edu. You can also make an online gift at www.udmercy.edu/giving.
Recent donations to Library Archives
Library Archives recently received two gifts representing great historical value for the University's collections. A gift from John T. Whollihan included jewelry boxes, commencement programs, hors d'oeuvre tray and the book, "Doc Whollihan: A Modern Renaissance Man." Photos and negatives of the University of Detroit Flying Club members, their airplane, the National Air Tour 1930, and an old wind tunnel used by the University to test cars and airplanes for industry were included in a gift from William J. Bagaria. In addition to these photos, Bagaria donated the textbook, "On the Disgrace of Eutropius," which was printed in 1895.
Thumbs Up!
Faculty from the Department of Chemistry and Biochemistry recently attended "A Medical Professions Career Night" at at William Beaumont Hospital. Gerald B. Zelenock '69, chair of the Department of Surgery and Chief of Surgical Services at the hospital, hosted the event that was attended by high school students and parents from around the state.