February 1, 2005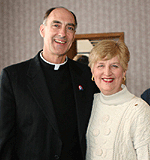 Reception honors Caroline Roulier
On Tuesday, January 25, University of Detroit Mercy faculty and staff gathered for a special reception honoring Caroline Roulier. Roulier retired from her position as University Seceratary and executive assistant to the President in December after serving the University for 48 years.
Photo: UDM President Gerard L. Stockhausen, S.J., and Caroline Roulier, former University Seceratary and executive assistant to the President.
Professor to host Annual Post-Super Bowl Party
While millions will be watching Tom Brady's arm for a shot at a Super Bowl ring, many others believe the real game is in the commercial breaks. One such individual is Michael Bernacchi, professor of Marketing. A celebration of Super Bowl advertising will take place at Bernacchi's "Super Bowl Ad Nauseam XVII," his annual post-Super Bowl Post-Party on Monday, February 7, at 11:30 a.m. in the Commerce and Finance Building. Pizza, pop, and snacks will be served. Faculty, staff and students are welcome. [more]
Resume workshop for students
The Career Education Center will sponsor a Brown Bag Resume Workshop from 1-2 p.m. on Thursday, February 10, in the Reno Commons. Students from all majors are invited to this workshop, which will address the basics of resume writing. Students can register by calling 313-993-1017 or e-mailing careerlink@udmercy.edu (indicating "Brown Bag Workshop" in the subject line). Students with an EASE account can also register online at www.udmercy.edu/cecc.
School of Dentistry gives kids a smile
Over 200 children from metro Detroit will receive free dental care on Saturday, February 12, for "Give Kids a Smile" Day. The event is being sponsored by the UDM School of Dentistry and Clinic in partnership with the Detroit, Oakland and Macomb Dental Societies. Children will receive free dental care ranging from preventative, restorative and surgical care. UDM students, faculty, staff and alumni are invited to volunteer and make this event even more successful. [more]
Thumbs Up!
Janet Baiardi, associate professor of Nursing, and Suzanne Mellon, dean of the College of Health Professions, have been appointed to the Community Advisory Committee of the Detroit Wayne County Health Authority (DWCHA).
Gerald F. Cavanagh, S.J., professor of Business Administration, presented and led a panel discussion on "Voluntary Codes of Conduct for Multinational Corporations: Promises and Challenges" in May 2005. He also presented, "Interconnection of Workplace Spirituality and Business Ethics," at the Academy of Management and chaired the session, "Does Morality Pay? At What Cost?" at the Society for Business Ethics, both in New Orleans, in August 2005.
Julia Stocker, assistant professor of Nursing and coordinator of the Health Systems Management program, received the Carol E. Franck Nursing Leadership Award from Michigan State University College of Nursing.