December 6, 2005
Memorial mass scheduled for former Mercy College of Detroit president
The University community is invited to attend a memorial mass in remembrance of the life of former Mercy College of Detroit President Agnes Mary Mansour on Friday, Jan. 6, 2006 at 4 p.m. The mass, which will be celebrated by UDM President Gerard L. Stockhausen, S.J., will be held in the St. Ignatius Chapel, Commerce & Finance Building. Following the service, guests are invited to share memories of President Mansour over coffee and dessert in the College of Health Professions Reflection Room. Please respond to udmgrad@udmercy.edu by Jan. 3 if you plan to attend.
Plan to attend UDM events
Please plan to attend the following University events:
President's Town Hall meeting, Thursday, Dec. 8, 1 p.m. in the Fountain Lounge, Student Center
UDM Employees Christmas & Colleague Recognition Celebration, Friday, Dec. 16, 3:30–5:30 p.m. in the Ballroom, Student Center. The Colleague Recognition program, which will honor 91 dedicated UDM employees for their years of service, will begin at 4 p.m.
Safety awareness is key
At this time of year, UDM's Department of Public Safety asks that you take time to familiarize yourself with safety policies posted on its web site: www.udmercy.edu/publicsafety. This information will enable you to make informed decisions and practice safety habits to be proactive in keeping our community safe. Public Safety provides police services 365 days, 24 hours each day, and uses the following communication outlets to keep you informed:
Department of Public Safety web site
Timely Warnings – Advising of potential safety threats/ UDM email & Leaflets
Public Safety Advisory Letter (sent to your UDM e-mail account)
Facilities Management Quarterly Newsletter
Standing meetings with UDM Student Senators
Crime Prevention Seminars
Student Newspaper – The Varsity News (when time appropriate)
For an Emergency, please contact Public Safety via campus phone at 1-2-3 or 313-993-1123 from a non-campus phone.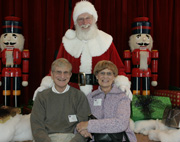 President's Christmas Brunch draws UDM friends
Approximately 500 UDM friends and supporters attended the President's Christmas Brunch, Dec. 4. The event began with mass at Gesu Church, followed by brunch in the Student Center. [View pictures.]
Drive continues to aid homeless
The Rho Nu Chapter of Phi Beta Sigma fraternity continues its drive to collect donations, canned food and clothing for the homeless through Wednesday, Dec. 7. Drop off donated items at the University Ministry office or Leadership Development Institute (LDI) office in the Student Center, or contact Mead Goedert at 313-850-0469. All donations will go to Covenant House in Detroit.
The fraternity initiated its fundraising drive on Dec. 1 with a sleep out on Kassab Mall. According to LDI Director John Daniels, 15-20 students were on the Mall at 3 a.m.: "Some are doing 'steps', that rhythmic stomping, clapping tradition among historically black fraternities. They're doing it to keep warm. A few have learned that corners are the least cold places, and are actually trying to sleep in their bags there. A cardboard box with a trash bag around it awaits a brother's attempt to actually sleep…Aren't our students something?"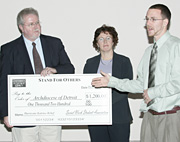 Students raise funds for hurricane victims
The Student Social Work Association sponsored a fundraiser for hurricane victims during fall term. Through the generosity of faculty, staff and students, in particular the Dental School and Facilities Management department, the student association donated $1,200 to Catholic Charities USA. On Dec. 2, Association President Mead Goedert (right) presented the check to Mike Hovey and Joyce Steele from the Archdiocese of Detroit, which serves as the local contact for Catholic Charities USA.
Theatre Company students direct one-act plays
Each year as part of the Theatre department's training, students are given the opportunity to direct a week of one-act plays. Each student has chosen their short one-act play which will be performed on Dec. 8-11. All performances are free and open to the public. More...
Thumbs Up!
Karen Burritt, instructor, Nursing, presented the paper, "Preventing avoidable deaths outside the ICU through implementation of a Rapid Response Team," at the Trinity Fall Conference. She was also honored with the Excellence in Innovation Award for Leadership in Patient Safety and Quality.
Suzanne Mellon, dean, College of Health Professions, presented the paper, "Family Decision Making Regarding Inherited Breast/Ovarian Cancer Risk Information" at the 27th annual meeting of the Society for Medical Decision Making in San Francisco in October.
Robert Ross and Prasad Venugopal, associate professors, Physics, co-authored two papers, "Active Learning Exercises in Introductory Mechanics: Results of a Two-Year Study" and "An Assessment of Inquiry-Based Activities in a Second Semester Introductory Physics Laboratory," published in the Proceedings of the Frontiers in Education 2005 Conference. Venugopal presented the papers at the conference, which was held in Indianapolis, Ind., in October.
Kim Texley-Quigg, clinical track assistant professor, Nursing, spoke on "Innovative Programs to Teach College Students about Health" at the Mid-American College Association in Lexington, Ky., in October.
Michael Whitty, professor, Business Administration, spoke on "Tolerance and Civility" at the First Baptist Church of Seattle in November.